Leaf Removal Cost
Expect to pay $356 on average for leaf removal. Pros typically charge between $191 and $558. Prices to remove leaves vary based on regional cost of living differences, how they're removed (bagged, raked or blown), and your lawn's tree density. The more leaves that fall, the more you'll pay. Large yards, for example, may cost $400 to $1,000 per acre.
Leaf Removal Pricing
Removing leaves costs the average homeowner between $150 and $550. In autumn, there is nothing more beautiful than trees changing from green to red and gold; however, once the leaves fall to the ground, or in your gutters, they can become an eyesore and eventually a rotting mess. Here are a few factors that will help to determine how much you pay.
Size of your property: $0.02-$0.10 per square foot. If you add in extra services like fertilizing, thatching, aerating and junk removal, prices can hit $0.40 per square foot or more. Have a rough idea of your yard size when calling for quotes.
Bagging and removal: $5-$10 per bag. Usually charged as an additional service past simply raking or blowing it into a pile.
Number of trees: The more trees you have, the more dead leaves you'll need removed. When calling for quotes, know how many you have.
Professionals experience: The more experienced the pro, the higher the price.
Time: $15-$30 per hour. Besides charging per bag or square foot, some charge per hour.
How it's removed: Blowing, vacuuming, mulching or bagging? Each method takes different durations and equipment.
Compare Quotes For Your Leaf Removal Project
Average Leaf Clean Up Service Cost
The average leaf clean up costs about $300 to $350. Expect prices to vary depending on what the service includes, where you're located and how many leaves you need removed.
Leaf Removal Cost Per Acre
Leaf removal can rrun anywhere from $400 to $1,000 per acre, although most pay $600 to $700. However, most homes sit on a 1/6 acre lot. The most common lot sizes and pricing include:
| | |
| --- | --- |
| ⅙ acre | $75 - $175 |
| ⅕ acre | $80 - $200 |
| ¼ acre | $100 - $250 |
| ½ acre | $200 - $500 |
| ¾ acre | $300 - $750 |
| 1 acre | $400 - $1,000 |
Compare Quotes For Your Leaf Removal Project
Leaf Blowing vs. Bagging Service Cost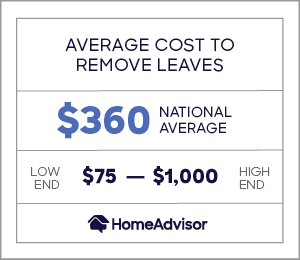 Leaf blowing services charge $30 per hour with a typical minimum fee of $75. Bagging and removing runs an additional $5 to $10 per bag.
Do you want your leaves blown off your lawn, or bagged, removed from your property and properly disposed of? Bagging and removing takes more time than blowing. It also requires more labor and supplies. If you choose to just have your leaves blown off your lawn, don't blow them onto neighboring property, schedule a curbside pickup.
Curbside Leaf Pickup Cost
Curbside leaf and waste pickup costs anywhere from $0 to $100 per pickup. Most professionals charge between $50 to $100 for each trip. Your city or waste removal service might include bagged leaf pickup as part of your regular garbage service.
Vacuuming and Mulching Cost
Vacuuming and bagging cost $5 per bag on average. Mulching uses either a mulching mower or vacuum for the same price as simply mowing your lawn. Lawn mowing costs $50 to $150.
Vacuumed, bagged and removed: This takes more time and work, but removes the leaves completely. However, you can decide to use your leaves as mulch in your garden.
Mulching: The leaves go through the vacuum or mower and get chopped up into dust. Then you can have that poured into landscaping, gardens or compost. In this way, you do something nice for your garden and save money on mulch.
How Much Should You Pay for Raking Leaves?
You'll pay $5 per bag or $10 to $15 per hour for independent operators raking leaves. Professionals usually charge double that, but get the job done quickly and leave a cleaner yard.
Get Local Quotes From Leaf Removal Pros
Yard Clean Up Costs
Besides removing leaves, you might want to have your yard cleaned up for $50 to $700. This includes tidying up landscaping, removing trees, weeding gardens and updating floral landscaping.
Landscape Cleanup Cost
Cleanup comes as part of larger landscaping installation costs of $1,400 to $5,300. The actual prices vary depending on the type of cleanup you need, which includes:
Garden & Flower Bed Cleanup Cost
You'll pay anywhere from $45 to $75 per hour for a landscaper to cleanup your garden or flower bed. You'll spend half that on local independent operators working on task fees of $60 to $100.
Backyard Waste Cleanup Cost
Backyard waste removal costs $150 to $400. Waste includes junk besides organic waste. The size of the backyard and accessibility play a large role in pricing. If the pro can't get their truck near the waste, it'll take longer and require more manual labor to clear it out.
Gutter Cleaning Costs
Cleaning gutters costs $100 to $250 or about $1 to $2 per linear foot. Leaves are the main culprit for clogs. Homes with multiple levels tend to run higher, up to $350.
Save the yearly fees with gutter leaf screens. These plastic screens keep the junk out of the gutters to both avoid downspout clogs and yearly cleanings. Installing gutter guards costs $500 to $1,500 but eliminates the need for yearly cleanings.
Get Local Quotes From Leaf Removal Pros
Seasonal Clean Up Prices
You'll pay twice as much in the fall vs. spring for yard clean up. Fall tends to be a busier time than the spring. Plus, there's more to pick up and haul away. Dumping fees of $20+ per load, fuel and high demand make fall the most expensive time to remove yard waste. However, leaving it can lead to a rotten and messy spring cleaning.
Fall Cleanup Prices
Cleaning up leaves in the fall costs $200 to $500 on average. Pros are busiest in the fall, increasing prices. Combined with snow removal contracts through the same professional, you might save a little throughout the year.
Spring Cleanup Prices
Spring cleanup runs homeowners $100 to $300, unless you combine it with other services, like gutter cleaning, mowing, fertilizing and lawn prep. Combined, you'll usually save anywhere from 10% to 30% depending on the professional.
How Much to Charge for Raking and Bagging Leaves
Charge the going rate in your area for raking and bagging leaves. For an independent contractor, you'll need to follow a few guidelines to figure out how much to charge.
Figure out how other contractors in your area charge. Some charge hourly, per project or for the area.
Find out how much others charge. You don't want to be so far under your competition that you don't make money, but you also don't want to price yourself out of the market.
Determine your overhead and how much you want to make. You'll need to figure in all your expenses and how to divide those up amongst each job.
Talk to other pros in your area.
DIY vs. Hiring a Cleanup Service
If you have the time, raking and bagging your leaves is a simple and safe DIY project. It's also good exercise. Hiring a cleanup service takes the project off your schedule and frees up your time. Or, consider splitting the project: rake your leaves to the curb and have a pro come pick up the pile and haul it away.
FAQs
How much money can you make raking leaves?
You can make anywhere from $10 to $30 per hour raking leaves.
What does fall clean up include?
Fall cleanup includes leaf removal and optionally thatching.
Is it okay to burn leaves?
No, it is not okay to burn leaves outside! Do not start any outdoor fires without checking with your local fire department first. There is a serious risk of starting a wildfire. In some locations, if you start an outdoor burn and the fire department visits, they'll charge you for the house call.
How do you dispose of leaves?
Depending on your location, you might have a few options to dispose of leaves:
Have your waste service haul them away. Some locations have specific days set aside for yard waste removal.
Hire a landscaping service.
Take them to the waste yard or dump yourself.
What to do with leaves after blowing?
After you're done blowing leaves into a pile, rake them into a bag or vacuum them up. Many leaf blowers double as vacuums. Then call dispose of them as yard waste at your dump or by hiring a service to pick them up. Do not throw yard waste into a landfill.
Thank you for submitting your feedback.