Updated: August 30, 2021
Reviewed by Robert Tschudi, Home Building & Remodeling Expert.Written by HomeAdvisor.
Epoxy Floor Cost
It usually costs $3 to $12 per square foot to epoxy a concrete floor. Most homeowners spend between $1,453 and $3,026 with an average cost of $2,240 to complete a full project. The size of your project and quality of epoxy are the biggest cost factors.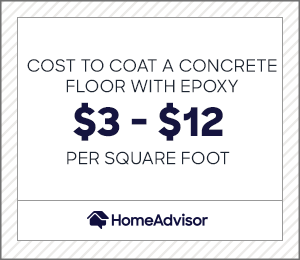 Most concrete flooring, like that in garages, kitchens, and basements, tends to receive a large amount of foot traffic and heavy wear. Using an epoxy floor coating is a great way to protect it from wear and tear, cracking, and chipping.
Thank you for submitting your feedback.