Epoxy Garage Floor Cost
Homeowners pay an average of $2,179 to coat an existing concrete floor. Total project costs typically range between $1,434 and $2,957. Materials and equipment alone will cost you $2 to $5 per square foot. Expect to pay a pro another $1 to $7 per square foot for labor.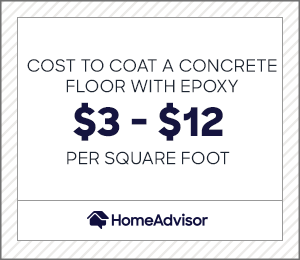 Most concrete flooring, like that in garages, kitchens, and basements, tends to receive a large amount of foot traffic and heavy wear. Using an epoxy floor coating is a great way to protect it from wear and tear, cracking, and chipping.
You may be concerned that coating your concrete floors can be expensive. Thankfully, there are a few factors that could potentially decrease the cost of the coating. In just a few hours (over the course of several days), an experienced installer can turn your concrete floor into a beautiful, durable surface that will look good and function well for years to come.
Thank you for submitting your feedback.