2021 Notice: Material & Labor Prices are Surging
Demand for roofing has grown over the past year. And, as a result, manufacturers are increasing materials prices. Prices have gone up 5% to 10% this year, and many parts of the country are experiencing long delivery times. If you're planning a roofing project, we recommend starting as early as possible in the season, preparing for potential price fluctuations, and allowing extra time to order materials.
Cost to Seal a Roof
The average cost to seal a roof is $1,212 and typically ranges between $449 and $1,995. However, you may pay as little as $100 or as much as $3,200 or more. That's a total average of $0.65 to $5 per square foot. The type of roof, type of sealant used, the condition of your current roof, and your location all affect price. Coating a flat or low-sloped roof is a common way to extend the life of your roof while cutting down on cooling costs.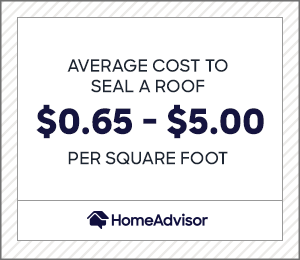 Apply roof coatings to low-slope and flat roofs in both residential and commercial settings. They are both a stand-alone roofing or a topcoat for pre-installed materials. It adds an extra layer of waterproofing, increases fire resistance and lowers cooling costs by reflecting heat. It also provides a layer of durability from chemical corrosion and physical abrasion. To extend the life of your roof and guarantee the highest quality seal, work with a professional roofing contractor.
Note: Mechanical fixes are always a better choice than coatings and sealants to stop leaks or repair cracks. If you find a leak or damage, replace and repair it before applying a coating or sealant.
Thank you for submitting your feedback.