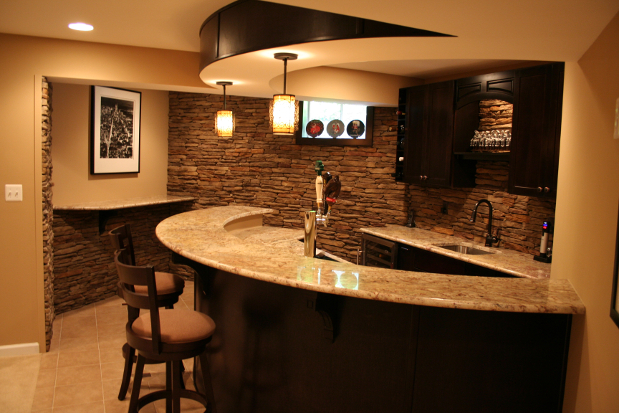 Mention the Rat Pack in polite (or impolite) conversation, and it won't take long before the talk turns to Dean Martin, Sammy Davis, Jr., and, of course, old Blue Eyes himself: the late, great, Frank Sinatra. Even more impressive is the fact that the Rat Pack started turning heads over 60 years ago, and they're still on the tip of our tongues. That got us wondering: if there was a Rat Pack made up of home improvement projects, which ones would make the grade? Here's our list of the top 5 home improvements in the business, based on longevity, value, and just plain coolness.
#5: Wet Bar
Okay, so wet bars don't really make any top 5, or even any top 10 lists that we've ever seen when it comes to home improvements. But considering the inspiration for this list, we had to slip a home wet bar in here somewhere. A wet bar can be a fun and exciting addition to basements, decks, and even poolsides for homeowners that enjoy throwing a good party. And if you're more likely to listen to Sinatra's "Love and Marriage" than his hit "Saturday Night is the Loneliest Night of the Week," you can nix the liquor and call it a breakfast bar instead. Might be just as well, seeing as how Dean Martin sipped apple juice on stage all those years, not scotch, despite having a license plate that read DRUNKY!
#4: Deck or Patio
According to the Remodeler's Council of South Eastern Michigan, decks and patios rank #3 on the list of the most popular remodels in America, right behind kitchens and baths. The truth is that times are tight and homeowners are looking for remodeling projects that add value, living space, and that don't cost an arm and a leg. According to Remodeling Magazine, decks and patios consistently produce some of the highest returns in the industry for a minimal investment compared to larger additions and remodels. It doesn't matter if, like the Rat Pack, you were born to entertain, or you prefer to kick back in a deck lounger by yourself and stare "From Here to Eternity," it's hard to wrong with a new deck or patio.
#3: Master Suite Remodel
If there was one thing these crooners were good at, it was stoking up the flames of romance and setting the mood. You don't have to look any farther than Dean Martin's "Amore," or Sinatra's "The Way You Look Tonight" to figure that one out. That said, it shouldn't be a big surprise to find out that master suite remodels come in at number 3 on our list of home improvements worthy of the Rat Pack. Contractors from Denver to Chicago consistently count Master Bedroom upgrades among their most popular projects, including Tom Sertich, a Phoenix based contractor who told Remodeling Magazine that "of the additions we do, 85% are master bedroom suites." Theories abound for why this particular addition is gaining so much steam, though one of the most popular ones attributes the trend to aging baby boomers that have finally sent their kids off to college and have a little more time to spend under the covers!
Ready to start your
Remodeling Project

?Find Pros
#2: Bathroom Remodel
According to a Harvard University study on the home remodeling industry, money spent on remodeling bathrooms and kitchens accounts for over 20% of the all the money spent on home remodeling and improvement in the United States, and if you believe the Home Improvement Research Institute (HIRI), those figures are even higher (25%). Why are these two home improvements so popular in home remodeling circles? Because these projects are the total package. Take a bathroom remodel, for example. Where else can you improve your quality of life, the function of your home, and your home's ability to sell in one fowl swoop? Throw things like heated tile floors, spa showers, and whirlpool tubs into the mix, and it's easy to see why bathrooms are the Dean and Sammy of the home improvement Rat Pack.
#1: Kitchen Remodel
It's safe to say that there will never be another singer that lives up to Frank Sinatra in life or legend. Likewise, you'll be hard pressed to find a home improvement, addition, or remodeling project that comes anywhere close to kitchen remodels in either popularity or payoff. Consumer Reports cites kitchens as the single most popular home remodel, while a perusal of the last 10 years of Remodeling Magazine's Cost vs. Value report reveals that both major and minor kitchen remodels consistently rank among the highest in the business when it comes to getting maximum return on your investment. In short, whether you're doing it for yourself, or looking to make your home more attractive to others, shelling out for a kitchen remodel is one of the best investments a homeowner can make, baby!
No Comments Yet