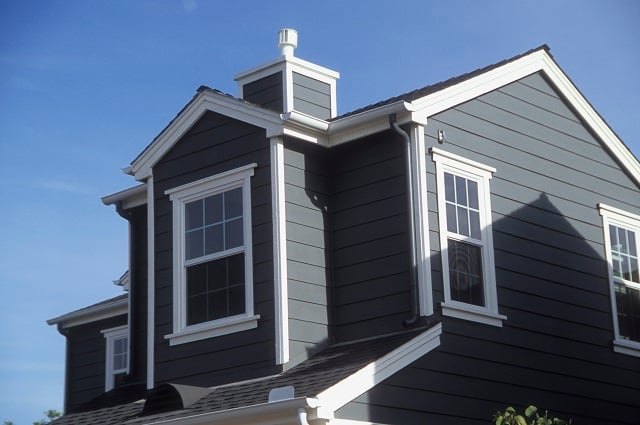 | Exterior Paint Color | Best For |
| --- | --- |
| Grays, whites, and other neutrals | Selling your home, a classic look |
| Blues | Traditional homes, waterfront properties |
| Bright, warm colors | Cottage style homes |
| Greens | Homes surrounded by greenery |
| Blacks and dark tones | Accents and trims |
The best paint color for your house's exterior highlights your home's architectural features and complements its natural surroundings.
On This Page:
Popular Exterior Paint Colors Popular exterior paint colors include neutral colors like taupe, off-white and pale yellow. These pair well with white trims for a classic look or with a similar color in a darker shade for a monochromatic, seamless finish.
Best Exterior Gray Paint Colors
Gray is a popular color because it's versatile. A dark gray with white trim is a neutral, attractive combination that emphasizes your home's exterior features such as unique trims. The best exterior gray paint colors, like Sherwin Williams' Repose Gray, look great with a green lawn and blue sky.
Cool grays and light-blue grays are also popular because they contrast various accent colors like a bright red front door.
Best Paint Colors for Selling a House
If you're repainting to sell your home, these traditional color combinations will give your home a classic look that attracts potential homebuyers:
Siding & Trim Color Pairing

| Siding | Trim |
| --- | --- |
| Off-white | White or dark colors |
| Gray | Black |
| Gray | White |
| Blue | White |
| Off-white | Dark |
| Green | White |
| Taupe | White |
For a professional finish, hire a local exterior home painter to get the job done. This will increase the value of your home and appeal to more homebuyers.
Best Exterior Paint Color by House Type
There are successful tried-and-tested color combinations that work well for each house type.
Cottage
The most popular exterior paint colors for cottage-style homes are bright, warm colors like yellow and red. Consider bold colors like true blue for a nautical homage.
Victorian
If you have a Victorian home, you may consider experimenting with lively color combinations like purples, pinks, and sky blues with a white trim. Classic combinations like gray and white trim also suit this architectural style.
Bungalow
If you're looking for the best exterior paint colors for a bungalow home, try neutral hues like gray, taupe, or even a soft green.
Ranch-style
The best exterior colors for ranch-style homes are warm choices like beige, brown, and brownish green.
FAQs
How much will it cost to paint my home?
Painting the exterior of your home costs an average of $1,700 to $4,000. Get a price estimate for your home exterior paint project for your home today. Additionally, you can find local painters for your home exterior on our page.
I want to paint my own house. How can I prepare?
Check out our exterior painting guide to prepare for your project. Here, we go over how much paint you need, how to prep your exterior surfaces, and what type of paint might be best for your home.
Do I need HOA approval for new paint?
Any home improvement project that's visible from outside typically needs authorization. If you're planning on undertaking other home improvement projects such as updating exterior trim, confirm with HOA rules and regulations.
Is exterior paint really necessary?
There other alternatives in lieu of a new coat of paint, which still elevate your home and its value. For starters, power washing eliminates built up dirt, mold and stains that may be hiding your otherwise intact exterior paint. To avoid damage, pressure washing requires precision. Luckily, you can discover pressure washing services near you for a flawless finish. Prices vary between companies, but pressure washing costs typically range between $185 to $385.
You might also consider installing or repairing siding to improve your home's exterior. Set up appointments with local siding repair companies in to receive cost proposals
No Comments Yet