June 4, 2021
Reviewed by Robert Tschudi, Home Building & Remodeling Expert.Written by HomeAdvisor.
Power and Pressure Washing Prices
Power or pressure washing costs $294 on average with a typical range between $192 and $400. You might pay as little as $100 with larger jobs costing $600. You'll spend anywhere from $0.15 to $0.75 per square foot depending on whether you choose power or pressure, the size of the job, the height of the house and the type of grime you're removing.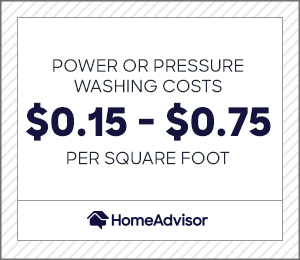 Power washing, using heated water, works better than just pressure washing (unheated water) on outdoor surfaces to remove things like grease, salt, mildew and mold from decks, driveways and patios. Although less effective, you can use pressure washers on almost any surface, keeping things like your driveway, siding, decks and patios looking fresh every spring. This guide covers both power and pressure.
Pressure Washing Costs & Rates
You'll spend an average of $0.40 per square foot for a professional power washer or anywhere from $25 to $100 per hour depending on the size and type of the job and the equipment needed. However, most pros simply charge a flat rate of $90 to $200 on average.
You can buy or rent pressure washers and use them to clean almost anything outside. They work by pressurizing water from a garden hose and forcing it out a spray wand. Homeowners can get an electric or gas pressure washer for occasional use.
Pressure washing ranges from $50 to $100 per hour per crew member. For example, you might pay $300 per hour for a crew of three, but the job will take a third of the time it would take a single worker.
Pressure Washing Cost Per Square Foot
Pressure washing costs $0.10 to $0.50 per square foot. However, you'll tend to pay less per square foot for larger projects.
For example, a 300 square foot deck might run you $0.40 per square foot, but if you combined it with 2000 square feet of exterior siding, you might pay half that. Contractor pricing models often include minimum costs of around $100 to cover equipment, licensing, insurance, travel and other fixed overhead costs.
You'll pay anywhere from $0.10 to $1 per square foot for commercial pressure washing while residential usually caps out at $0.50 per square foot. Most jobs overlap, such as cleaning a residential driveway or a drive-thru lane at a fast-food restaurant both cost about the same. But once you start factoring accessibility of hard to reach spots on tall buildings and difficult roofs, you might pay double.
Compare Local Quotes to Power Wash Your House
Power Washing Costs
Power washing costs slightly more than pressure washing at $200 to $300 or $0.15-$0.75 per square foot. Power washing uses heated water ("wet steam") rather than cold water. Otherwise, the processes are identical. Hot water often works better for exterior applications to remove dirt, grime, grease, mold and mildew.
| Area to Wash | Low | High |
| --- | --- | --- |
| House, Siding | $150 | $400 |
| Driveway | $100 | $250 |
| Deck or Patio | $250 | $400 |
| Fence | $150 | $300 |
| Gutters | $50 | $300 |
If you choose to DIY, be sure you consult with a professional about how to properly run the machine and know which other tools to buy.
Power or Pressure Wash Driveway
It'll cost you anywhere from $100 to $500 to pressure wash a driveway. You might add $50 to $100 to do your sidewalks at the same time. Expect to pay between $0.20 to $0.40 for most outdoor concrete surfaces including pools, patios and walkways.
A few special considerations to keep in mind:
For grease and oil, you'll want to power wash with a light cleaning solution.
Brick and tile driveways might need a lower pressure to keep from uprooting the pavers.
Don't power wash gravel driveways but you can use a lower pressure on larger stones, such as river rock.
Power washing a deck costs an average of $250 to $400. Power washers can have pressures of 4,000 psi (pounds per square inch) to lesser pressures of maybe a few hundred and run by gas or electric. This means that professionals will use one with less pressure to clean a deck and maybe one with higher pressure to clean a patio.
Professionals just need to avoid etching into the deck, which could lead to wood replacement or sanding down boards and re-staining them. Here are some professional recommendations when it comes to washing a deck or patio:
Water pressure for softwood (cedar or pine): about 500 psi to 600 psi and harder woods: no more than 1200-1500 psi.
Use a fan tip.
For heavy dirt, mold, or stains, use an environmentally friendly deck and fence cleaner.
Never get closer than a foot from the deck.
Keep a consistent distance as you sweep by moving your arm back and forth.
Work from the house outward.
Work with the grain.
You'll spend $50 to $300 to power wash gutters, or $0.50 to $1.50 per linear foot. Just cleaning gutters costs $100 to $250. Most professionals use angled heads, so they never have to leave the ground.
It'll cost you $150 to $300 to power wash most fences. Wood fences take more time, so expect to pay a little more. You might want to stain your fence after it's clean (always clean before staining). Fence staining costs $750 to $4,500.
Get the Best Price for Your Power Washing Project
You'll pay anywhere from $150 to $2,500 to pressure wash a home, depending on how many stories it has.
| Stories | Average Range |
| --- | --- |
| 1 | $150-$750 |
| 2 | $400-$1,400 |
| 3 | $700-$1,800 |
Many professional services do not recommend power or pressure washing the outside of a house. Many types of siding are not made to handle the incredible force or heat shot at almost point-blank range. Paint can be peeled off, screens destroyed, windows cracked and so on. There's also the danger of high-pressure hot water going through doors and window seals, which will send water inside the home that can soak into furniture, flooring and walls. During or shortly after the pressure washing, inspect all the floors by doors and windows (carry towels with you) and clean up any water that has leaked inside. In fact, painters often use pressure washers to prep siding for paint.
Whole House Pressure Washing Price List by Location
| City | Typical Range |
| --- | --- |
| Atlanta, GA | $150-$325 |
| New York, NY | $250-$500 |
| Denver, CO | $150-$350 |
| Minneapolis, MN | $250-$450 |
| Miami, Florida | $125-$325 |
| Charlotte NC | $150-$300 |
Electric vs. Gas Washers for House Exteriors
There's very little difference in price between gas or electric power and pressure washers. They'll all run you anywhere from about $100 to $3,000. Large residential and commercial washers range anywhere from $2,500 to $15,000. The biggest difference is portability. Corded electric washers need to be plugged in, while gas and cordless/battery-powered washers can go anywhere.
Power Wash Siding Costs
You'll pay anywhere from $150 to $1,400 to power wash most siding projects. However, if you're doing the entire home, you might spend up to $2,500. Professionals use very low pressure for siding. Wood tends to cost a bit more since it's delicate and requires more time. Vinyl siding cleans up quickly and looks almost new when done properly
High-pressure washing can severely damage most types of siding, particularly Hardie board and vinyl. Always consult a professional for exterior projects. They can inspect your siding and see if it would hold up against such pressure and heat. If you damage your siding, you're looking at further repairs. Siding repair costs $100 to $1,200.
Cost to Pressure Wash a Roof
You'll spend $0.50 to $1 per square foot to pressure or power wash a roof. It takes more setup time, it's harder to reach and it's often a tough job. Do not power wash asphalt, only nonporous stone, concrete and tile roofs. Even then, there are certain types that get easily damaged. Don't try this as a DIY project, always consult a professional.
Pressure Washing vs. Power Washing
The only difference between power and pressure washing is heat. Power washing uses heat to create "wet steam," while pressure washing uses cold water. Otherwise, the machines and methods are identical. They use the same force of water and the same optional cleaners.
Let a Pro Power Wash Your House or Deck
DIY Cleaning vs. Hiring Pressure Washing Services
While you can buy high-powered power and pressure washers at local home improvement stores, companies have the knowledge and experience of working safely with these products. Consider the pros and cons of renting a power washer vs. hiring a pressure washing service. They know how to target a home exterior, decks, patios and driveways without hurting doors, windows or individuals.
If you consider hiring a service, this is what their business should have:
Advanced Equipment: They should have state-of-the-art equipment, not the kind you can buy at your local home improvement store.
Sustainable Practices: A business must follow strict EPA regulations regarding runoff water and environmentally safe chemicals if needed.
Insurance: The business must carry their own insurance to pay for any damages to a home should it occur during the service.
Efficiency: They should have the experience to do the practice quickly and efficiently so that your siding, deck or driveway needs to be washed only once a year.
Find a professional pressure washing service near you today.
Pressure or Power Washer Rental Prices
Still looking at the DIY method? You'll pay $35 to $175 per day to rent a power or pressure washer.
How Much Does a Pressure or Power Washer Cost?
You can always buy one, although usually with lower pressure, for $100 to $1,000 for most residential models. If you're into outdoor sports, own a boat or RV or something that requires frequent washing, investing in a power washer and learning to use it might be the right way to go. However, for occasional jobs, hiring a pro tends to cost far less.
DIY Hazards
Here are some tips if you decide to go ahead with a DIY approach:
Look for damage in the machine-like cracked hoses, broken seals or rust on the nozzle.
Read the safety instructions!
Wear safety goggles or a face shield.
If you are using cleaning solutions, pre-water and, if possible, cover foliage.
Don't stand too close when spraying the area.
40-degree nozzles are best for siding and decks, while a 0-degree nozzle is good for getting rid of mud and stains on driveways.
FAQs
How much does it cost to pressure wash a 2-story house?
It'll cost $400 to $1,400 to power wash the entire exterior of a 2-story home.
How much does it cost to soft wash a house?
It'll cost $300 to $900 to soft wash the outside of most homes. This process uses low-pressure water and sometimes a bristle brush with a light cleaning solution. You can also buy a spray-on cleaner that attaches directly to a garden hose for a DIY solution.
How long does it take to pressure or power wash an exterior house?
It'll take anywhere from 30 minutes to 3 hours to power wash a home, depending on how accessible and dirty the home is.
How much should pros charge for pressure washing?
A professional should charge enough to cover their overhead and make at least 30% profit or about $0.10 to $0.75 per square foot. They'll usually need to charge a minimum fee of around $100.
Will power washing harm my siding or driveway?
Power washing can harm both your siding and your driveway. Always hire a professional to inspect your home and recommend the best method of cleaning.
What are some tips for hiring power or pressure washing services?
To be sure you hire the best service for your job, you should speak with at least 3 to 4 professionals in your area. Some questions to ask your potential professional:
Are you bonded?
Do you have general liability coverage and/or worker's compensation?
What are your certifications?
Can you provide references for previous power/pressure projects?
In municipalities where required: What type of water reclamation system will you be using?
Will you use my water or supply your own? Make sure you're not charged for your water use.
Can you provide an estimate with line items for soap, labor, equipment and detail the size of the project? The price should also include labor, time and size of the area they're going to clean.
Have More Questions About Power and Pressure Washing?
Thank you for submitting your feedback.