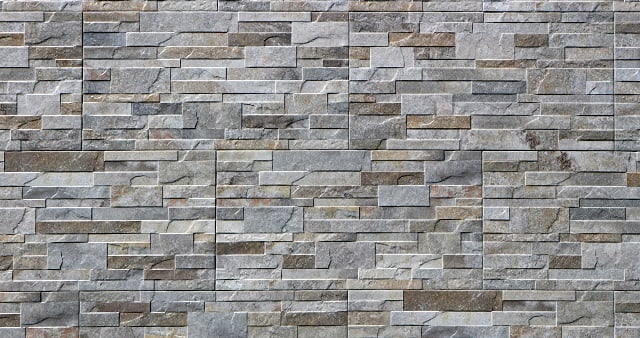 Stone is a trendy way to add texture and curb appeal to your home. This natural style is a popular enhancement for exteriors and interiors alike. Our guide helps you find the best veneer to give your home a modern boost with an organic twist.
On This Page:
Types of Stone Veneer
Stone veneer is a decorative material for interiors and exteriors. It's frequently used to cover a home's façade, indoor fireplaces or outdoor grilling areas. Like many other home improvement materials, stone veneer is versatile. Now, it's available in natural stone or faux sheets.
Natural

Made by mother nature, natural stone veneer comes in endless shapes, colors and sizes. And thanks to modern technology, natural stone is now available in 1-inch depth for easy transportation and installation. These are some of the top rated stone veneer options for your home:
Style
Characteristics
Stacked
Snug fit
Raised edges
Mosaic
Irregular shapes
Bold patterns
Streaked
Cool hues
Mixed line patterns
Rounded
Worn edges
Inviting textures
River Rock
Speckled stones
Smooth shades of gray
Ashlar
Ultra-light
Straight lines
Faux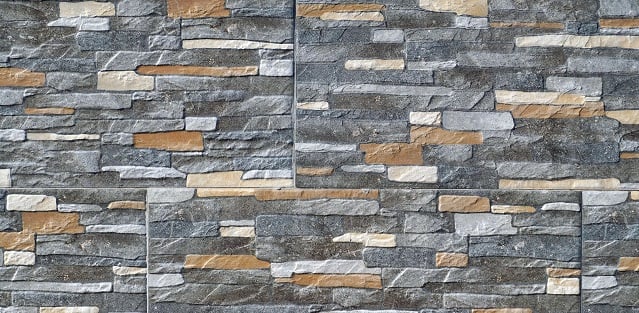 Manufactured stone veneer is a combination of concrete and other compounds poured into stone-shaped molds. Created in the 1950s, faux veneer mimics the look of natural stone with a wide range of thickness and colors available. These are the best faux stone panels and their characteristics:
Style
Characteristics
Dry Stack
Looks like building blocks
Contemporary
Mortared
Mortar between each stone
Traditional
For most home owners, the choice between natural and faux stone veneer comes down to budget. Installing stone veneer costs between $87,500 and $125,000 depending on your choice of materials and the area to cover.

Ready to start your
Stone Veneer Installation

?Find Pros
Pros & Cons
These are the pros and cons of each veneer type, to help you make the decision between natural and faux:
Natural
Pros
Cons
Natural beauty
Rich colors
Little maintenance
Hard to cut
Sense
Difficult to source
Faux
Pros
Cons
Easy to install
Less expensive
Lightweight
Homogeneous
Can fade
Brittle
Things to Consider
Choosing between manufactured and stone veneer also depends on the use and installation of your material. While natural stone works well for structural use, manufactured cannot hold any weight. The versatility of natural stone allows you to use it for flooring, while manufactured veneer is decorative only.
Manufactured veneer installs with mortar on any type of surface, including dry way. Natural stone works best with porous concrete, stone or block.
For these reasons, it's best to contact a stone veneer contractor near you to carry out the project.
FAQs
Can you use stone veneer outside?
Stone veneer is a user-friendly option for exteriors and interiors.
What's the difference between brick and brick veneer?
Brick holds up the home structure. Brick veneer is a siding effect for decorative purposes.

Ready to start your
Stone Veneer Installation

?Find Pros
No Comments Yet