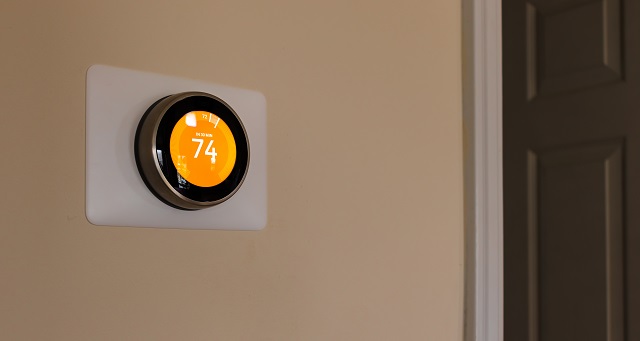 Cold weather is just around the corner, bringing higher energy costs for many homeowners, especially if fuel prices skyrocket the way they did last year. A smart thermostat is one of the best ways to keep these costs in check.
The device replaces the traditional thermometer on your wall, and enables you to program your home's heating system (and cooling in warmer months) to turn down automatically when you're asleep or away.
Each degree you adjust the temperature equals a two percent annual energy savings. For the average homeowner, that works out to around $180 per year — meaning a smart thermostat will pay for itself in a couple years.
That quick payback has made smart thermostats one of the most popular smart home devices, according to recent HomeAdvisor surveys of consumers and professionals alike.
So which smart thermostat makes the most sense for the kind of home you live in? Here's a roundup of top-rated models to help answer that question.
Launched in 2012, the Nest Learning Thermostat is the original smart thermostat, and it remains the top seller today.
An early example of artificial intelligence, Nest learns your preferences and routines after you set it manually for a week or so, making for a highly user-friendly experience. It can also integrate with other smart products in the home, for example turning the lights off when it knows you've left the house. With the addition of the Nest Protect smoke + CO alarm, the Nest Learning Thermostat will even shut off the heating system in the event of a fire.
What the experts are saying
"The Nest Learning Thermostat is still the easiest, most intuitive thermostat we tested, offering the best combination of style and substance." — The Wirecutter
Best for Big Homes: Ecobee4, $249
The one drawback so many smart thermostats is that they only measure the home's temperature in one place, resulting in hot and cold spots throughout the home. The Ecobee4 addresses that issue with the addition of room sensors.
If one part of the house is a little drafty, the sensors will tell your heating system to send more heat to that part of the house. The latest generation Ecobee4 also has built-in voice control and Amazon Alexa, so it doubles as a digital assistant — reading off today's headlines, setting a timer, ordering groceries and more.

What the experts are saying
"Not only does the Ecobee4 work incredibly well, it's the smartest thermostat we've ever reviewed." — CNET
If you have an old analog thermostat on the wall, chances are it's a Honeywell.
The time-tested brand has kept pace with the technology, as evidenced by its latest smart thermostats. The T5 gets special mention here for its low price, but the entire Lyric family is worth a look, including the Lyric Round, which uses geo-fencing technology to adjust your home's temperature based on your location. That means never having to walk into a cold house again.
Honeywell thermostats use a proprietary app called Total Comfort Connect that makes it easy for homeowners to remotely manage their entire heating and cooling system. Thanks to a new partnership between Honeywell and HomeAdvisor, the app even lets homeowners connect instantly with qualified, pre-screened home service pros, say if there's a problem with their furnace or they need to have their central AC serviced.
Earlier this year, Honeywell also announced that its Lyric thermostats will work with opt-in demand response programs from utility companies, allowing homeowners to conserve energy use when costs are highest, for example by turning down the heat automatically during peak demand. That's one more way smart thermostat can lead to serious energy savings for consumers.
What the experts are saying
"If you don't need all the bells and whistles that fancier smart thermostats offer (and you don't need to control a humidifier, dehumidifier, or ventilator), Honeywell's Lyric T5 is a great choice."— TechHive
Dan's Bottom Line
Smart thermostats are catching on, but there are still tens of millions of U.S. homes without them. Put this project at the top of your home winterization list (checking insulation levels and plugging leaks around windows and doors should also be up there) –not only will installing a smart thermostat save you money, it will make your home's climate much easier to control.
As for home service pros, thermostat installs should be an automatic part of your business, whether you're an HVAC contractor, electrician, or handyman. The devices are often marketed as DIY-friendly, but installation is tricky for many consumers, so having deep knowledge of the product category should generate plenty of leads.
No Comments Yet