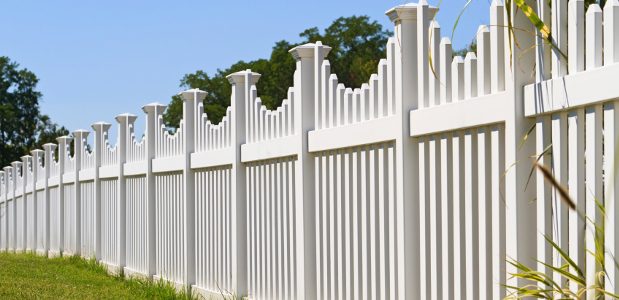 Installing a fence involves more than digging postholes and nailing boards together. In addition to updating the appearance of your home, good fence design is a great way to add value and security to your property. Installing a fence is no small project, however, so you'll want to take into consideration the many factors before you get started.
Installing a Fence You'll Enjoy
One of the toughest parts of installing a fence for your home is choosing the right fence design to meet your needs and match your landscaping. Take some time to look at the variety of fences in your neighborhood to get ideas. Home improvement magazines and online images can also help give you a wide-angle lens for your residential fencing options. Whether you want a privacy, picket, or boundary fence, there are many attractive options to choose from. Consider what you want your fence for: Privacy fences are great for creating a space of your own in the backyard, but they can also shut you off from your neighbors, making them less than ideal solutions for front yards or open housing developments. Chain link fences are by far the most economical when it comes to fence designs, but you won't be winning any awards for looks. And if security is your primary concern, wrought iron or steel fencing tells passersby that you'd prefer they keep their distance.
Picket Fence
Many people think of fences as defining a property's boundary and maintaining a homeowner's privacy. While a fence can serve these functions, the more common reason people choose a picket fence is to enhance the beauty of your yard. The fence expert is the landscape designer not the home security contractor. Pickets are often best used in conjunction with flowers, bushes, or vines. A white picket fence will allow a number of color combinations with different floral palates. The nature of this fence is to give your home an unassuming, country feel to your home that will welcome your neighbors. Many homeowners also think the picket fence is perfect in combination with their stone walls.
The Post and Rail Fence
A very similar fence is the post and rail fence. Perhaps the simplest fence one can choose; posts are joined by one, two, or three horizontal rails. Like the picket, the post and rail fence is primarily decorative, but unlike pickets, a post and rail has significantly more open space. In other words, if you're looking for a fence to enhance and frame a garden or certain landscaped area, this might be the fence for you, but if you're looking for a decorative fence that still provides a certain amount of privacy and seclusion, you'll want to stick with the picket.
Get to Know Materials
The other important thing to consider with fence designs is the wealth of materials available for you to choose from. Privacy fences are king these days, and your best bet is to go with cedar. It has a beautiful, natural, look to it, and the oils in the wood naturally repel insect infestation and rot. For a maintenance-free, and attractive, fencing solution, look into aluminum or vinyl fencing. It can be made to look like just about any material, even natural wood grain, though your color choices are going to be limited. White is pretty much all you've got to choose from. And for security fences, wrought iron and steel take the cake. Make sure you're getting high end materials here, though, since rust and other deterioration can take their toll if you try to cut corners by buying cut rate materials.
Need to find a pro for your Fencing Project?
Find Pros
Educate Yourself on Laws and Regulations
Many towns and cities have zoning laws that apply to fencing, so you'll want to do some research before you set your plans. If you have a homeowners association to answer to, your neighborhood may have a covenant code concerning fence heights and materials that you'll have to abide by as well. Check with your local code enforcement office and neighborhood association about the types of fences allowed in your area, and be sure to get prior approval before you start.
It's also critical that you have your property lines surveyed, if your fence is anywhere near the boundary of your property. Even old survey documents may not be sufficient, unless you know and trust the person who conducted the survey. Surveying is a necessary step, no matter what terms you may be on with your next-door neighbor. There are no guarantees that, should your neighbor sell his or her home, the next neighbor will be so understanding. If it turns out your fence is on your neighbor's property, even by inches, he or she will likely have every legal standing to force you to tear down the fence and at your own expense.
Talk to a Fencing Contractor for the Best Fence Designs
Getting a quote from a fence professional can be the best decision you make. They know city regulations inside and out when it comes to installing a fence, and will have a wealth of ideas when it comes to fence design, as well. Also, keep in mind that this is no small project. You'll be digging post holes, mixing concrete, making sure your fence is level, and dealing with landscaping challenges and obstacles.
Moreover, you can't trust online guides for fence building, as local conditions can have a dramatic effect on the installation process. Soil consistency and wind exposure are just two of the regional factors that can alter fence installation, even the design of the fence. What is likely to take you several full weekends to accomplish with the help of some generous friends, will take a fencing contractor with an experienced crew a matter of days to install. Add to that the costs of supplies and tools that you'll have to rent or buy if you do it on your own, and it can easily end up rivaling the cost of hiring a professional in the end.
---
3 Comments