Aluminum or Steel Fence Costs
The national average to install an aluminum or steel fence is about $3,769. Most homeowners pay between $2,193 and $5,472, with high-end expenses reaching up to $8,000. Average material costs fall between $7 to $32 per foot, while labor averages $15 to $40 per foot.

Steel or aluminum fence prices depend on fence height, style, strength and difficulty of installation. Sloping yards and obstructions, like trees, pose challenges that could increase labor or material expenses. You'll want to

hire a professional fencing contractor

to minimize complications.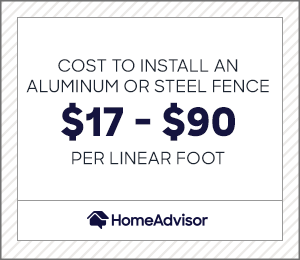 There are numerous types of residential fencing available to the consumer. When deciding on a fence material and style, it is important to assess your needs so that the appropriate type can be selected. Metal fences are a popular choice for security and durability, but even with metal fences, there are several choices to be made.
Note: Before installing any fence, check local, county and state codes to ensure your structure complies.
Aluminum is a lightweight, malleable metal that resists rust and is ideal for damp, humid or ocean-side conditions. It's easy to install and doesn't need very much maintenance.
What you pay varies based on project difficulty, type and quality of materials, yard size and shape.
Local ordinances usually require pool fences to be at least 48 inches tall, so these standard-sized panels are the perfect height.
Powder-coating is a dry-finishing process that protects nearly any material surface from indoor/outdoor wear, tear, rust or corrosion. It's typically cheaper to coat aluminum than other metal materials, but pricing will depend on the size.
It is one of the strongest metal fencing materials. It's an alloy of iron and carbon, although it can be combined with different metals such as tungsten and chromium for other desirable characteristics. Sections are welded rather than held together by movable parts such as screws. This adds to the overall stability of the structure.
Steel is more expensive than aluminum, and works best in dry, inland climates. Climbing children or minor accidents easily dent aluminum, but a steel fence can withstand the bump of a lawnmower or even a car.
Regular steel that is galvanized is coated with zinc for extra strength and durability. This process gives it the finished look and feel of a wrought iron fence, but for a lower price.
Palisades are strong, durable fencing solutions with sharp spikes designed exclusively for security purposes. They can span up to a height of about 10 feet. Homeowners can even add electric fencing to palisades for better intruder resistance.
Contractors typically price per project because factors like material type, yard shape and seasonality, can affect project difficulty. Steel fencing is difficult to install because the materials are so heavy. This is not a do-it-yourself project.
Aluminum alloys may rival the strength of steel, depending on the metals used in the alloy. However, both types are prone to similar problems that require more upkeep. Alloy prices can also fluctuate over time, depending on a variety of factors.
Steel variations also affect the upkeep expenses. Galvanized is more resistant to rust and decay but is much more expensive to purchase.
Finally, consumers need to be aware that the source of the fencing can have a great impact on its durability. American-made fences often out-perform cheaper fencing from China, where alloys and treatments of the metal may not be as strong. A bargain now may prove to be a disaster later.
When purchasing materials for your DIY project, hardware stores sometimes have less of a selection than a contractor. Consulting a professional can give you more design options.
While steel is a more traditional choice, the maintenance-free nature of an aluminum fence along with cheap installation costs may be preferable. On the other hand, where durability, strength and security are the key factors, the extra maintenance and installation costs make steel a preferable choice.
The choice between these two materials is about a balance of factors that best suit the purpose. For similar prices, steel and aluminum can both provide attractive fencing solutions.
Thank you for submitting your feedback.