Chain-Link Fence Cost
Chain link fencing costs between $5 and $20 per foot for materials and $10 to $20 per linear foot for installation. Homeowners typically pay $2,177 on average, or between $1,195 and $3,159. Tall, thick-gauge fences cost up to $40 per linear foot, or more than $5,000 total.
Fences 6 feet or taller, or those with upgrades, are more likely to exceed $5,000. Depending on height and gauge, you can spend up to $40 per linear foot. Labor usually makes up 25 to 50% of the final price. Chain-link fencing is a cheap and popular option for homeowners. It's great for keeping pets and children safe without blocking the view or the breeze, but may not have as high an ROI as fence materials like wrought iron or wood.
On This Page: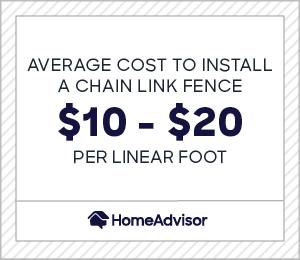 Installation averages $2,000 for a 4-foot fence running 100 feet long. Materials and labor divide roughly in half for the average project. Most homes have a 3- or 4-foot fence in the front yard with a 6-foot fence in the backyard. It's common to have chain-link in the front yard with wood or vinyl for privacy in the back.
Labor Cost to Put Up a Chain-Link Fence
Labor costs $5 to $20 per linear foot, making up 25% to 50% of the total project. Occasionally, a contractor may work at $25 to $50 per hour, most notably in cases where you supply the materials. For 150 linear feet, labor will run you $1,000 to $3,000 regardless of how they bill.
Chain-Link Fence Removal & Replacement Cost
To demolish an existing length of wire mesh, expect to spend between $3 to $5 per linear foot.
For any old fence you're removing, ask about its scrap or resale value which can be upward of $6 per linear foot. For chain link in usable condition, try selling it to the contractor for a fee reduction. Some scrap yards will take it too.
Replacing sections runs from $10-$25 per linear foot.
Repairing chain-link fencing costs $300-$700 total.
Get Chain Link Fence Quotes from The Best Local Pros
Chain-Link Fence Material Estimates
Materials make up 50% of your overall budget. You'll need posts every 7 to 10 feet with post caps. The typical residential fencing has 2" holes and uses 11.5-gauge wire with posts every 10 feet.
Chain-Link Material Costs

| | |
| --- | --- |
| Mesh | $2 - $15+ per linear foot |
| Posts including concrete | $15 - $25 each |
| Walkway Gate | $50 - $130 each |
| Driveway Gate | $50 - $200 per linear foot |
| Privacy Slat | $3 - $5 per linear foot |
| Hardware & Post Caps | $1 - $4 each. |
Mesh Pricing Per Gauge or Thickness
Gauge refers to the thickness of the metal strands. The higher the number, the thinner each strand is. Thicker mesh lasts longer and provides more security. For standard 2-inch residential mesh, not including labor:
5-gauge: $1.50-$7 per linear foot
9-gauge: $2-$10 per linear foot. Common for ranges.
6-gauge: $4-$20 per linear foot. Used for heavy commercial applications.
Decreasing the mesh size from 2 inches to 1 inch can double or triple the price up to $55 per linear foot.
Chain-Link Fence Post Cost
Posts run an average of $30 each or $3 per linear foot as part of the complete project. For each post, materials run $20 with labor at $10. Most companies will set the posts and come back the next day to start installing the fencing though a few may opt for one-day installations.
Chain-Link Gate Pricing
Residential standard swing gates add $100 to $450 with labor or $50 to $320 for materials alone. Automated commercial rolling gates large enough to allow a car through run $500 to $1,800 or more.
Chain-Link Privacy Slats Cost
Chain-link privacy slats run $5 to $15 per linear foot including labor or $3 to $5 for just the slats. Options include redwood, vinyl and aluminum. They won't provide as much privacy as a wood or vinyl fence but come in at roughly half the cost.
Get a Customized Chain Link Quote from Local Pros
Per Foot Chain-Link Fence Cost Estimator
You'll spend $8 to $40 per foot depending on the height and material type you choose. However, the average homeowner most commonly pays in the $10 to $20 per foot range. You'll usually find fencing quotes with either a total project or per foot pricing.
Chain-Link Fence Costs by Height

| Height | Per Linear Foot |
| --- | --- |
| 4ft Tall | $8 - $20 |
| 5ft Tall | $9 - $22 |
| 6ft Tall | $10 - $29 |
| 8ft Tall | $12 - $34 |
| 10ft Tall | $17 - $40 |
Note: Installing privacy slats increases the per foot pricing by $3 to $10. Once you've determined the height of your fence, calculate the total cost by multiplying the height price by the total length. For heights 12 feet and above, discuss installation pricing with a professional.
Average Price Per Acre for Residential Chain-Link
A 6-foot height for a full acre would run $7,000 to $15,000 or more. However, most residential plots are only a quarter acre and the entire perimeter doesn't require fencing.
Quarter acre costs $1,500 to $3,000 on average.
You'll need 150 to 200 linear feet for the average backyard.
Most acreage has 700 to 1,000 feet of perimeter.
Average Chain-Link Fence Per Linear Foot
In most cases, your professional charges by the project. However, they'll calculate that price using an average of $12 per foot for 4-foot fencing or $15 per foot for 6-foot styles.
Average Chain-Link Cost Per Foot

| Linear Feet | 4-foot Tall | 6-foot Tall |
| --- | --- | --- |
| 50 | $600 | $750 |
| 100 | $1,200 | $1,500 |
| 150 | $1,800 | $2,250 |
| 200 | $2,400 | $3,000 |
Average Price Per Meter for Chain-link
On average, you'll spend $24 to $45 per linear meter. Add on options or higher gauge materials might increase that to $90. It is uncommon for a pro to charge by the meter in the United States. However, if you're importing materials from another country, like Canada, you might encounter this method of billing.
Get The Best Quote from Local Chain Link Services
Chain-Link Fence Prices by Type
Chain-link fence prices range from $5 to $40 per linear foot depending on what type you choose. Wire mesh barriers come in a wide variety of thicknesses, mesh sizes and colors. Despite various names and coatings, the base of all chain-link is a galvanized steel wire mesh strung between steel or wooden poles. It goes by many names, including cyclone, hurricane, wire netting, chain-wire and wire-mesh fencing. Costs remain similar despite its various names and applications.
Galvanized Chain-Link Fence Prices
Galvanized wire mesh runs $5 to $15 per linear foot including labor but without. For the mesh alone, you'll spend $1.50 to $5 per linear foot depending on height. Considered the basic standard, this type is the most popular and cheapest available.
Cyclone or Hurricane Fence Costs
You'll spend between $8 and $40 per linear foot for cyclone or hurricane fencing. There is no difference between this type and standard varieties. Despite its name, it's best to use a PVC-coated mesh over metal in coastal areas to protect from salt-water corrosion.
Black & Green Vinyl-Covered Chain-Link Fencing Prices
Glued, extruded or powder-coated black vinyl chain-link costs$13 to $40 per linear foot. Adding PVC vinyl fused and bonded to wire mesh increases the material price to $5 to $20 per linear foot.
Labor rates: Remain at $25 to $50 per hour.
Excellent for coastal and marine applications.
Comes in a wide variety of colors, most commonly black and green.
Wood with Wire Mesh or Metal
In most cases, you'll want to match the look and quality of your home and neighborhood with the fencing materials you choose. Mixing wood with black wire mesh creates a high-end look without the high-end price tag. You might also try another metal like aluminum or wrought iron for better aesthetic appeal.
Ready to Build Your Chain-Link Fence?
Chain-Link Fence Building Considerations
Besides the obvious material and labor costs, there are a few other considerations to consider when planning this project. These include tools, equipment, building permits, landscaping and design integrations with wood and other materials.
Equipment and Tool Costs
Equipment rentals can run from $25 to $150 per day for a cement mixer and post hole auger. Professionals include tool pricing in the project price and sometimes as a line item.
Building Permits
Building permits cost anywhere from $25 to $500. Permits requirements and prices vary between municipalities. Check with your local building code enforcement agency for details on local permits.
Landscaping & Natural Barriers
Before you place anything on your property, consider any barriers like trees, bushes, sheds and driveways. These obstacles add time and expense.
Landscaping costs: $1,400-$5,500 depending on what type you need.
Tree removal prices: $200-$2,000 depending on how many you have.
Working around existing structures adds anywhere from $2-$5 per linear foot.
Hire a Professional Fence Builder vs. DIY
The simplicity of the project makes it good for the DIYer with experience, the right tools and about 20 to 30 hours to invest. Despite this, there are some technical aspects that can trip up the novice. If you have any hesitations, find a professional fence installer near you.
Hiring a professional costs about 100% more than doing it yourself but can save you money in the long run. Correcting a poorly done DIY job runs more than simply installing a new fence after including removal and disposal fees.
Comparison shopping can save you 25% or more. When exploring options, compare multiple quotes and check local pricing.
FAQs
How much does commercial chain-link cost?
Commercial chain-link costs anywhere from $15 to $100 per foot.
What is the price to rent a temporary chain-link fence?
Temporary chain-link fencing runs about $2 per linear foot per month. You can find daily, weekly and monthly rates which will vary depending on your location.
How do I estimate chain-link fence costs?
Measure the distance where you want the fence to sit.
Multiply that number by $10 and $20. This should give you an idea of how much a basic fence is.
Get multiple quotes from qualified fence installers.
How long does chain-link installation take?
It will take approximately one day to set posts in concrete. It takes one more day to install 150 feet of fence. Some companies can install the posts in concrete and the fencing all in one day. Add an additional day for every 100 linear feet past the initial 150 feet.
How much do chain-link privacy slats cost?
Privacy slats for chain-link fences range from $3 to $12 per linear foot excluding labor which adds $2 to $3 per foot. You can find them at most home improvement stores. They come in both wood and vinyl.
Still have questions? Talk to a Chain Link Fence Professional.
Thank you for submitting your feedback.