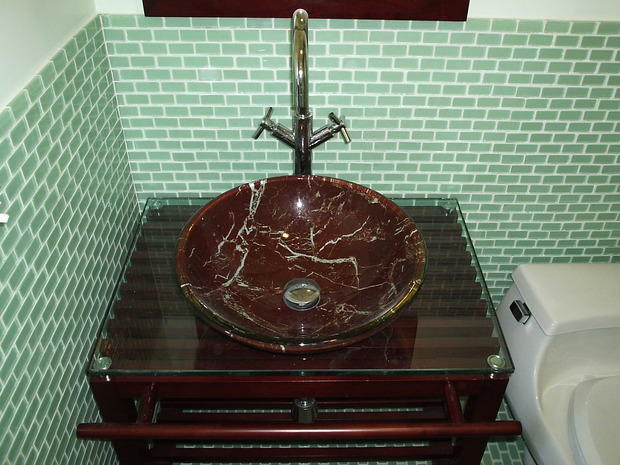 When in the market for a new sink, homeowners are often limited by their options. Stainless steel is probably the most popular item, porcelain comes in a close second, and enameled cast iron is another common alternative. There's just not a lot of choice out there, so people tend to concentrate more on the installation method (drop-in, seamless, under or over-mounted) to determine style.
But recently, a new product has come on the scene that offers age-old reliability along with the visual appeal of high-end materials. Composite sinks are quickly become a fashionable trend amongst new homes, and therefore are perfect for any bathroom or kitchen remodel.
What are Composite Sinks?
The name says it all: sinks made from a combination of at least two different materials that gives them a distinct look and natural toughness. They're often available in quartz or granite, though acrylic blends are also available. So not only do these substances provide a good looking surface, due to their compact construction and high stone density, composite kitchen sinks are also extremely durable.
Every model is heat resistant (they can usually withstand over 500 degrees) so that hot pans and plates won't affect the finish. Plus, they're less vulnerable to dents, dings, or scratches caused by stray silverware, sharp utensils, or dropped dishes.
How Do They Compare?
Every sink comes with its own pros and cons. Stainless steel is typically a bit cheaper; plus, since it's such a popular and timeless material, it often blends in with any design decor. However, a lot depends on the gauge of the metal: less thickness equals more dents but dense steel requires more money. Plus, it easily scratches and spots, making it harder to keep pristine. Enameled cast iron items are tough, attractive, and retain heat, but they're also expensive, heavy to install, chip easily, and can be so hard anything fragile dropped into them could shatter.
Composite sinks, on the other hand, have the unique appeal of high-end materials (such as granite) without the added expense. Since they're not completely constructed out of one substance, you won't be paying full price for the good stuff. Plus, since it's a uniform material all the way through, even if it does chip or scratch it won't be noticeable. Also, they can still be under or over-mounted and come in a wide variety of colors, styles, and shades to fit your particular personality.
Kinds of Composite Kitchen Sinks
There are all kinds of options when selecting a composite sink, so here's a quick buyer's guide when you're trying to choose the best model for your individual needs:
Acrylic: Often combined with fiberglass or polyester, this material is one of the more affordable models. The softer substances make it vulnerable to scratches, but they're still attractive, come in any color, and add a nice, clean surface luster to the area.
Quartz: Combined with resin filler, quartz provides surface strength against cuts, dings, or stains. It can also retain heat for dishwater and adds a high-gloss to the finish. Plus, it's still obtainable for those with tight budgets (it often only reaches into the $200 range).
Granite: It's the most expensive but also the most durable on the list. However, what's most appealing is that it can match up with the rest of your remodel. If you have modern appliances, custom cabinets, and granite counters, this item will complete a seamless set.
Getting Some Help
The first step in installation is finding the right composite kitchen sink for you and your budget. This is actually the tougher assignment since there are so many choices and manufacturers to choose from. Therefore, it may be a good idea to hire a contractor first: they can guide you through the buying process, help you select the appropriate product, and then correctly mount it into your countertop. Since they're made from special materials, they also require special installation methods, but a lot will depend on if you want an over or under-mounted unit in your home.
2 Comments