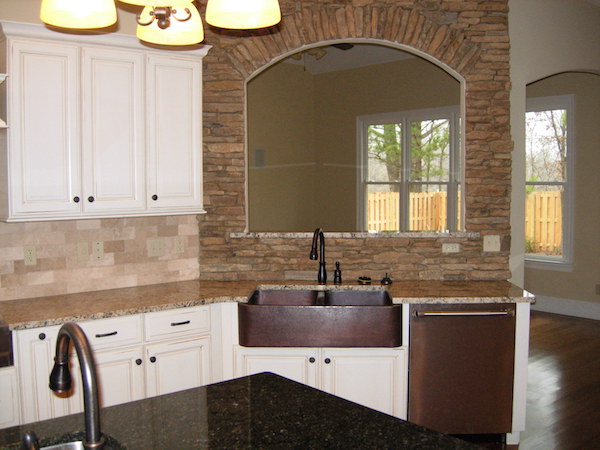 Copper kitchen sinks offer many advantages that simply can't be matched by other sinks. A classically American sink, copper goes well a wide variety of decorating schemes. The process of hammering the sinks into shape gives each one a personal touch of the particular artisan. High quality sinks are easily maintained and will most likely outlast their homeowners. Resistant not only to stains and discoloration, copper is inhospitable to many forms of bacteria, helping to keep your home a healthy one.
Spend a Little Extra for a Thicker Copper Sink
Many copper sinks will look the same, even though they rarely are. First, like most metal fixtures and installations, there can be a variance in thickness or gauge (the smaller the gauge number, the thicker the sink). Kitchen copper sinks will generally range from 18-14 gauge. The thicker the sink the more expensive it will be, but the extra cost is usually worth it. Thin sinks have a tinny sound and will dent more easily. If you do choose a thinner sink, they can be fitted with sound insulation to minimize the inferior sound effects. The cost of copper sinks has a fairly large range and you may not need to go to one extreme or another. Quality copper sinks can range to just a few hundred dollars to well over a thousand.
Copper Sink Finishing
Copper finishing is a huge component of copper sinks and copper installations in general. Most copper sinks have a living finish, where the texture and appearance of the sink will change over time. This is not a defect, but a quality of the copper. The process is called patination; the resulting finish is called the copper's patina. If the word sounds familiar, it may be from sculpting. Patina also refers to the green color taken on by aged bronze. Even standard quality copper sinks should not turn green, however. Copper patinas have their own quality that many homeowners actually covet.
Higher end copper companies will speed this process along to create various and distinctive looks for their sinks. Don't be sucked in by shiny, new copper. This is not a sign of superior copper, but rather copper that will have its patina left to the elements of your kitchen. Before you buy a sink, make sure you're aware of what treatment the copper has already received and what it's likely to look like one, five, and twenty years from when you buy it. If you disdain the look of aged copper, you will be able to regain much of the copper's original look by sanding and polishing, but this process, too, is temporary.
Copper Sink Maintenance
Copper sinks are not particularly hard to maintain. Basic cleaning requires nothing more than mild soap and water. On the other hand, it will be important not to let dirty pots and pans sit in your sink for too long. You don't want to let your sink reach a state where rigorous cleaning is needed. Abrasive materials and chemicals can harm the copper, although periodically applying a specially-designed wax will help protect the copper and slow patination, if the aged-effect is undesired.
1 Comments