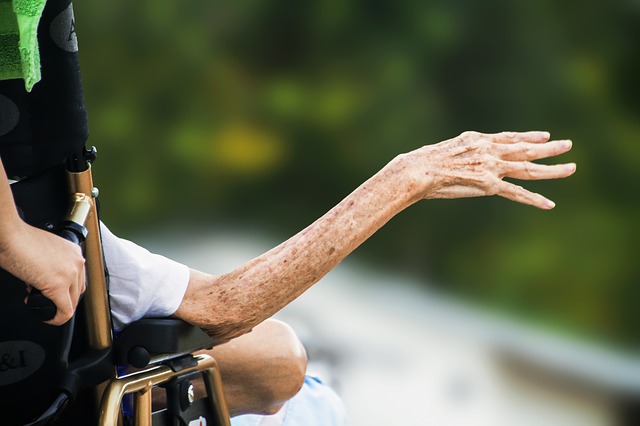 Given the option of spending the end of your life in a hospital versus in your own home, what would you choose? For most of us, the answer is simple, especially for those with a spouse or family. We would much prefer to live out our days and die peacefully in the comfort and privacy of our own home, surrounded by memories and the people we love.
Unfortunately, the decision is not always up to us. The type of treatment or end-of-life care we need will determine whether spending our final days, weeks, or months at home is an option.
Those who require medical intervention like IV pain medication or frequent procedures like X-rays may not be candidates for at-home care. However, many end-of-life patients receiving palliative care to keep them comfortable and pain-free can receive that same care from an in-home nurse or family member. In the end, this option can be less costly and more fulfilling. One study suggests people who spend their final days at home live longer and enjoy a better quality of life.
If your partner or loved one prefers to pass away at home, the existing space will likely require special attention. From structural modifications to allow for special equipment to finding ways for your loved one to maintain independence, this guide will help you create a suitable place to spend life's final, precious moments, and to pass away peacefully.
Step 1: Creating a Soothing Space
Start with a good cleaning
For many people in poor health, basic tasks such as dusting and vacuuming are difficult. As a result, their homes can become dirty and in disrepair. Do a walk-through of the home. Make a list of any repairs that need to be made. Be especially vigilant about problems like cleaning water damage, which can lead to mold growth and cause respiratory issues. If you can't take care of the to-dos yourself, enlist a family member or professional cleaning service near you to help. Maid services cost between $50 and $90 per hour on average and can be a great way to keep up if you start to fall behind on regular cleanings.
Change as little as possible
Aside from providing a clean environment free from health hazards, you should leave as much as you can unaltered. There is comfort in the familiar, so it's important to keep things as close as you are able to the home your loved one knows and loves.
Leave photographs and artwork on the walls These and table-top knickknacks and trinkets bring a sense of normalcy to a person as they cope with end-of-life issues.
Keep books and other hobbies close at hand, since these activities can reduce stress.
Keep their pet in the home if at all possible. A cat or dog is both a friend and welcome distraction. Although your loved one may not be able to care for a pet on his or her own, the comfort their friend brings may be worth the effort. If taking care of the pet is too much strain on the caregiver(s), consider hiring a service.
Rearrange if necessary
In the case of bedridden patients who have little access to the rest of the home, it may make sense to rearrange the room where they spend most of their time to include more of their favorite possessions. Ask your loved one what items bring them joy, and make room for those belongings. With their permission, you can place photos from throughout the home into photo books and compile other beloved items in a basket to be kept within arm's reach. Or, if they want to be in a more central location, move the bed to the living room or dining area so they are not isolated. This may also help visitors feel more comfortable.
Step 2: Accommodating Special Equipment
In addition to minor repairs and rearranging, you will need to ensure the home is ready for special equipment, like wheelchairs and walkers. This includes removing slippery rugs and making a clear path between furniture with plenty of clearance. In the event you need to make structural changes, like widening doorways or adding ramps, consult a professional contractor to ensure it is done safely and according to code.
Small changes that will make the home safer and easier to navigate may include:
Swapping door knobs for levers – This may help arthritic patients maintain a better grip.
Adapting existing furniture pieces – Add foam risers to make getting in and out of seats easier.
Adding ample lighting – This is especially important for those with poor eyesight. Consider adding floor lamps and replacing bulbs in existing fixtures with something brighter.
Addressing outdoor spaces – A safe place to get some fresh air can drastically improve quality of life.
Step 3: Maintaining Their Independence
Being able to perform some everyday activities independently, however small, may help in maintaining a sense of dignity. If you can, ensure your loved one has shoes and clothes they can slip on and off by themselves. Let them look through their own mail, give them their own TV remote, and let them spend some time alone. Even if a caregiver is just in the next room, it is imperative your loved one has some time to themselves to rest, think, and cope.
Plan their meals in advance – The kitchen is one of the easiest places in the house for a patient to injure him or herself. To help avoid this, prep meals and snacks ahead of time or purchase them ready-made. Keep them on hand and, if they require heating, make sure it can be done in a microwave and provide instructions. In some cases, hospice will provide a separate caregiver to do light cooking and cleaning. You can also look into meal-delivery services like Meals on Wheels.
Maintain their sense of privacy – This is another big concern, especially when it comes to personal care issues like bathing and using the restroom. While the patient will more than likely require some assistance, you can promote independence in the bathroom with modifications like grab bars, tub benches, and raised commode seats. If a bedside toilet is necessary, position it behind curtains or a movable screen.
Keep your own peace of mind – Depending on the level of the patient's independence, family members may want to consider a medical alert system that will allow the patient to notify someone in the event of a fall or other emergency. If your loved one will be alone at any point of the day or night, this can bring him or her (as well as family members and caregivers) peace of mind.
Step 4: Making Room for Full-Time Care
When preparing a space for the end of a life, the dying party is not the only person to consider. You must ensure the caregivers, usually several family members and/or nurses, are comfortable and cared for as well. Whether they live in the home full time or work shifts, caregivers will need a space of their own to place their belongings and regroup after the physically- and emotionally-stressful moments caring for a dying patient or family member will inevitably bring.
Give them their own space – If you don't have a spare bedroom, a corner of the kitchen or family room will work, as long as it's designated for the individual specifically.
Help them stay connected – You may also want to invest in services like WiFi. Even if your loved one doesn't have a computer or smartphone, most people today need to be connected.
Make sure there is ample parking and food for each caregiver. – Many of us are at our worst behind the wheel or hungry. Providing these things for the caregiver may go a long way toward keeping them in positive spirits at a difficult time.
While none of these items are necessities, it will help the person caring for your loved one enjoy his or her time there, in turn helping him or her take better care of the patient. After all, that's what it's all about: caring for your loved one and treating him or her as you would want to be treated. As long as we show kindness and compassion to our loved ones throughout the process, they will be able to say goodbye with the dignity they deserve.
No Comments Yet