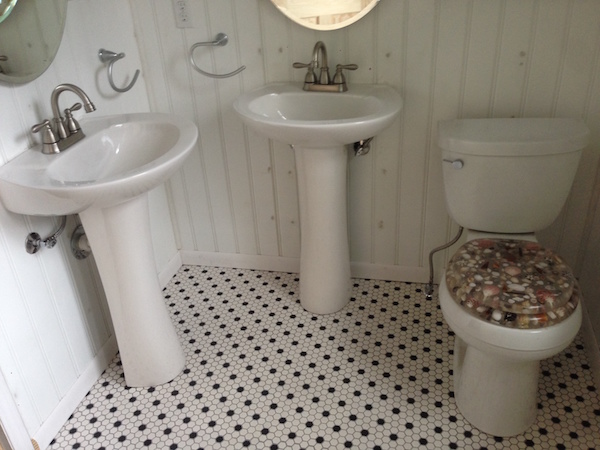 Whether a homeowner is in the middle of a bathroom remodel or just looking at the bathroom décor, many don't think a lot about their toilet seat. Sure, they may pick out white or wood lids, or a lid cover, but throwing a fitted blue rug over the toilet seat lid does not a custom toilet seat make. If you buy the first toilet seat or toilet that meets the "good enough" standard, you may not realize what you're missing. The options have grown considerably over the past century, decade, and year….
Custom Toilet Seats
Heated Toilet Seats: Heated toilet seats may seem like a precious, unnecessary luxury even when you sit down on your current toilet seat on the coldest of mornings. Still, heated toilet seats have been popular in Japan for some time and are beginning to catch on in the United States. On average, heated toilet seats are $100 more expensive than a standard toilet seat. Most heated toilet seats, however, offer a lot more than a source of warmth for your tush. Manufacturers know that the idea of a heated toilet seat appeals to homeowners because of comfort. These custom toilet seats are also often well-cushioned and designed to maximize the comfort of the seat.
Raised Toilet Seats: Too many people take basic mobility for granted. It's human nature, but if you have an elderly or limited mobility household member, you might think about installing raised toilet seats. Many people with some degree of limited mobility find it difficult to raise themselves up from standard height toilets. The added height can not only eliminate this problem, but may reduce the stress for people with back problems. If you or other household members don't like raised toilet seats, you can also buy easily removable models that will allow anyone to use the bathroom.
Elongated Toilet Seats: Elongated toilet seats are hardly customized toilet seats nowadays. Most modern toilet seats are elongated. The shape of these bowls tends to allow for a more convenient toileting experience for men and a generally more hygienic toilet area. Easy release hinged toilet seats will enable quick, convenient cleaning of your seat. In fact, some homeowners detach their toilet seat and throw it in the dishwasher.
Decorative Toilet Seats: Decorative toilet seats can be chosen to match your bathroom décor. Classic wood fits almost any bathroom and has a subtle elegance. Brightly colored or designer toilet seats can be more elaborate. Despite its universality, white toilet seats are rarely the best choice for your bathroom. A decorative custom toilet seat is also a great idea for the kid's bathroom.
Beneath the Seat: Custom Toilets
Custom toilet seats are, of course, just the beginning of contemporary toilets. There is the growing ubiquity of "low-flow" toilets, which some homeowners misunderstand as toilets that can't get the job done. New toilets can conserve water without sacrificing flushing power. Indeed, power flush toilets should reduce the likelihood of clogs and even plumbing leaks and repairs. Up flush toilets are another form of custom toilet that can allow older homes and plumbing systems to install an extra toilet without extensive plumbing installation.
No Comments Yet