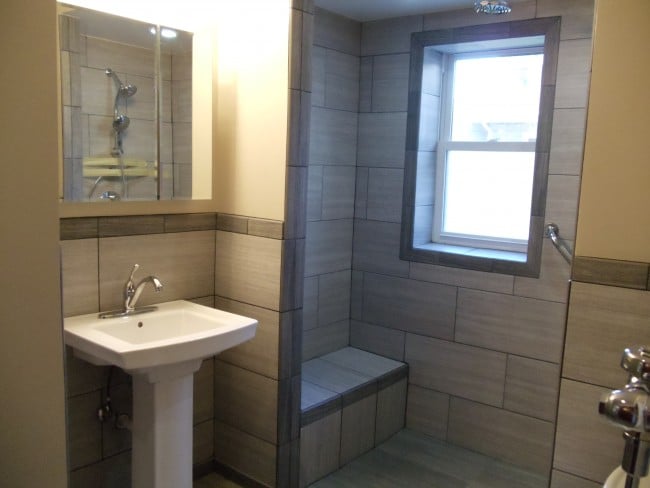 While any home remodel should provide substantial improvement to your daily routine and quality of life, a disability remodel is often an absolute necessity to retain your autonomy and way of life. Whether the result of a sudden trauma or a chronic illness, disabilities can be difficult to navigate, but they shouldn't become the totality of your identity. Disability remodeling is a home improvement or series of improvements that will increase the efficiency of your day-to-day life and your home's overall accessibility. As a starting point, the best plans are usually to focus on the kitchen, bathroom, and home exterior. This checklist will help you identify places where your home needs remodeling.
Disability Remodels for the Kitchen

When designing or redesigning a kitchen you should make sure that the aisles are wide enough to accommodate wheelchairs and walkers.


Sink depth can be a very important consideration if the user is in a wheelchair. Some manufacturers provide sinks that are not as deep as standard sinks.

Faucets that have extended handles and spouts are readily available in many styles and colors. Also, faucets should be within easy reach and easily operable with one hand. For individuals without the use of their hands or who have limited strength, faucets equipped with electronic sensors are designed to automatically turn water on and off.


Cooktops and stoves can be installed at a height that is good for either standing or sitting.

If a person is partially blind, selecting a cooktop that has contrasting colors, such as light surface and dark burners, will help distinguish between hot areas.

Sliding cabinet doors work better for people seated in a wheelchair.

If you are remodeling consider adjusting some of the work surfaces to a 30-inch height rather than the standard 36-inch height. This will aid a person who is seated or a child who may want to help out in the kitchen. It is also good for those who suffer with back problems or have limited reach.

Countertops with rounded edges can reduce injury if someone should happen to fall or bump into them. Wallcoverings can be used to distinguish between areas. Bright colors are helpful for people who have limited vision or limited depth perception to distinguish between walls, cabinets, doorways, etc.

Motion sensors and timers can be used to turn lights off and on. This is especially helpful for those who have difficulties with reaching.
Disability Remodels for the Bathroom

Make sure that the switches are at a height that can be reachable for someone in a seated position. Small children can also benefit from this design consideration.

Tubs and showers should be equipped with grab bars, hand held showerheads, non-slip flooring and seats.

When installing grab bars in a private residence, when possible, ask the person who will be using them to determine the location for installation.

You can turn down the water heater thermostat to prevent accidental scalding. This is also a good idea if you have small children in the household.
Disability Remodeling Tips for Home Exteriors
It is necessary not only to look at the interior of a home, but also the exterior when it comes to accessible/adaptable design. After all, if you don't have an accessibility entry and exit point, your overall mobility and independence, will suffer. Disabilities need not lead to cabin fever. Consider these disability remodeling tips for increasing the accessibility and safety of your home exterior.

Putting a shelf or shelves next to an entry door for sitting packages is very handy and inexpensive to make.

Install a ramp for wheelchair access into the home.

Guardrails should be installed on both sides of wheelchair ramps.

To be fully accessible, driveways and walkways need to be designed wider so that car doors and sliding doors on passenger vans can be fully opened with enough space left for a wheelchair to easily maneuver around.

Surfaces should be of rough texture to prevent slipping.

Porches built should have a wide radius to allow someone in a wheelchair to comfortably maneuver.
Ready to start your
disability remodel

?Find Pros
No Comments Yet