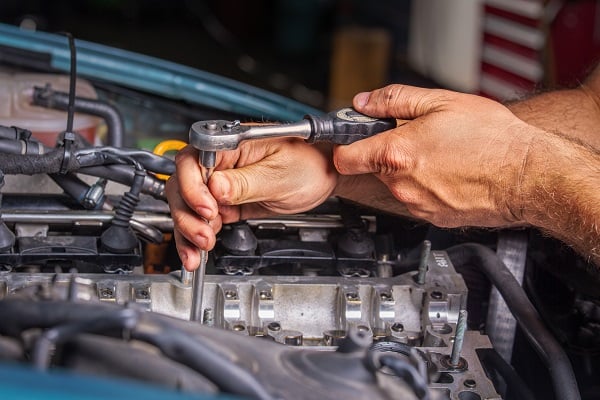 Whether you're a new car enthusiast or have been tinkering with different types of vehicles for years, having a space for your latest project can take your hobby to the next level. Some people simply need garage space to keep up with maintenance on their car, like handling your own oil changes, replacing fluids or rotating your tires. Others may be rebuilding an older vehicle — a car, truck or motorcycle — and need various tools and space.
If you're looking to renovate a space in your home for your DIY car maintenance, you probably have more options than you think. Depending on your needs, which may change as your hobby grows, you can create a handy car maintenance work area in spaces as small as the corner of a garage to building a whole new structure to house your past, current and future projects.
When you're ready to create a dedicated area to work on your vehicles, you need to think through your needs and wants, finding a balance with your space and budget. This guide provides you a few ideas of what you'll likely need for a DIY car maintenance space with tips on:
Remodeling an existing space
Building new structures
Storing the tools you need for projects
Making Space for Your DIY Car Maintenance Hobby
You've outgrown your driveway tinkering and feel that it's time to create a dedicated space for working on your car or other vehicles. This may seem like a huge household overhaul, but likely, you have some space available — you might just need to look at it differently. The national average cost for garage renovations runs more than $10,000. Even if you do have the space, you may want to consider building a whole new structure for your hobby, especially if you have multiple cars you're renovating or need space for more complex tools.
Here are a few ideas to consider when picking the right spot to house your hobby.
Make sure you're not encroaching on areas of the house that will force you to intrude on other people. This is especially important to consider if you enjoy turning up the volume when playing your workshop music or use the usual, loud power tools on your projects. Ideally, you'll want to separate yourself from the main house, either by working in a pre-existing garage, remodeling a garage, or modifying a shed, building a new garage, or expanding a current workspace.
Choose an area where you can safely store tools, keep the work area clean, and have easy access to your tools so that you aren't constantly frustrated trying to complete projects. Also consider how many tools — as well as their sizes — that you will be using.
Think about areas of the car that you want to work on. Will you need access to the undercarriage or just the engine? Will you need to lift the car regularly or simply slide underneath?
Be sure it has good ventilation to keep the air clean of particles and chemicals that could be harmful to your short-term and long-term health.
Once you know the answers to these questions, you'll be able to make the right choice about creating a space. If your budget, space and time supports a remodel, here are a few options to consider:
Take over the garage: If the other members of your household don't mind parking outside or you have a multiple-car garage, your existing garage is probably the easiest area to renovate. You can add shelving around the walls to store chemicals, fluids and tools that you want to keep secure. Using peg boards on the walls and above work benches will allow you to openly store the tools that you use the most often.
Create a DIY corner: If you can't have the whole garage, consider remodeling one wall or a corner. You'll likely still have situations where you utilize your entire garage or driveway, but be smart about storage: Consider building storage containers that suspend from the ceiling and keeping tools in boxes and containers on wheels.
For those with a little more time and space, more substantial renovations might be the right choice for expanding your car maintenance hobby. However, you'll want to check with your city or county regulations to make sure your ideas are within building codes. Building a new garage costs anywhere between $16,000 and $37,000. If you're building a new structure or doing serious remodels, you might also need licenses and permits. Don't forget to chat with your neighbors if you think a project might temporarily disrupt those who live close by. For example, if you plan to do either of these projects, check in with your neighbors so they're prepared:
Renovating a shed: If you have a shed in the backyard you want to use, you'll need to not only consider the space, but also how to get your vehicles back there. For homes with driveways that extend to the end of the property or alleyways in the back, the solution could be simple. However, if this is not the case for you, then other homeowners will want to factor in the costs of extending their driveways or paving a new path to the shed. If the shed is portable, you can also consider moving it to the side of the house or garage to create an outdoor workspace.
Building a new structure: Homeowners ready to create a whole new space can consider extending a current garage, building a detached garage, or erecting a new structure in the backyard.
Storing Tools for Car Maintenance
Whether you're rebuilding the engine on a classic Chevy or teaching your teenager to change the oil on the family SUV, your car maintenance space will require easy access to and simple storage of the tools you use the most. Some common tools for maintenance include:
Sockets
Pliers
Wire cutters
Mallets
For more extensive projects — especially those that will last a long time — tools you'll want to have on hand include:
Bench vises
Good lighting
Torque wrenches
Air compressors
Jack stands/lifts
Garage-tile flooring
Like any hobby workspace, you want to be able to keep hazardous materials out of reach and make sure the area stays clean. Here are some storage tips for a DIY car maintenance area:
Use bungee cords to secure tools to the walls
Use PVC pipes to store tools with long handles, like rakes, brooms and shovels
Install sliding shelves to maximize space
Create workbench and shelving combos
Having an area where you can shake off the stress of the day and get your hands dirty — or a place where you can take pride in managing your own car upkeep — is important to keep your hobby low-stress or help you learn and practice new techniques safely. If you want to take your DIY car maintenance skills to the next level, your own workshop or DIY garage is an inspiring and easy place to spend the weekend.
No Comments Yet