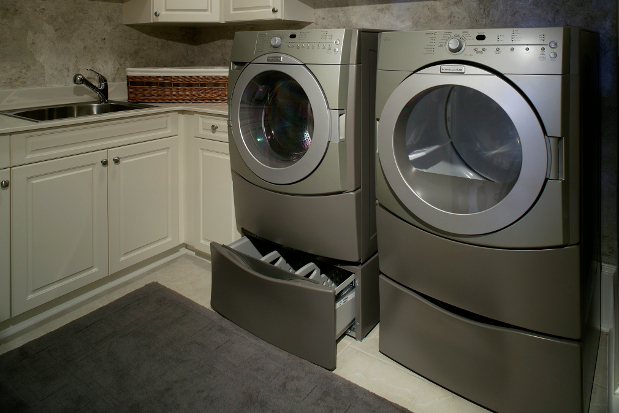 A dryer vent is much more important than most homeowners realize. A properly installed dryer vent, using the right materials, practically eliminates poor dryer performance, increased wear and tear on the appliance, and the very real fire hazards that go hand in hand with poor ventilation. For all these reasons, it's important to know the ins and outs of this often overlooked home improvement.
Indoor/Outdoor Dryer Vent Installation
Unfortunately, one of the biggest mistakes homeowners make, and installers try to get away with, is venting dryers into indoor spaces such as basements, crawlspaces, attics, or garages. For starters, this causes a huge mess of lint dust. Second, by blowing fine particles of cotton and polyester into an area that is rarely cleaned or maintained, you drastically increase the risk of fire. Third, the increased humidity in these enclosed areas makes for the perfect breeding ground for both mold and mildew to develop. Finally, as a corollary to increased humidity and airborne particles, you run the risk of respiratory problems and poor indoor air quality.
Plastic Vinyl Dryer Vent Hoses
One of the most common mistakes homeowners make when venting their dryers is to use an economically attractive plastic vinyl dryer vent hose. Again, this is a fire waiting to happen. Lint collects in vent hoses regardless of the material you use, but if the dryer overheats and the lint ignites in a vinyl tube, the dryer vent hose is going to go up with it and the house often follows. By installing steel tubes and aluminum hose, you decrease friction within the tube (meaning less lint buildup to start with), and you provide a fire barrier between a lint fire and the rest of your residence.
Dryer Vent Cleaning
Perhaps by now you're sensing a common theme throughout: lint accumulation, wherever it is, is bad. It cuts down on the efficiency of your dryer, will wear it out sooner, and worst of all, it presents a huge fire risk. Dryer vent cleaning is required at least once a year to ensure your home avoids these common lint problems. For this type of cleaning, a dryer vent brush is the tool of choice, though many homeowners choose to hire this job out since it's a low cost job. Consider adding this chore onto your annual duct cleaning. Most cleaning problems services will be happy to perform dryer vent cleaning as part of a larger routine maintenance call.
Ready to start your
Dryer Vent Cleaning

?Find Pros
Responsible Dryer Venting Design
There are two main design goals to meet here: As mentioned, all the lint has to get outdoors. Secondly, you don't want any critters, or weather, using your dryer vent to get in. In order to meet all these requirements, look for a four inch vent with louvered doors if you're venting out the side of your home, and be sure to get a rain proof vent cap if you're venting out the roof.
Dryer Vent Installation
Dryer vent installation is a possible DIY opportunity, but it's certainly not foolproof. DIY manuals and websites often only guide you through a textbook scenario for dryer vent installation. Any time you're drilling a hole in your wall to create a channel between the inside and outside of your home, you need to be careful and have some knowledge about what to do if obstacles occur. Most homeowners wisely call in a handyman for this type of project. Remember, proper dryer vent installation isn't a laughing matter. In fact, it can easily be a life or death matter, so make sure your dryer is venting properly and that your vent is correctly installed.
2 Comments