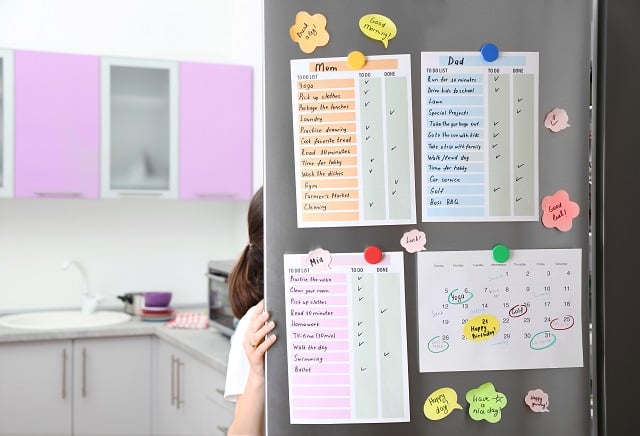 Updated October 2017
Coordinating each other's schedules and sharing them is the best way to get family time together. If you are often missing out on events, from ballet recitals to family dinners, you might need a calendar to keep track of all your family activities and schedules. Everyday activities can be charted out in a common family calendar, edited, and updated frequently to ensure that everyone is present at any given time.
Benefits of Using a Family Calendar:
You are less likely to forget any meetings, appointments, and important events.
As the entire family's plan is spread on a single calendar, there are lesser chances of one's plans overlapping with others.
It is easier to prioritize and schedule family time.
You know what everyone in the family is up to. You are informed of your kid's playdates, dental appointments, soccer practice, etc.
Shopping for supplies and planning meals becomes easier by just looking at the agenda for the day.
You can assign chores and other routines to all the family members without any hassles.
No one can say, "I forgot" because it is right there on the calendar from all your piano recitals, due dates for bills, carpools, meetings to PTAs.
Choosing a Family Calendar:
When it comes to creating a family calendar, there are a lot of options to choose from. You can either use a kitchen calendar or a smartphone app for creating a family calendar. There are no hard and fast rules, choose whatever works for you and your family to keep track of each other's activities. Listed below are few considerations to keep in mind while choosing a calendar that suits the entire family.
Paper Calendar or Online Calendar
Oversized paper calendars with enough room for making notes and entries can be hung on the wall. This might sound a bit old-school, but they are easier to access and always in plain sight. On the other hand, you can put up magnetic refrigerator calendars or counter-top calendars that everyone can reference. Dry erase board is one of the best ways to create a customized calendar. Install a dry erase board or chalkboard and draw grid lines for five weeks using a permanent marker. Ideal place to hang a calendar is the kitchen because this is where the entire family gathers regularly.
If your family is more technology inclined, then there are numerous apps to choose from and all you need is a smartphone. Such digital family organizers are more collaborative, wherein the family members can add appointments and events to a common calendar. Besides, they can interact with each other to create family to-do lists and assign items to various family members. It allows you to set up recurring events easily and you get reminders or notifications to keep you posted.
Weekly or Monthly Calendar
If you choose to go for a paper calendar, you can either go with a weekly or monthly calendar. Most families prefer weekly calendars because it gives a better and detailed view of all the activities. You get a glimpse of your schedule for the week which prevents you from over-scheduling. Daily calendars are not as effective because you can't keep going back and forth the pages. Also, monthly calendars won't give you enough room to list down all the activities especially if there are a lot of family members. However, it is upto you to choose what works best for your family.
January Start or School Year Start Calendar
Normal calendars start in January. So, you can work your way through the year planning and scheduling from the beginning. But if your kids are in school and you prefer to plan according to the school year, then you might choose one that runs for 12 months beginning from August.
Steps in Organizing a Family Calendar:
Once you decide on the type of calendar, the family members can start making the entries of all their plans and schedules.
Color-code the calendar by assigning different colors for each member. Online calendars and apps allow you to do this seamlessly.
Prioritize events and highlight the ones with high-priority.
Edit or update the family calendar regularly to keep up with what's happening in the family.
Sit with the family once in a while to discuss the weekly plans and to assign chores/routines. Apps allow you to share a common calendar, so every member is notified when an entry is made.
As long as the calendar keeps the family ahead of schedule and helps them prioritize planned activities, they can use the method most convenient for them. Busy individuals and working families who don't have the time to organize a family calendar, can hire a household assistant who can be responsible for coordinating with other family members.
No Comments Yet