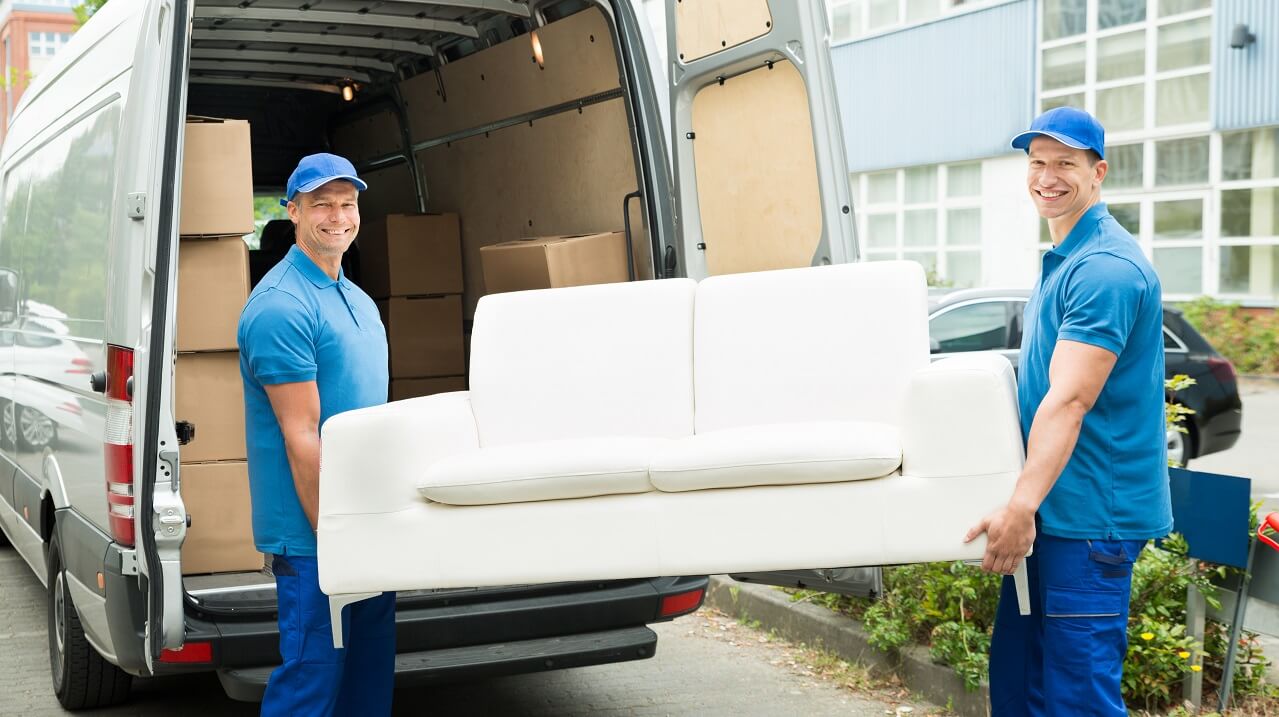 © Andrey Popov – stock.adobe.com.
Hiring the right moving service involves:
Reviewing qualifications
Comparing costs
Inquiring about insurance and licenses
Reading homeowner ratings and reviews
When you understand how to complete these tasks, it's hassle-free to find a reputable moving company. Check out our moving company directory to find local professional services.
This guide covers everything you need to know about hiring a mover, including the screening questions to ask potential companies and the types of licenses and insurance a mover should have. It'll also cover how to prepare your home for movers, what they are responsible for and what it should cost.
On This Page:
Hiring Movers
Before you start looking into moving professionals, start by asking yourself a couple of questions:
Am I moving in the same city, state or across state lines?
What am I moving?
What services do I need?
Do I want to hire a local or national company?
In-State or Shorter Moves
Shorter, in-state moves are great for smaller, locally licensed companies. They will often offer cheaper rates than companies who specialize in long-distance moves. They know the area and can assist in almost all aspects of moving. It's still essential to check reviews, complaints, licenses and insurance when hiring in-state companies.
In-city moves are a great time to either test out your DIY moving skills or, better yet, find a locally owned and operated moving company that specializes in the service.
Long Distance Moves
Long-distance moves cost more due to the use of more fuel and higher interstate regulations. Both state and federal regulations may increase a mover's rate, but it provides a way to check on an organization's legitimacy.
State vs. Federal Regulations
The U.S. Department of Transportation requires all interstate movers to register a DOT number. As of December 2020, 38 states also require in-state movers to register for DOT numbers. DOT numbers let federal or state government track movers and hold them accountable.
Even if you're only moving in-state, ask your professional if they have a DOT number or are a member of the American Moving & Storage Association – both are better. Pros with a DOT number or AMSA membership are bound by Federal and association guidelines.
Where you move determines who oversees the moving company you'll use. The U.S. Department of Transportation governs any state-to-state move, while in-state moves only need to meet state guidelines.
What Do Moving Companies Do?
There are two general types of moving services: Full-service or self-packing. Whichever you choose, you can expect an on-site inspection for the estimate. Both services include loading and unloading of your property.
Self-Packing Companies
Full-Service Companies

Load the truck with the boxes you packed
Make no guarantees on the safety of your items
Often doesn't offer insurance
Costs less – recommended only when your homeowner's insurance covers possessions during the move

Pack all your household goods for you
Insure your goods at varying levels (may cost extra)
Help unpack at your destination (usually costs extra)
Costs more – puts the full weight of liability in the hands of the movers
Additional Moving Services & Cost Factors
Movers offer the basic package listed above, but they also have a wide range of additional services and cost factors to consider.
Vehicle transport: extra vehicles mean extra charges. The average cost to ship a car alone falls at about $950.
Unpacking: not included in most basic packages. You'll need to be on-site to direct the operations.
Disassemble and reassemble furniture: for bulky or delicate furniture that would ship better in a more compact form. They will take your stuff apart and put it back together at your new home.
Appliance servicing and hookup: taking appliances means unhooking, draining and hookup at your new home.
Stairs: additional stairs equals additional cost.
Warehousing: if you need to store your items for a brief period.
Local, Independent Movers vs. Professional Moving Companies
Local, independent movers do not have to adhere to the regulations that govern larger, interstate companies, resulting in slightly cheaper rates for short-distance moves.
If you go with a local company for an interstate move, expect the same prices, service and insurance as you would from a national company. Any difference in price or service is a red flag.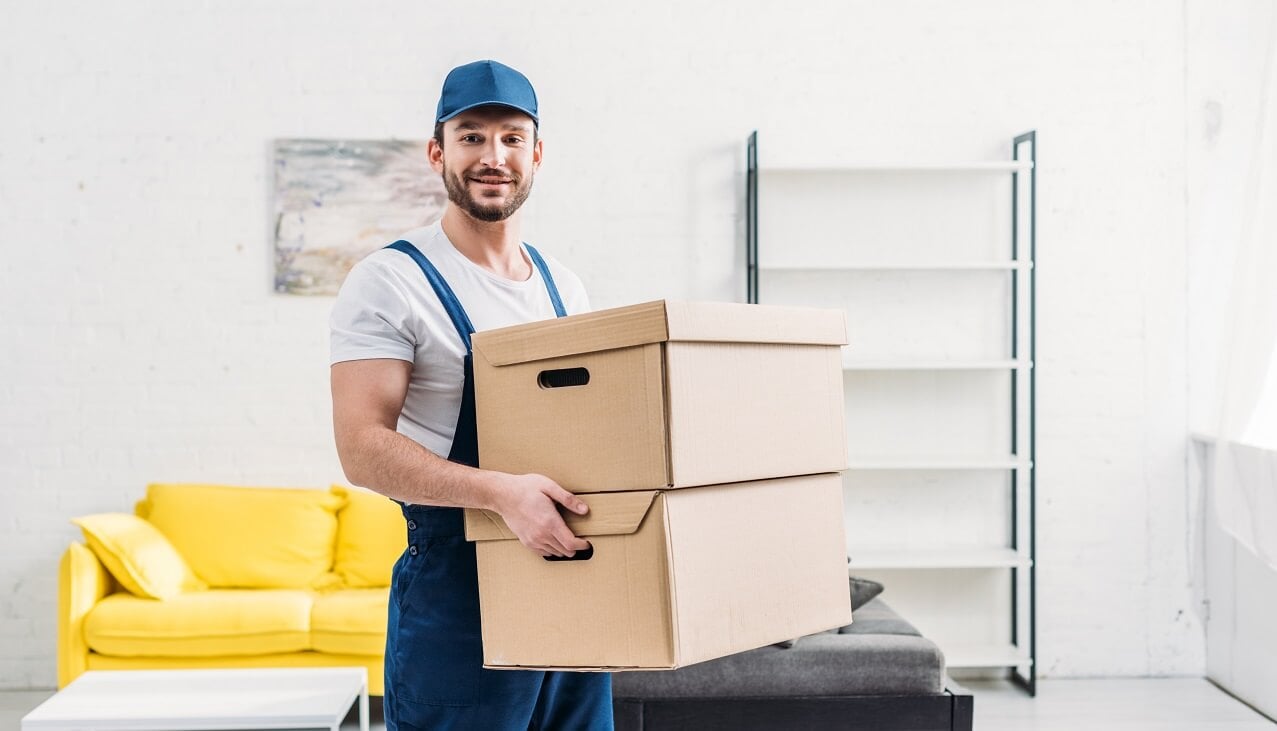 © LIGHTFIELD STUDIOS – stock.adobe.com.
Hire Movers: Tips for Choosing a Good Moving Company
Do research. Reading this article is a great place to start.
Read reviews. Look online for recommendations and check out our directory and any local or national moving associations.
Get at least three estimates. Be sure to discard any with "low-ball" figures; this could be a moving scam.
Ask to see their license and insurance.
Licensed and Insured Movers
When vetting pros, ask the moving company representative to demonstrate that they carry workers' compensation insurance to protect their professionals and customers. By law, interstate companies must be licensed and insured, but the level of insurance coverage is up to you.
Full Value Protection: Comes at an additional cost, but it covers your goods up to the total value, and replacement or repair cost.
Alternate Level of Liability: Only insures your stuff for $0.60 per pound. Not a great option if you have expensive furniture or electronics.
Find Reputable & Reliable Pros by Reading Ratings & Reviews
Recommendations and ratings are the most trusted way to find a reliable professional. However, don't stop there. Look through our local moving company directory to read reviews of movers in your area.
Additional resources to review include the American Moving and Storage Association and the Federal Motor Carrier Safety Administration.
Moving Costs & Factors
Moving costs most U.S. homeowners between $750 and $2,100, on average. Most interstate moves cost about $4,000 or $1,000 per room – significantly more expensive than shorter ones due to higher regulation and increased fuel costs.
Factors that affect moving costs include:
Fuel. Gas prices are the single largest consideration.
Local vs. National Company. Local often have lower overheads, resulting in lower rates.
Full-service vs. Pickup/Drop-Off. Packing yourself lowers prices but can make you responsible for broken, missing and damaged items.
Are you looking to move cheaply? Read our budget moving tips below.
Types of Estimates
An estimate always starts with a home inspection. Make sure you follow our moving preparation guide before you begin this process. Once at your home, show them everything—every detail matters. Only use service providers who offer an in-home inspection before estimating the cost.
Get a guaranteed price in writing. It should include guaranteed pickup and delivery dates and all costs. Beware of services that want large deposits—that's a red flag. Most organizations don't require a deposit of any kind, though they won't exceed 20% if they do. They have all your possessions which should serve as enough of a deposit.
Establish whether the estimate is binding, non-binding, or non-binding with a price ceiling.
Binding estimate: The price quoted is the price you'll pay, regardless of any extra time required to complete the job or any unforeseen circumstances
Non-binding with a price ceiling: The price quoted is subject to change based on time to complete the job, difficulty, and other circumstances. But it cannot exceed the maximum agreed-upon price.
Non-binding: The price quoted is subject to change and has no upper limit.
Moving Company Contracts
Be sure to understand the terms of the contract before signing it. The contract should include a guarantee of how many hours the job will take, allowing an overrun of no more than 10%.
Make sure there are no hidden costs in the contract, too. Some services will charge you for parking, stairs, waiting time, extra weight, gas and similar.
Questions to Ask When Hiring a Moving Company
When interviewing possible moving services, these are the questions you should ask:
Can you send me three recent references that I can contact? Call a few clients to verify references.
What moving association memberships do you hold? If they are members of any local or national moving trade associations. If so, contact the associations for further information.
Can I see your full tariff list? This is a list of all rates and charges. Association members must abide by association tariff lists. If they are a member of any association, compare these lists.
What extra steps do you take with fragile items? Any professional should be able to speak to their packing process.
Is the contract binding, non-binding or non-binding with a price ceiling? Don't sign any contract before knowing the type of estimate they offer. Understand the kinds of mover estimates.
What experience does the moving crew have? This is especially useful when moving delicate or expensive items.
What insurance terms and options do you offer?
Is the crew employed or subcontractors? This isn't necessarily a deal-breaker, but it's good to know who's handling your goods.
What's the timetable, including packing, pickup and arrival dates? Legitimate companies will give you specific dates for the move. Any vague answers to this question are a red flag.
Can I have a complete inventory list or bill of lading? Do not let them leave without a comprehensive inventory of your possessions. It's a good idea to inventory all your items before packing and make a video or take pictures of the condition of any heirlooms or expensive items.
How to Hire Movers in Your Area With HomeAdvisor
The best way to find a good moving service is to let HomeAdvisor help. Enter your zip code in our Mover Pro Finder tool and give us some details about your move. We'll send this info to our vetted professionals so they can bid on the job.
Alternatively, head to our mover directory to browse through the pre-screened professionals and contact them directly.
Once we've helped you find some excellent prospects, use all the information in this guide to further vet them and find the one that's right for your move.
Hire Moving Help – How to Make Your Move Inexpensive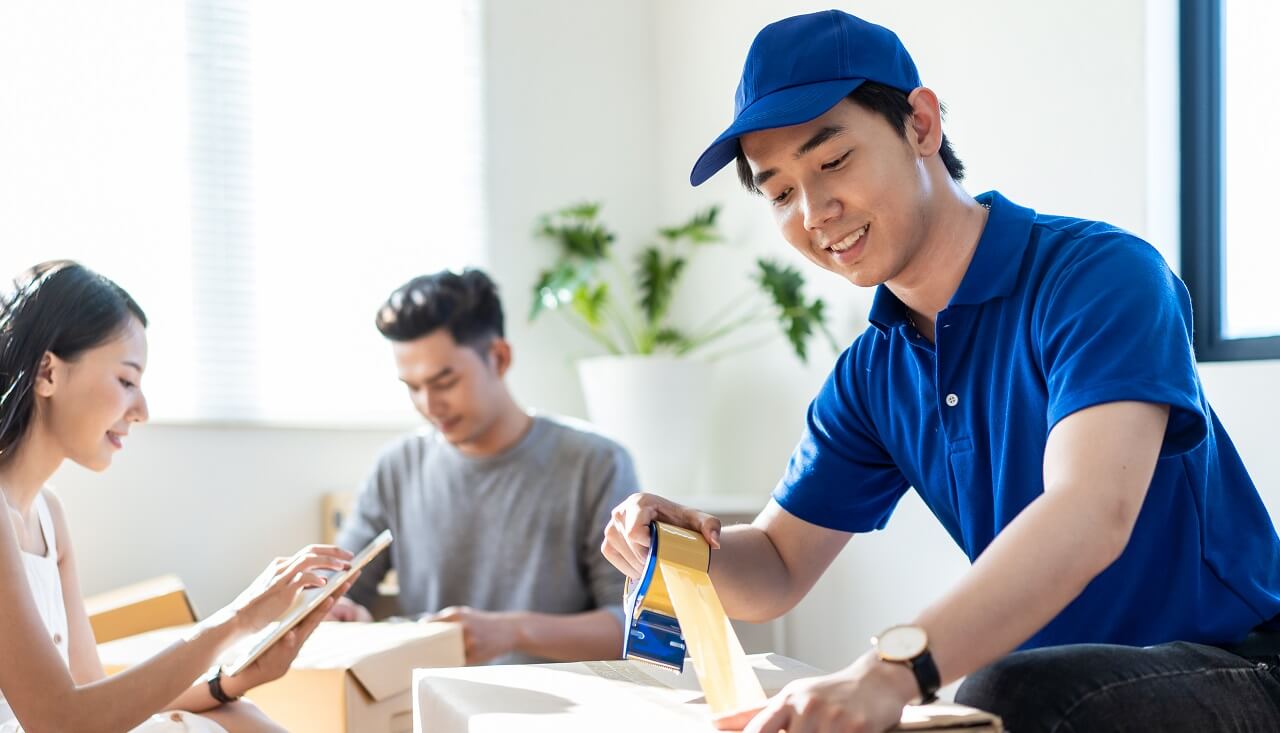 © Kawee – stock.adobe.com.
This is likely the first question you have when determining which service to use. Service costs vary a lot depending on the company, season and distance. You can save money by doing some or all the work yourself, picking the right dates and thinning out your possessions.
Packing and unpacking services cost an average of $50 an hour if you plan to rent a truck and move yourself. Doing the packing yourself avoids inflated material prices and hourly rates. Be aware that most companies don't guarantee the safety of any items they don't pack themselves.
Tips to Save Money Moving
Avoid hidden moving costs and plan your move ahead of time. Follow these tips to keep costs down.
Get rid of some of your stuff. Go through your belongings to donate or sell things you don't need.
Keep estimates visible. Movers are likely to give competitive offers when they know you're engaging other movers.
Avoid moving during holidays, weekends or at the very end of the month. These times are usually busy for movers, meaning you can pay more.
Hire professional movers. Avoid common moving scams, loss of items due to underinsured amateurs and hassle-free moves.
Preparing with a Household Moving Checklist
Preparation can save you both time and money. Check out our complete moving checklist for details. Save even more with these packing tips.
FAQs
How do moving companies work?
Local moving companies work simply by packing up your belongings, loading them onto a truck, shipping them to your destination and unloading your goods into your new home. They should provide you with a timeline, contract and any additional services you might need.
How far in advance should I hire someone?
Hire a company as far in advance as possible to ensures you have the dates you want booked. This may result in a better rate due to higher competition.
Can I hire moving help for furniture moving?
You can hire a service just to move your furniture to cut down on the cost of a DIY move with a smaller truck rental and lower fuel expenses. If you need help loading the furniture into a rental truck, furniture moving services cost anywhere from $200 to $400.
Should I hire movers or DIY?
DIY moves aren't challenging if you have a first-floor studio apartment. However, hiring a professional to move your belongings to a new home frees up your time, ensures your household goods arrive safely and gets the job done seamlessly. DIY is doable, but you take on all the potential problems, which include:
Break downs and delays
Taking time off to pack and move
Underinsured or uninsured moves
Broken items
No Comments Yet