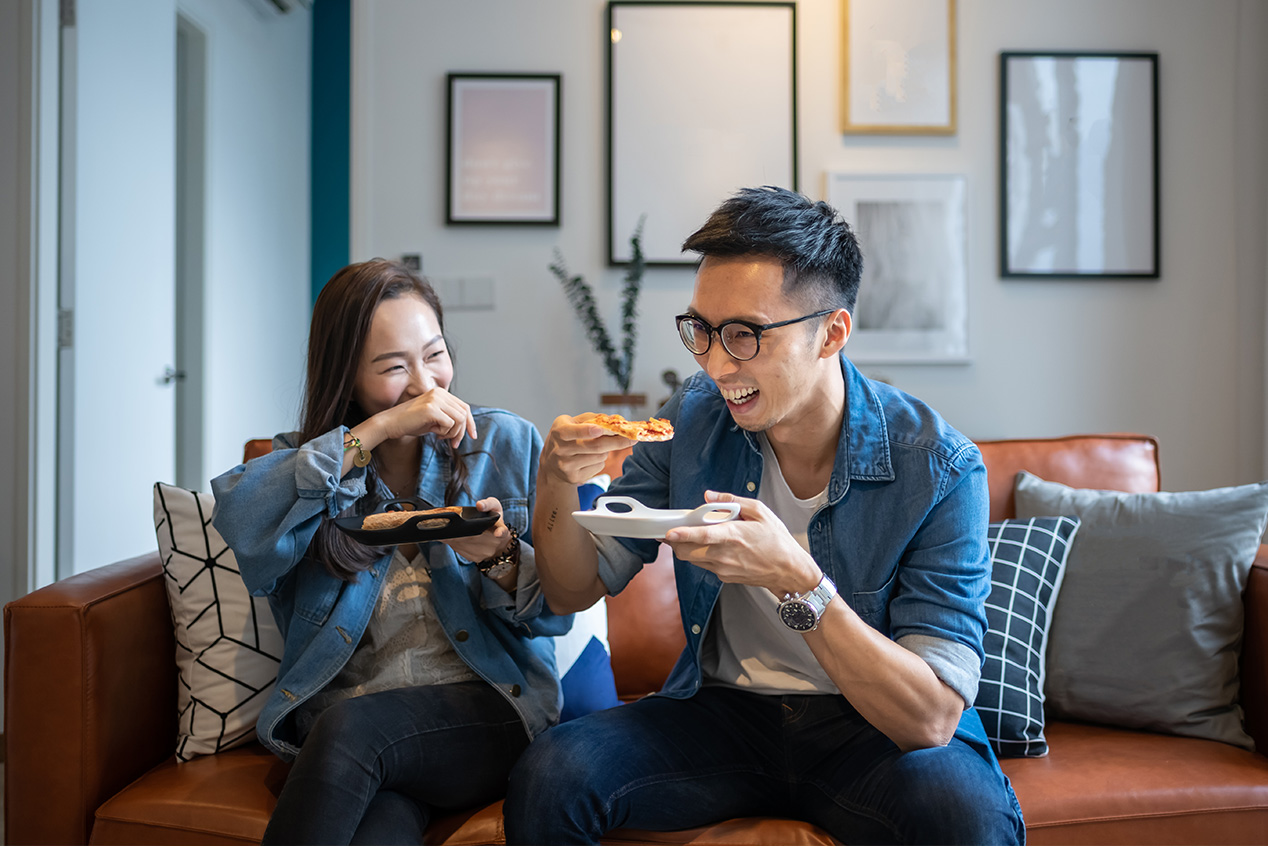 Photo: Edwin Tan / E+ / Getty Images
Finishing a basement is one of the most exciting home projects possible. Not only are you increasing the value of your home, but you're also maximizing the amount of space you can enjoy with loved ones.
Since there are all kinds of approaches you can take to designing the finished basement of your dreams, it's important to ask yourself what features are most important to you and your family. After all, everyone has a different idea of what they would imagine their dream basement to be.
Some folks might envision an elaborate entertainment center, while others would prefer to maximize the space available to create the ultimate guest room and downstairs bathroom.
It makes sense to hire a qualified contractor, especially since there are state licensing requirements. Read on for actionable steps and inspiring finished basement ideas you can implement to stay in scope and achieve your goals.
Basement Office Ideas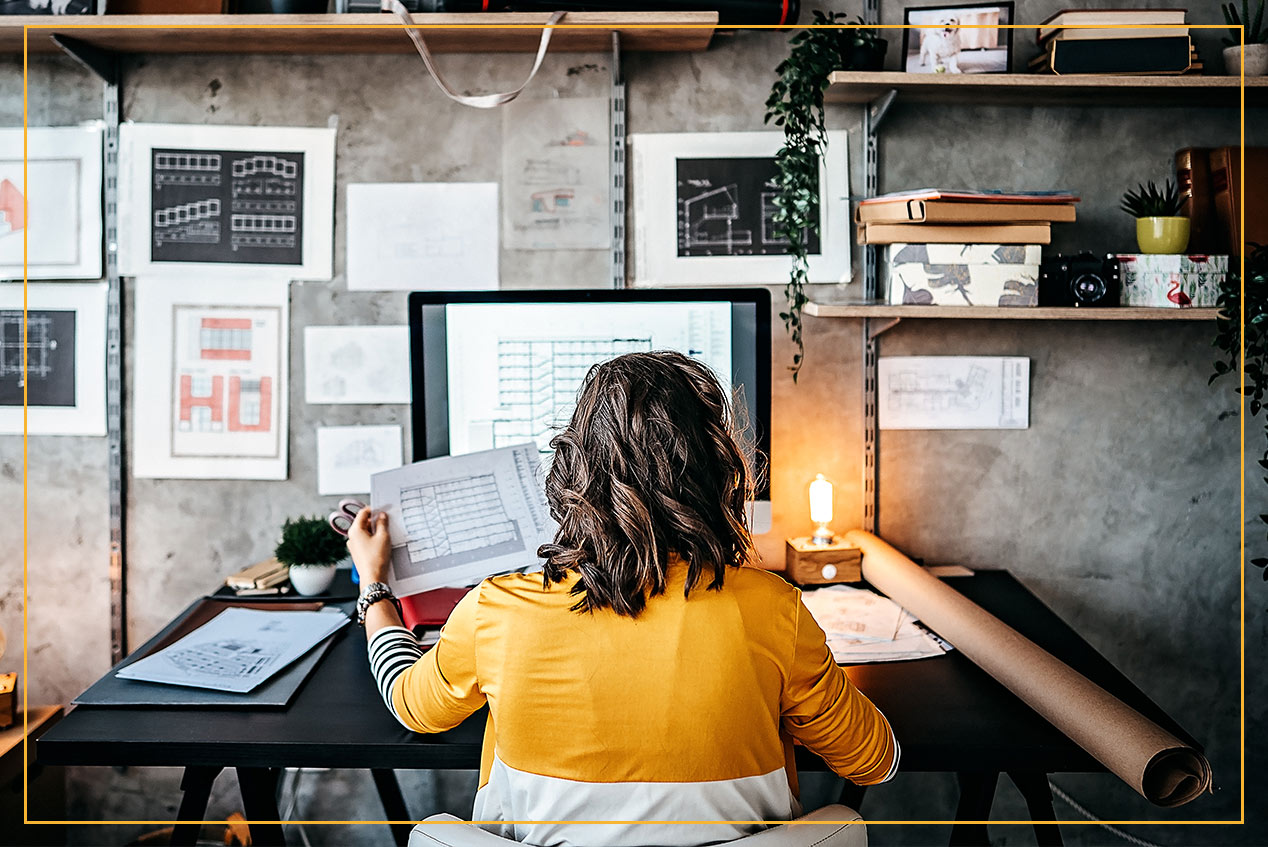 Photo: Pekic / E+ / Getty Images
With the continued popularity of remote and hybrid work, many folks are prioritizing creating an office environment they love.
If you're unsure about the look and feel of your workspace downstairs, below are a few different aesthetics to consider:
Minimalist and modern: Combine simple and contemporary design elements like muted fabrics that have subtle patterns and textures.
Farmhouse chic: Focus on quaint and traditional wooden accents.
Industrial: Incorporate a sleek metal desk and elements like exposed brick.
Basement Gym Ideas
Photo: nensuria / iStock / Getty Images Plus / Getty Images
If you're someone who loves to work out, creating a basement gym is a no-brainer. When brainstorming ideas, it's helpful to think about your fitness equipment essentials first, and then work backward to fit them into your space.
Check out the following gym organization and storage hacks:
Consider foam tiles or vinyl panels for the flooring of your gym basement.
Create workout "stations" in each corner of your gym with storage shelves built into the walls for equipment. This leaves the center of the basement open and creates the illusion of a bigger space.
Construct a weight rack and multipurpose bench for lifting and other exercises.
Basement Home Theater Ideas
Photo: skynesher / E+ / Getty Images
One of the most popular spots for a home theater setup is in the basement, and yet many people get stuck on the details of how to configure and design it. Start by prioritizing your own comfort and convenience with the layout, and let the details follow naturally. Remember that there is always flexibility to change things up if it doesn't turn out as you envisioned.
Here are a few basement home theater ideas to get you started:
Boho chic: Try neutral earth tones and a lived-in feel with a natural aesthetic.
Bright and eclectic: Have fun by adding pops of color with your throw pillows or pouf ottomans.
Classic monochromatic: The traditional movie theater room has a darker, muted, monochromatic look so as to not distract from the main attraction, the movie screen.
Basement Game Room Ideas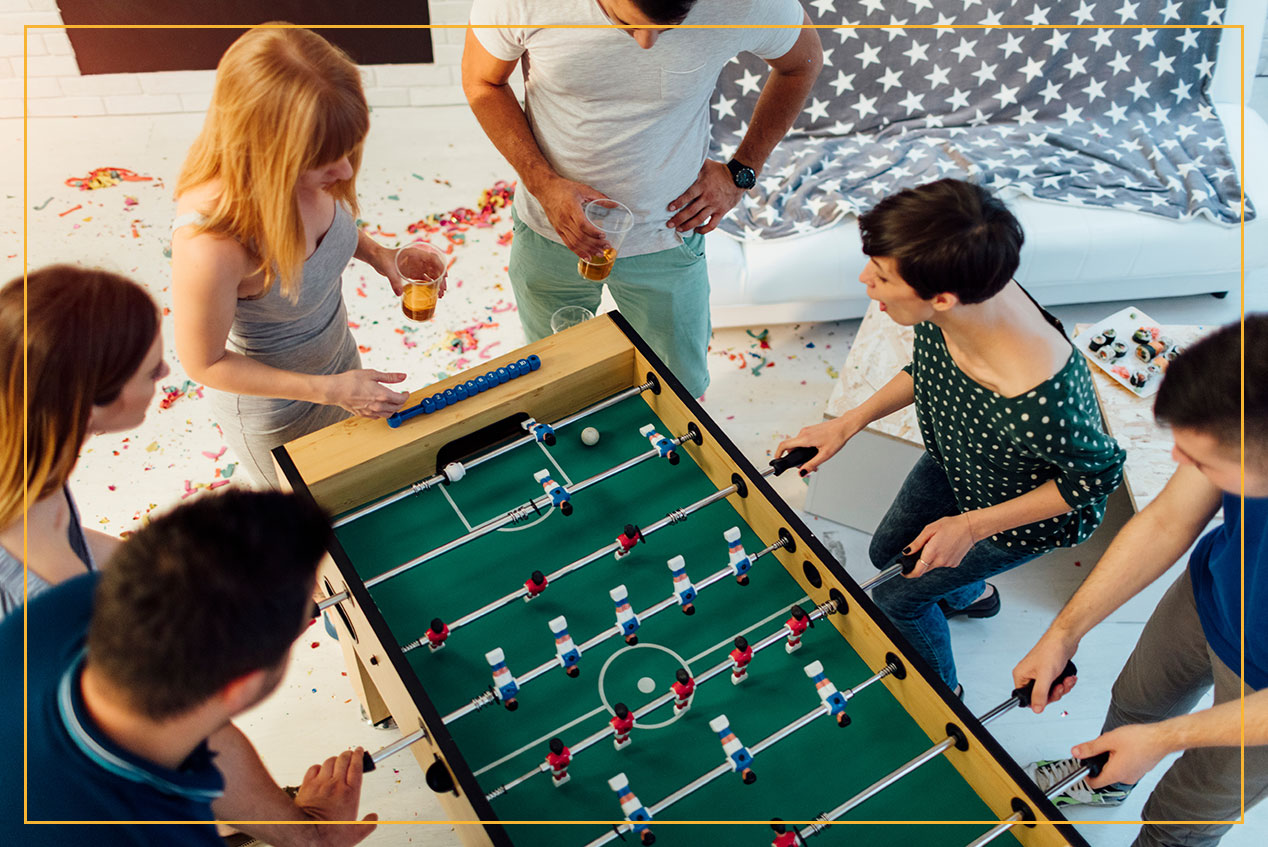 Photo: vgajic / E+ / Getty Images
Whether you're reserving a small or large portion of your basement for a game room, you'll want to design a go-to spot for video game lovers and pool sharks alike. You might want to dedicate different sections of the room to different types of games, depending on the lighting and the amount of space available.
Here are some basement game room ideas:
Go big or go home with a full-size pool table if your space allows. You might also consider a foosball table or an arcade game if it's within your budget.
Create a bar area in your basement game room to serve as an enjoyable place for friends and family to gather.
Keep your game room well-lit with custom overhead or track lighting. Adding a light over a pool table is a nice touch, too.
Darts and poker tables are also great choices for basement game rooms. They can be quite affordable when purchased second-hand.
Basement Art Studio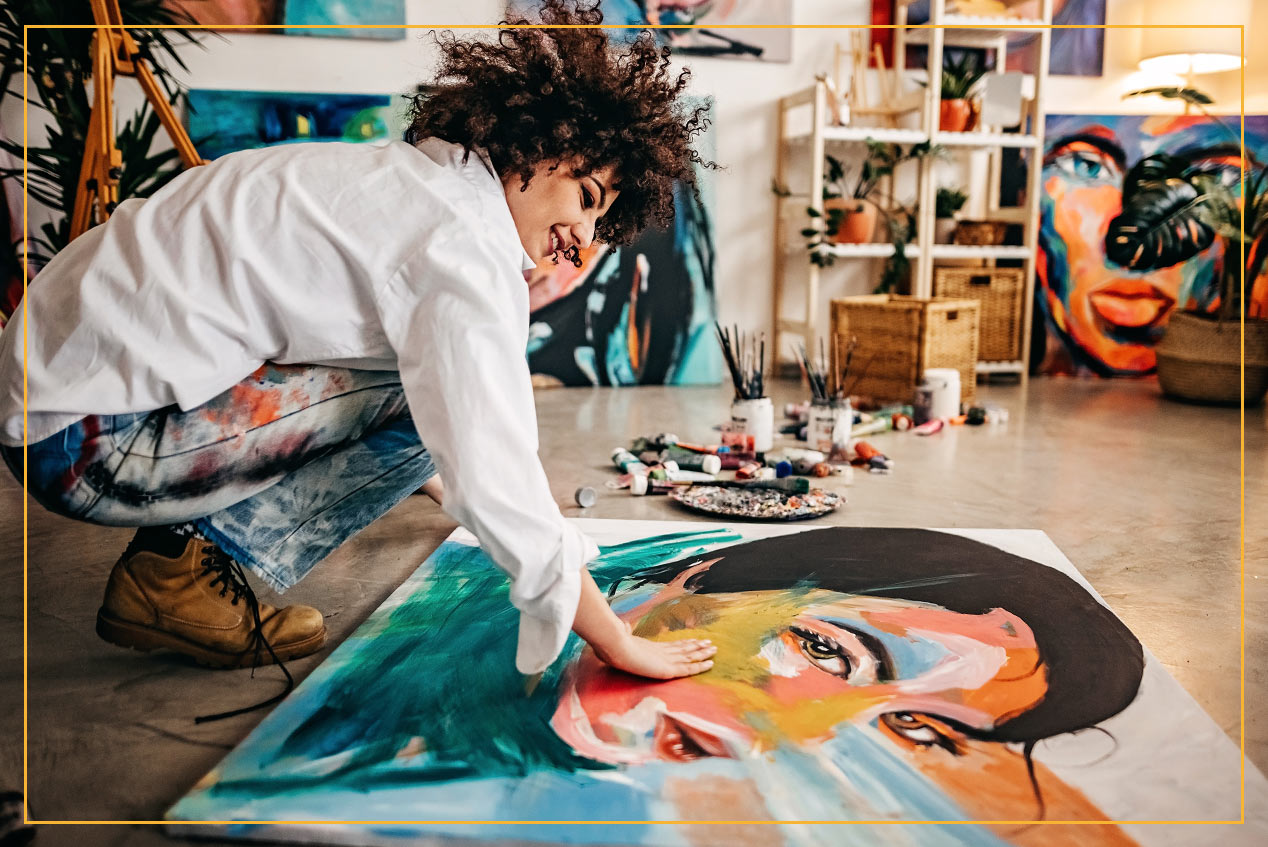 Photo: StefaNikolic / E+ / Getty Images
If you're uncertain about where in the house to create an art studio, the basement is likely a great option.
Whether you tailor the space specifically to your own projects or make a craft room for the whole family, here are some thoughts to get you started:
Decorate the surrounding area where you'll be painting with inspiring prints by your favorite artists—or any kind of memento that will remind you of your love of your craft.
Invest in an easel you can mount on your basement wall and incorporate into the design of the rest of the wall art.
Use any bookshelf space in the basement for bins of art materials and create a specific station to keep your collection of supplies organized.
Basement Storage Ideas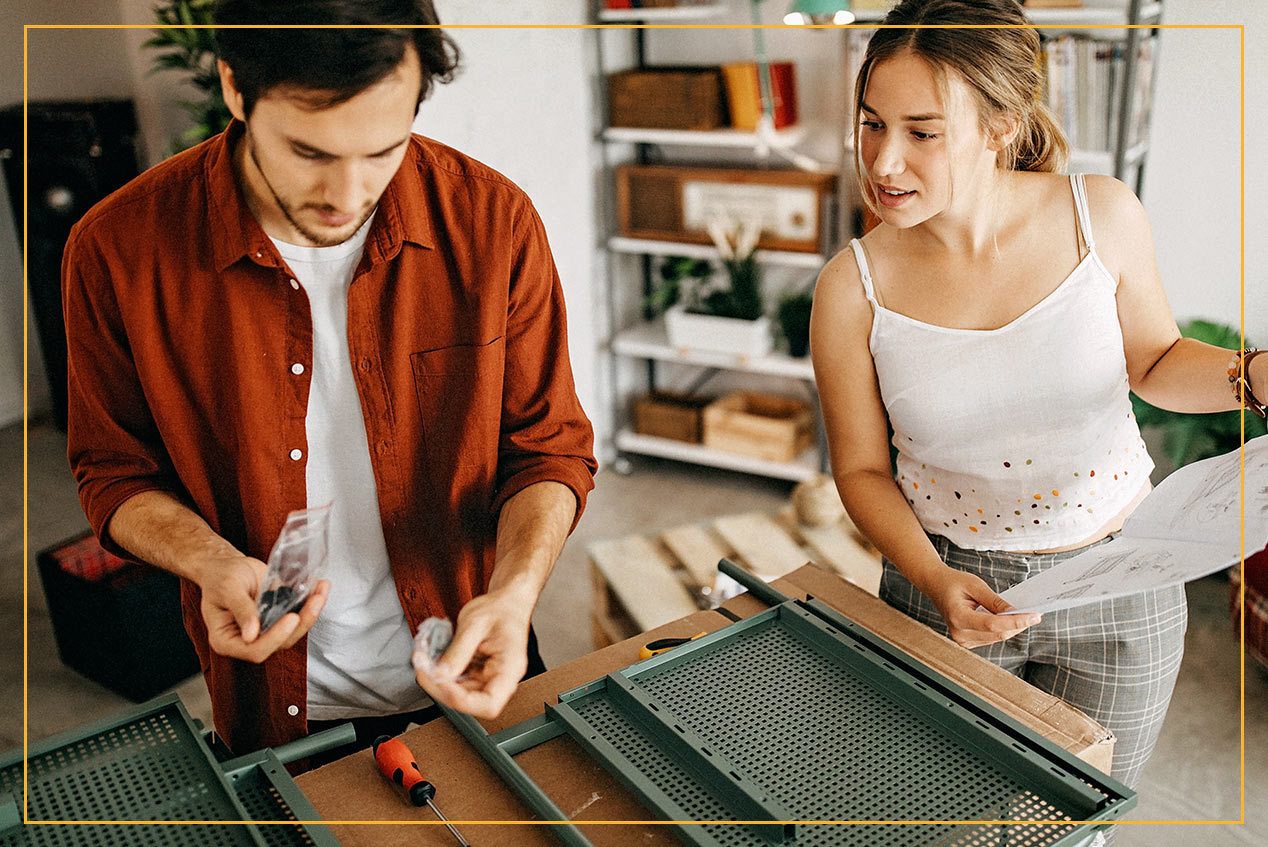 Photo: StefaNikolic / E+ / Getty Images
You'll inevitably use your basement as storage, but that doesn't mean you should neglect the organization of this area. Nevertheless, the organization of this storage area shouldn't be neglected.
Below are a few ideas to keep in mind as you're overhauling the organization of your space:
Build ceiling shelves to store items like books and picture frames you don't use daily.
Install cabinets and drawers for the items you need more accessible. This is a great way to minimize and disguise clutter, as long as you keep the drawers organized.
Create a designated closet for each category of items you're storing. If you have just one big storage room, use dividers and color code plastic bins accordingly.
Basement Laundry Room Ideas
Photo: SolStock / E+ / Getty Images
Basements are popular spots for laundry rooms. With a creative eye and some fresh laundry room makeover inspiration, you'll be on track to create something functional and enjoyable. Here are a few tips to ensure you're developing something that provides function and style:
Install floating shelves and use upcycled items to decorate the walls of your laundry area, like mason jars full of seashells.
Place your appliances behind double doors or a sliding barn door.
Install a custom cabinet for storing all your laundry items and include a fold-out ironing board that's retractable.
For many people, basement renovations can feel daunting, but that doesn't have to be the case. By reclaiming your downstairs area with these finished basement ideas, you'll find yourself loving the space again.
Hopefully, the four mood boards below will serve as food for thought for creating living spaces depending on your needs. Whether you have a child returning from college, aging parents moving in or you're planning to rent out your basement for extra income, there are plenty of interesting layouts and renovation hacks to explore.
Photos: BongRocketImages / Shutterstock; kate_sept2004 / E+ / Getty Images; BW Folsom / Shutterstock; hikesterson / iStock / Getty Images Plus / Getty Images; Andrey_Popov / iStock / Shutterstock; Pekic / E+ / Getty Images

Photos: Ayman-Alakhras / iStock / Getty Images Plus / Getty Images; mixetto / E+ / Getty Images; Spiderplay / iStock / Getty Images Plus / Getty Images; mixetto / E+ / Getty Images; G Tipene / Shutterstock; FabrikaSimf / Shutterstock
Photos: New Africa / Shutterstock; DjelicS / iStock / Getty Images Plus / Getty Images; Paket / Shutterstock; goir / Shutterstock; Elena Elisseeva / Shutterstock; Julia Sudnitskaya / Shutterstock

Photos: KeyStock / Shutterstock; Shadow Inspiration / Shutterstock; shironosov / iStock / Getty Images Plus / Getty Images; Oksana Shuster / Shutterstock; hobo_018 / E+ / Getty Images; Дмитрий Ларичев / iStock / Getty Images Plus / Getty Images; Morsa Images / E+ / Getty Images

No Comments Yet