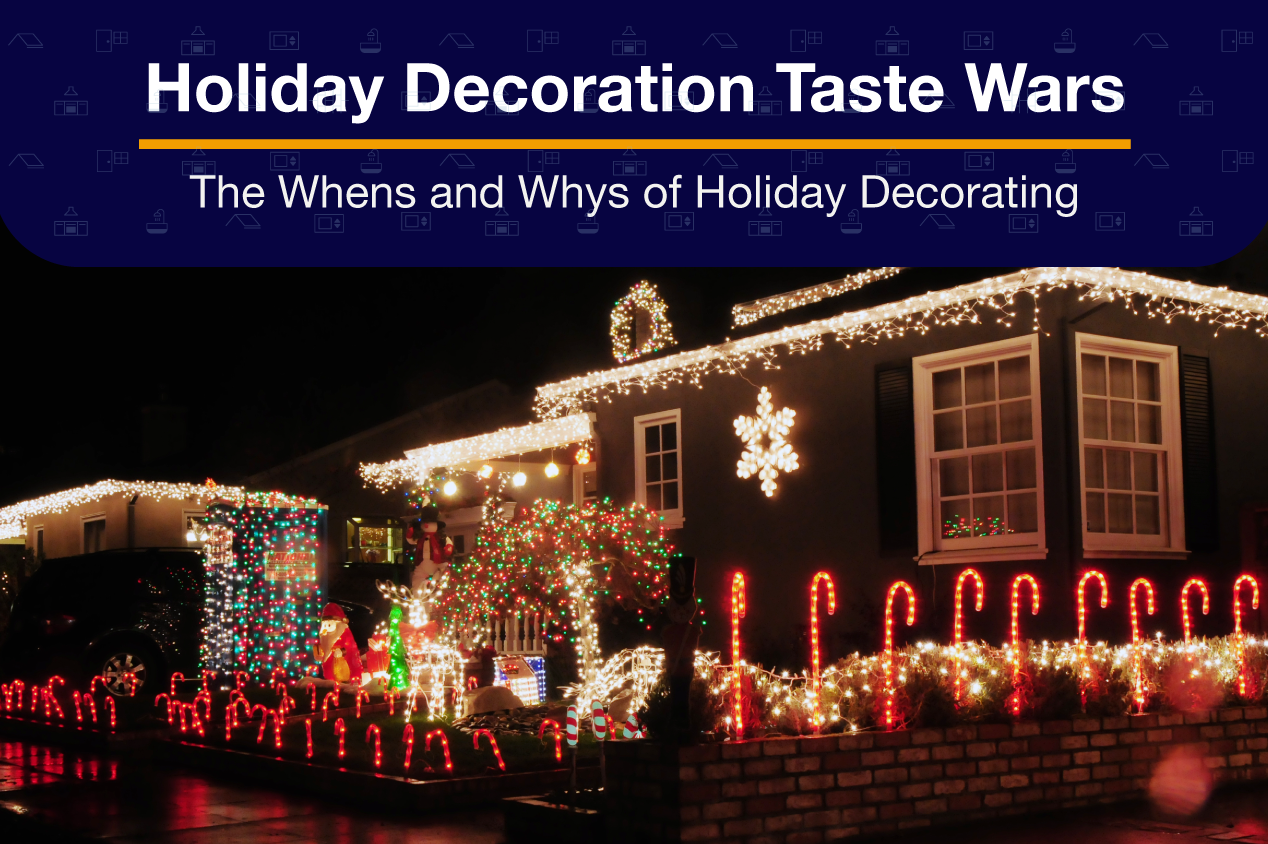 Key Takeaways
Three out of four Gen Zers preferred sparkling or flashing Christmas lights over standard lights, while millennials liked them the least.
More than one in five respondents said neighbors leaving their holiday decorations up for too long had a negative impact on how they perceived them.
One out of four respondents got inspiration for their Christmas decorations from TikTok.
Almost half of respondents felt inspired to decorate their home for Christmas.
As the days get cooler, many houses in your neighborhood might start going through some changes—like inflatable snowmen, or flashing lights appearing. We asked 1,000 homeowners how (and why!) they decorate their homes for the most wonderful time of the year to the New Year—and you might be surprised at how your decorating habits compare.
Decor-Worthy Days
Homeowners were asked which holidays they decorated for last year, and whether they splurged on new decor or reused what they already had tucked away.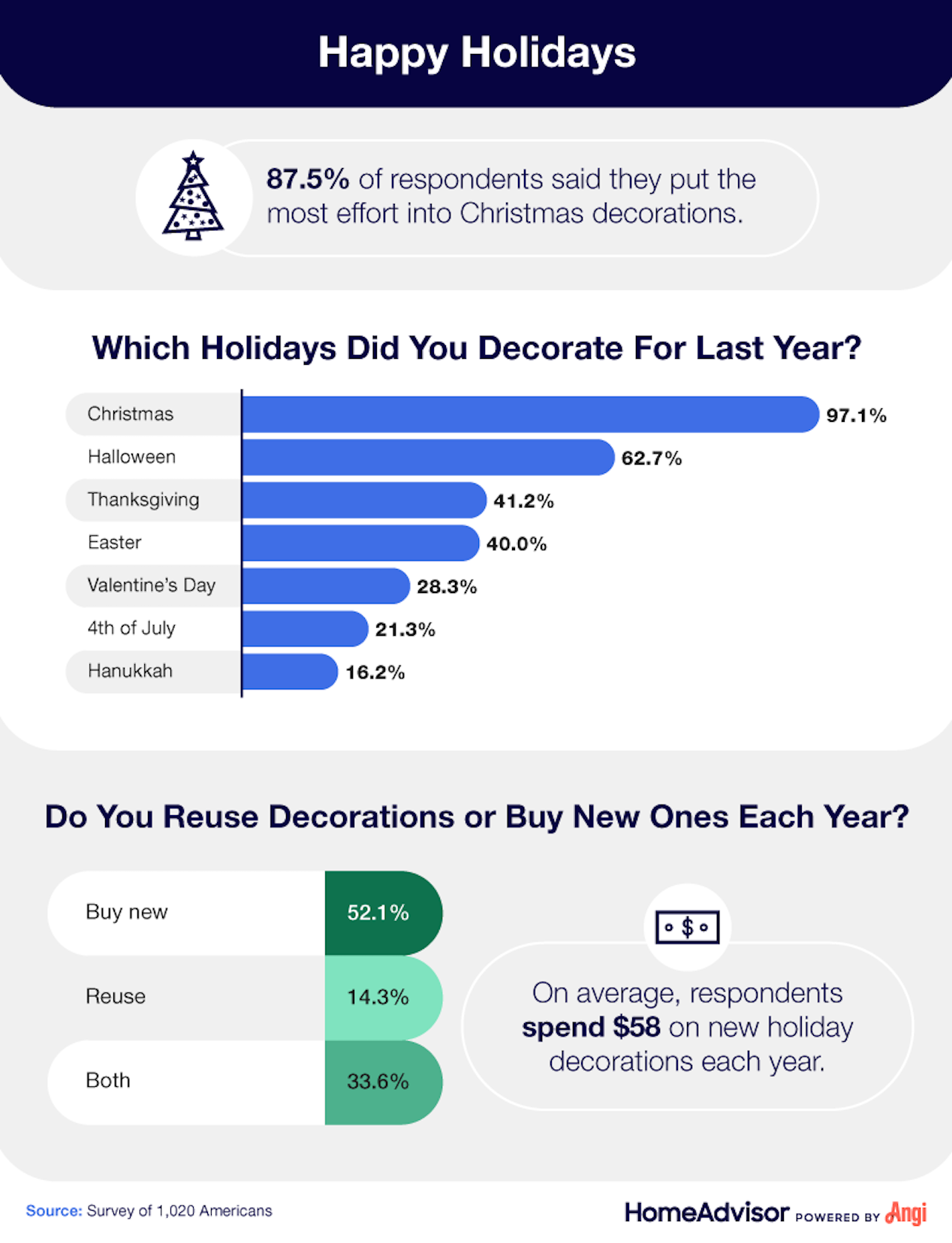 Of the seven major holidays listed, Christmas was by far the most popular one to decorate for, with just over 97% of respondents decking the halls for the festive season.
Respondents chose to purchase new rather than solely re-use old decor; only 14.3% stuck solely to recycling their decorations from the previous holiday. Comparatively, more than half said they purchase a whole new set of decorations every year.
We also found that Gen Zers were the most likely generation to purchase new—perhaps because they're just setting out on their own and don't have years of decorations stored away to turn to.
When taking a look at how much was spent on new decorations each year, baby boomers spent the least, on average, at $49. Gen Zers, while most likely to buy new holiday decorations, proved to be thrifty and only spent $52. Millennials and Gen Xers spent the most, at $61.
Perfect Timing
The time for putting up and taking down decorations may seem like a personal preference, but most respondents had strong opinions on when you should get started.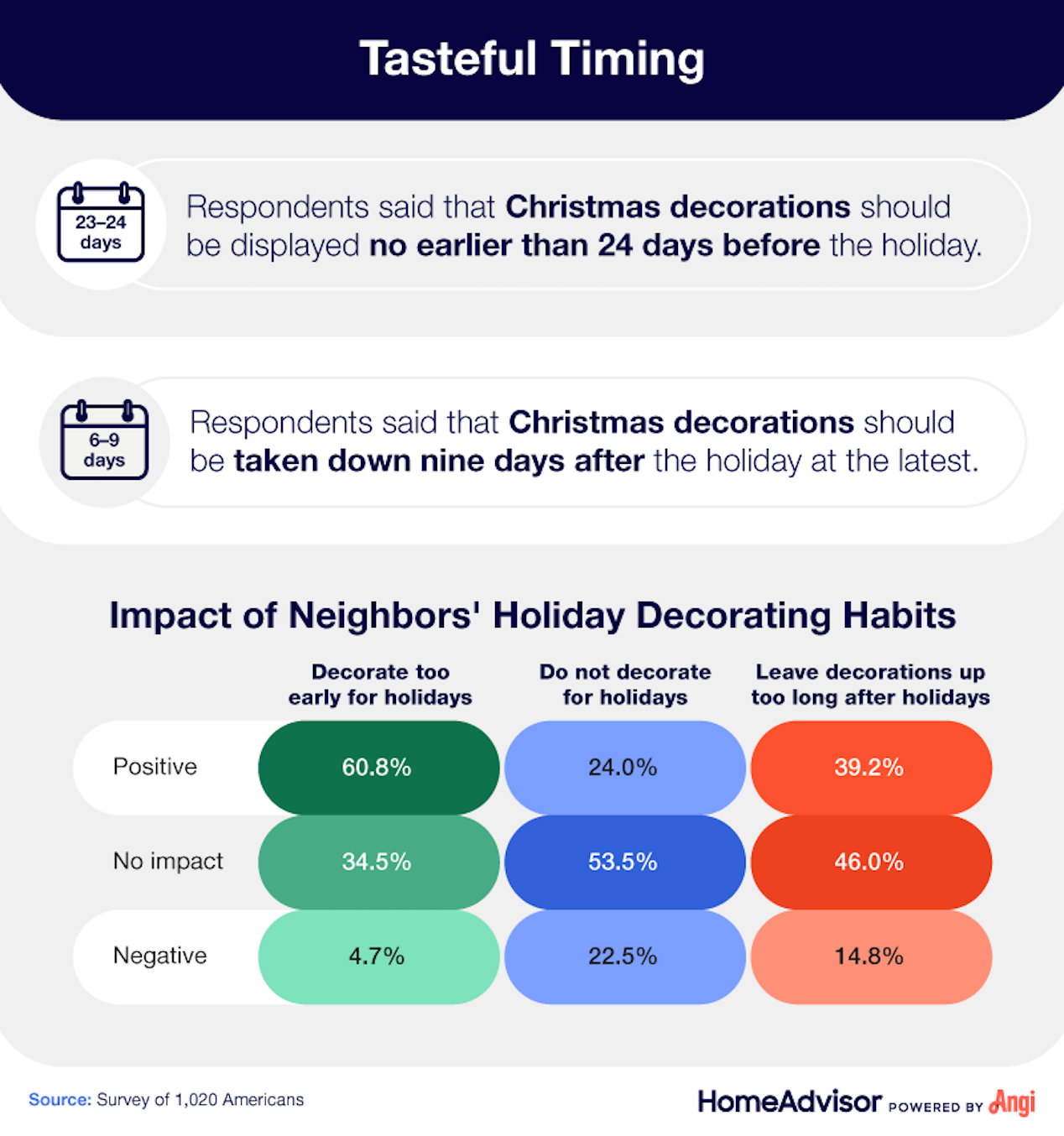 The average suggestion for when to put up Christmas decorations was a little over three weeks before the holiday. That said, respondents overwhelmingly agreed that putting up your decorations early has a positive impact on how they see you. They weren't too bothered about neighbors leaving up their decorations long after the holiday, either.
Christmas-Ready
It's never too early to start thinking about how to dress up your house for Christmas. Whether you're a colorful lights lover or prefer all-white, here's what you need to know about decorating for the ho-ho-holiday.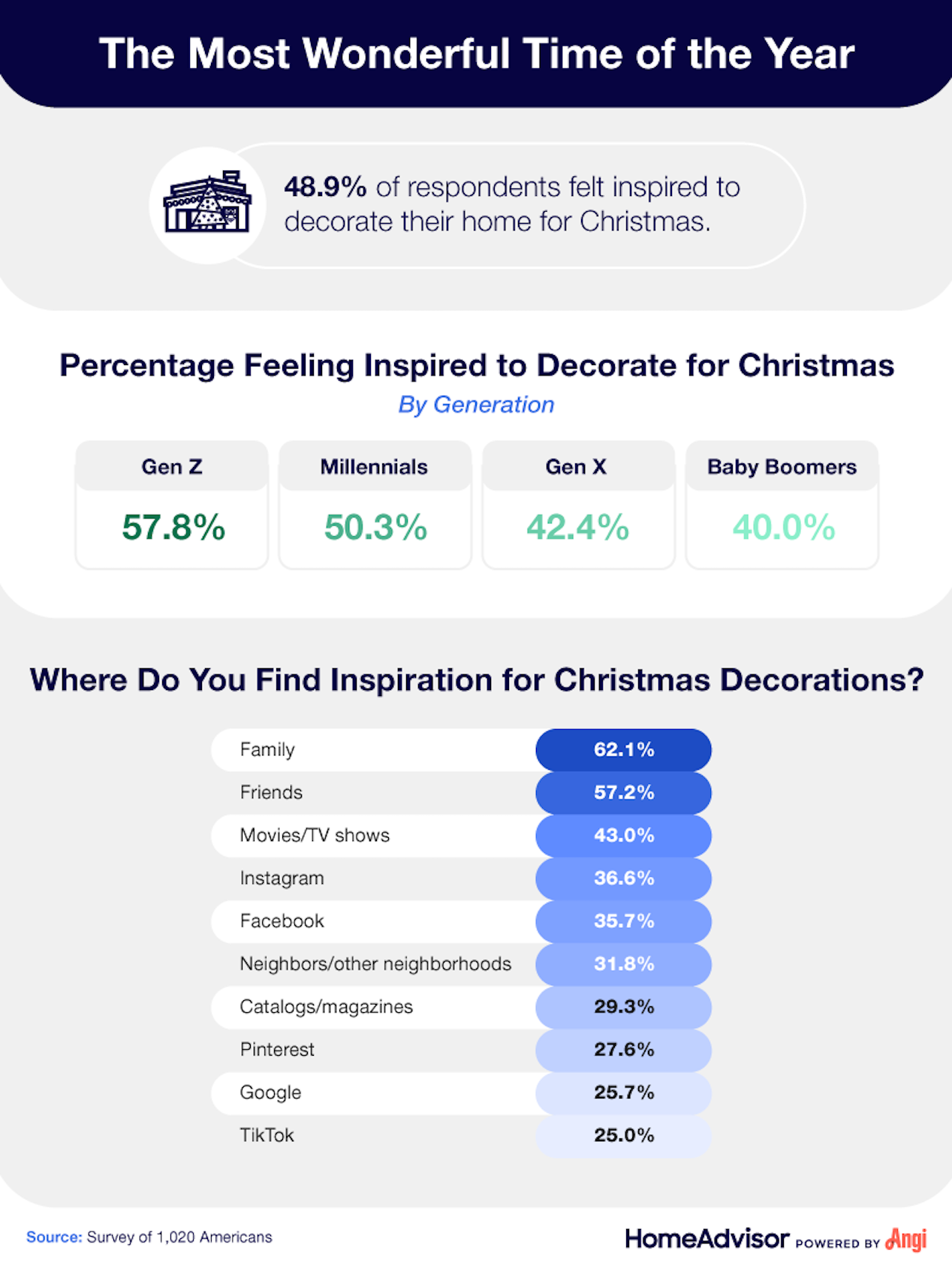 Most people turn to friends and family for Christmas inspo, though social media stays a popular reference. Gen Zers (who are most often on social media) reported feeling more desire to decorate than any other generation. TikTok, specifically, was a source of inspiration for 31.7% of Gen Zers, compared to just 25% of respondents overall.
Christmas Specifics
So, of the 97.1% of respondents who decorated for Christmas last year, what does their display look like?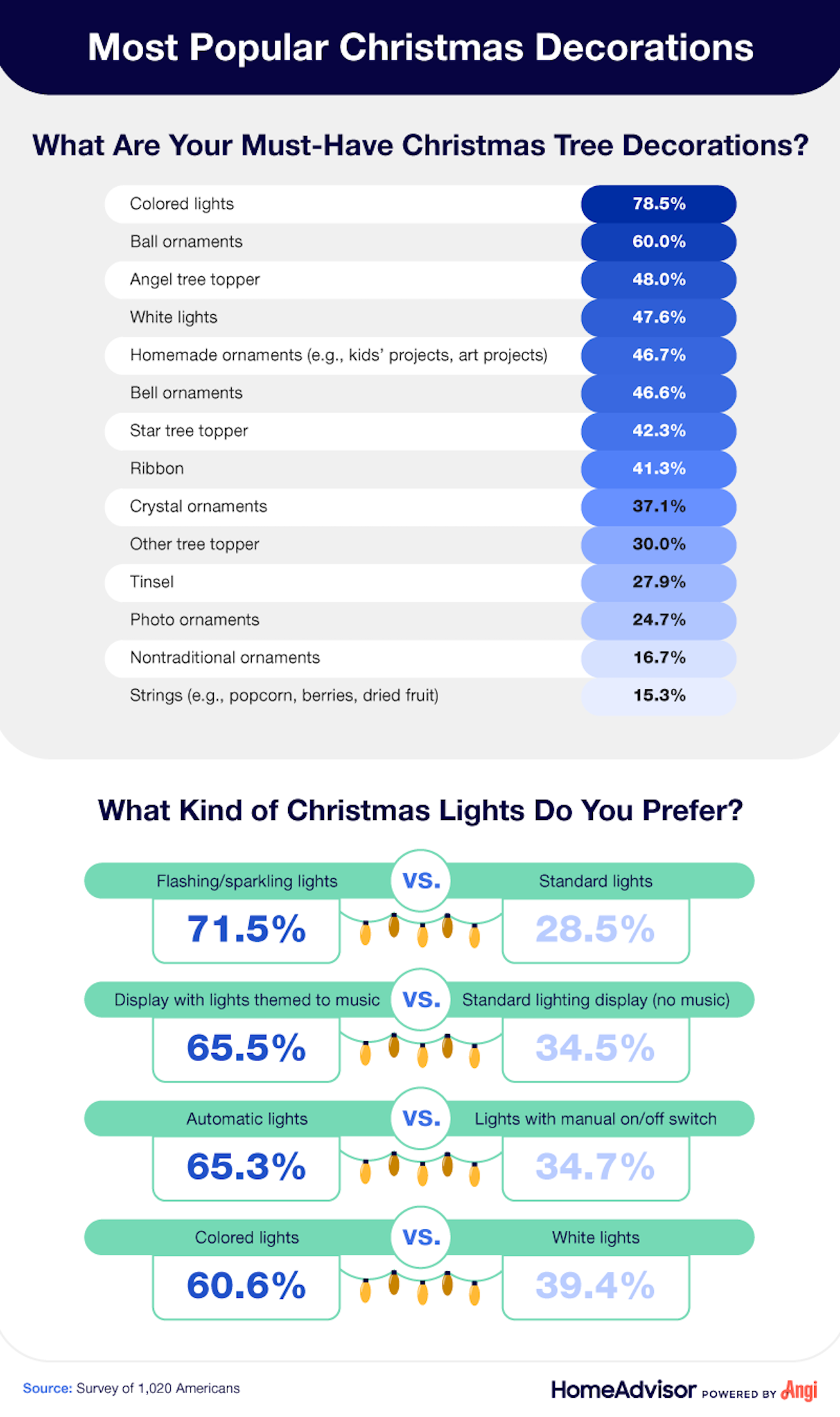 Respondents overwhelmingly chose colorful lights as the most important decoration for their Christmas trees. Specifically, 78.5% voted for colored lights in contrast to a 47.6% approval rating for white lights. After lighting, ball ornaments were the next step for most (60%), followed by angel tree toppers (48%) and homemade ornaments (46.7%). Fewer than 20% felt there should be nontraditional ornaments or stringed decorations, such as those with popcorn or dried fruit.
If you're going to pay for the cost of professionally hanging up Christmas lights, they should also be colored instead of white on the outside of the home, according to a 60.6% majority. And they should do more than just turn on: 71.5% said the lights should also flash or sparkle in some way. Another 65.3% preferred automatic lights to manual lights. And to go the extra mile, 65.5% preferred lights that were timed with music to create an immersive display.
Decorating a Home
Turns out people have very strong opinions when it comes to decorating for the holidays. For Christmas, most agreed on starting to set up 23 to 24 days in advance and taking decorations down about a week later (but they won't judge you if you leave them up too long, it happens!) Most took inspiration from their friends and family, and wanted something a little fancier for Christmas like automatic lights timed to music.
Methodology and Limitations
This study uses data from a survey of 1,020 people located in the U.S. Respondents were gathered through an online survey platform where they were presented with a series of questions, including attention-check and disqualification questions. 51.8% of respondents identified as men, while 47.9% identified as women, and 0.3% identified as nonbinary or chose to not disclose their gender. Respondents ranged in age from 21 to 75 with an average age of 39. Millennials accounted for 34.0% of respondents, 25.9% were Gen Xers, 19.5% were baby boomers, and 20.6% were Gen Zers. Participants incorrectly answering any attention-check question had their answers disqualified. This study has a 3% margin of error on a 95% confidence interval.
Please note that survey responses are self-reported and are subject to issues such as exaggeration, recency bias, and telescoping.
Fair Use Statement
If you feel inspired to help spread the holiday joy, you're welcome to share the research in this article. Just be sure your purposes are noncommercial and that you link back to this page when doing so.
No Comments Yet