On This Page:
What's the Difference Between Porcelain and Ceramic Tile?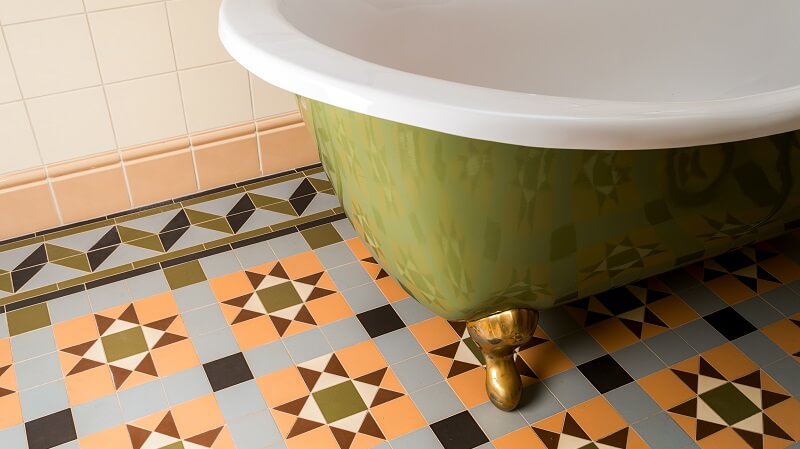 Porcelain and ceramic tiles are often considered one in the same. However, there are significant differences in each tile's porosity and makeup. Though both are made of clay baked in a kiln, that's where their similarities end.
Ceramic – made of red, white, or brown clay and kiln-fired at a lower temperature. It's softer, more porous, less dense, and more affordable.
Porcelain is a subtype of ceramic. It's a blend of refined white clay, sand, and feldspar. They're baked at a higher temperature, which decreases the water content within them. As a result, it's harder, denser, less porous, and more expensive.
Porcelain and Ceramic Wood Tile
Wood-look tile comes in either material. Both types offer great beauty and design versatility. Refined materials make up porcelain tiles, making them harder, costlier, and more water-resistant than ceramic wood tile.
Consult with a Tile Installation Professional
Ceramic vs Porcelain
Ceramic
Porcelain
Design & Colors
Versatile designs and textures
Equally as versatile
Porous
More porous
Denser material
Cost
More affordable
Expensive
Professional Installation
$60-$100 per hour
$60-$120 per hour
DIY Installation
Can be a DIY installation
Not a good material for DIY jobs
Durability & Strength
Weaker, more prone to damage and fading
Stronger, more resistant to damage and fading
Heat Resistance
Good heat-resistance
Can withstand higher temperatures
Waterproof/Water Resistance
Water-resistant
Resists moisture damage better
Stain Resistance
Captures more stains
More stain-resistant
Maintenance and repairs
Easier to repair
Harder to repair
Ease of cleaning
Requires more frequent deep cleaning
Less frequent deep cleaning
Recyclability/Eco-Friendly
Equal
Equal
Resale Value/ ROI
Lower
Higher
Not sure where to start when looking for a tiler?
Design & Colors
They can come in different colors, textures and designs. The main difference is in their quality and durability. Both come in countless colors and textures such as matte, terracotta, gloss, high-gloss, stutturato, brushed, wood-like, and more. Handmade tile that is custom painted is another beautiful option that makes unique flooring and backsplashes.

The most versatile in design: Tie
Porous
Ceramic
More porous because it's baked at a lower temperature and the materials aren't as refined.

Porcelain
Less porous due to its refined materials and higher kiln temperature during the manufacturing process.

Most Porous Tile: Ceramic
Cost
Ceramic
The cost of standard residential-grade glazed tiles is between $3-$4/ square foot.
Porcelain
Costs about 60% more, or $4-$8/square foot.

The Most Affordable: Ceramic
Expense of Professional Application
The cost to install ceramic or porcelain tile averages at $1,750 per project. The typical range is between $870 and $2,700. Low-end jobs can be as affordable as $500 and high-end jobs costing up to $5,000. To find out how many tiles you'll need for your upcoming project, use our ceramic tile calculator.
Ceramic
The cost of layering ceramic tile is around $60-$100 per hour.
Installing 100 square feet of tile requires 13 hours, resulting in $800-$1,300 in labor.
Easier to cut and install because tile is softer and cut with a standard saw.
Porcelain
The cost of labor is around $60-$120 per hour.
Applying 100 square feet of tile takes around 13 hours, which results in $800-$1,500 in labor.
Difficult to cut with anything but a diamond saw and fit because the tile is hard.

Most affordable professional application: Ceramic
DIY Installation
Ceramic
Relatively easy to cut, work with, and apply.
Porcelain
Harder to cut, heavier, and difficult to work with.
Professional installation is necessary.

Best for DIY projects: Ceramic
Durability & Strength
Each tile differs in its ability to handle foot traffic, moisture, and impacts. For more information, check out the complete guide to ceramic tile grades, with level 1 being the weakest and 5 the strongest.
Ceramic
Pros
Ranges in strength grades 1-4, so more durable versions are available.
Glazed versions have higher level of protection against wear and tear.
Can last 10-20 years.
Cons
Lower-grade versions chip and scratch more easily.
Absorbs spills and stains faster.
Chipped tiles will reveal the clay underneath the glaze.
Not suited for outdoor use.
Porcelain
Pros
Highly scratch, chip, and stain-resistant.
Resists spills well.
Good-quality versions can last for over 20 years.
Resistant to acids, heat, and UV rays.
Strong as grade 5.
Cons
Though strong, it's not impervious to impacts and can crack.

The best floor for high-traffic areas: Porcelain
Heat Resistance
Ceramic
Heat-resistant but not heat proof.
Extreme heat can damage the surface and cause it to crack.
Shape may also change when exposed to extreme heat.
Porcelain
Less likely to crack when exposed to extreme heat.

The best kitchen countertops: Porcelain
Waterproof/ Water Resistance
Ceramic: High absorption rate due to its porosity.
Porcelain: Low absorption rate.

Best for basement and bathroom floors: Porcelain
Stain Resistance
Ceramic: Absorbs more stains because it's softer and less dense.
Porcelain: Highly resistant because it's harder and denser.

Best for messy countertops: Porcelain
Maintenance & Repairs
The national average cost to repair ceramic or porcelain tile is around $450, with the typical range between $230-$660.
Ceramic
Pros
Cons
Sealing unglazed or crackle-glazed tile is necessary and costs between $90-$140 per 100 square feet.
Removing ceramic tile adds to costs when cracked tiles need replacing.
Porcelain
Pros
Usually doesn't require sealing.
Cons
Repair process is more difficult because it's harder to cut and shape.

The easiest repair: Ceramic
Ease of Cleaning
Ceramic
Sweep or vacuum twice a week.
Requires weekly deep cleaning with a mop.
Porcelain
Sweep or vacuum twice a week.
Requires a monthly deep cleaning with either a mop or brush scrub.

Easiest to care for Porcelain
Recyclability/ Environmentally Friendly
Though it's hard to find facilities that recycle either material, both are environmentally-friendly. They're equally low in VOCs (Volatile Organic Compounds) and can be recycled into roads, artwork, and new tiles.

Best for the environment Tie
Resale Value & ROI
Both ceramic and porcelain tiles are desirable for backsplashes and flooring for their timeless look and durability compared to other flooring and mosaic alternatives. However, since porcelain has a higher price tag and shelf life, it is more likely to offer you a better return on your investment.

Best return on our investment Porcelain
Need a Pro for Your Tile Installation?
Which is Better?
Which material is right for your next home improvement project? Here are some useful facts.
Ceramic versus Porcelain Tile for Kitchen Floors
The best tile for kitchen floors is a toss-up. Ceramic is a more affordable option but requires more frequent upkeep. Porcelain is the costlier option but requires less upkeep and stress over spills and stains. It's up to the homeowner what they prefer.
The pros and cons of porcelain and ceramic tiles differ when you examine them in different categories.
Is Porcelain or Ceramic Best for Bathroom & Shower Walls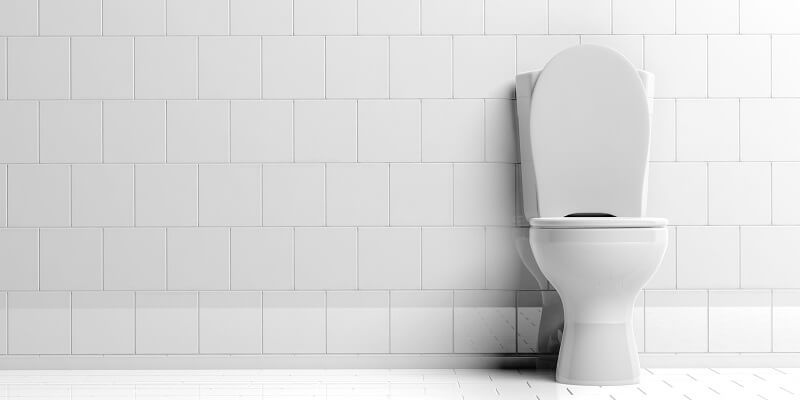 The best tile for your bathroom and shower walls is porcelain. It's highly water-resistant and made to handle wet and humid conditions. For more information, check the guide on what to expect with your tiling project.
Sinks & Countertops
A good material for countertops is either sealed ceramic or porcelain. Though porcelain is the stronger material, sealed ceramic can also work as an excellent countertop because it's strong, attractive, and durable. The same rule goes for sinks because they require a water-resistant material.
Better Tile for Basement Flooring
The better tile for basement flooring is porcelain. In fact, any room that's prone to flooding and moisture damage should have a water-resistant floor. Porcelain's high water-resistance, strength, and low porosity enable it to perform well in humid and wet conditions.
Best as a Backsplash
Ceramic wall tiles make the best decorative backsplash where there won't be much contact with moisture. They're more affordable and offer the same design variety as high-end options. The average cost to install a backsplash is $950, but a low-end ceramic tile backsplash can cost as little as $25 per square foot.
Not sure where to start when looking for a tiler?
Floor Tile Comparison Guide
The cost to install flooring with different materials will vary because each project is unique. For more detailed information, explore these tile basics.
| Material | Pro | Con |
| --- | --- | --- |
| Porcelain | As hard as granite | Expensive |
| Porcelain | Versatile | Porous |
| Ceramic | Affordable | Not great ROI for cheaper versions |
| Vinyl | As hard as granite | Expensive |
| Natural Stone | Good ROI | Varied levels of durability and porosity |
| Laminate | Cheaper wood alternative | Not good for wet areas |
| Linoleum | Eco-Friendly | Can turn yellow when exposed to sunlight |
| Glass | Recyclable | Slippery |
| Terracotta | Attractive natural variation | Porous |
No Comments Yet