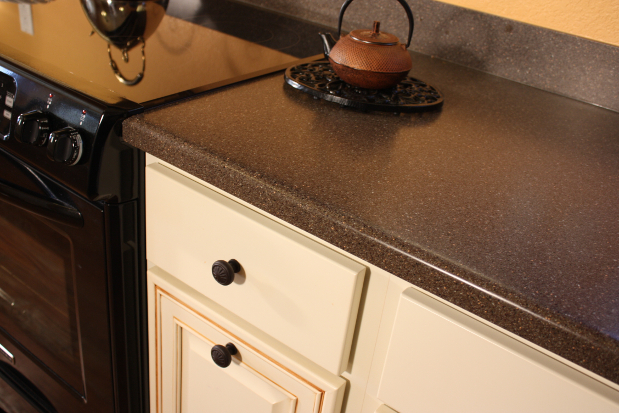 While granite and marble countertops dominate dinner conversations these days, laminate countertops still take the cake when it comes to cost effective, attractive, countertop solutions. If you're looking to remodel your kitchen countertops, and are pressed by budgetary considerations, laminate deserves a serious look.
Limitless Designs
One of the biggest draws of these countertops is the design possibilities available. Laminate used to mean cheap looking vinyl. Not anymore. Laminate countertops are now manufactured in more designs than you can imagine, including stone imitations that can impress the most discriminating guest. They are high quality, with color, design, and material choices to match.
Laminate Lasts
While laminate countertops are the least expensive option, they are also the most popular because of their cost to durability ratio. They are tough and easy to maintain, and if well cared for, can last for 20 years or more. In fact, some contemporary suppliers offer 40 year guarantees on their product.
Ready to start your
Laminate Countertop

?Find Pros
These countertops are made from a base of plywood or particleboard that spans across the top of a cabinet and is then covered with the decorative laminated finish. Laminate takes more diligence to maintain than stone, but with proper care, your it will last, and impress, for years to come.
Laminate Care
The key to maintaining quality laminate is maintenance. Watch for scratches and scuffs and do not cut or put anything hot directly on the surface. Consider setting a few tiles flush in the countertop, especially near the stove or oven, to be able to set hot pans down. Or use trivets. And when it comes to choosing your material, always choose matte over gloss. Laminate will show scratches, scuffs, and wear. On a glossy finish, these imperfections stand out like a sore thumb. On a matte finish, they're just par for the course.
Repair and Refinishing
Laminate countertops can now be repaired and resurfaced at a fraction of the cost of replacement. Cracks and burns are repaired with a special plastic filler, then sanded smooth to fill in any rough or damaged areas. The counter is then sprayed with a special topcoat, which gives the appearance and durability of a new surface. The process usually takes four to five hours, and your kitchen is ready to use the next day. Knowing that your countertops can be repaired and refinished to look like new in a matter of hours makes choosing them for your home even easier. Talk to an installer about laminate for your kitchen or bath, and enjoy the benefits, longevity, and beauty of laminate for years to come.
1 Comments