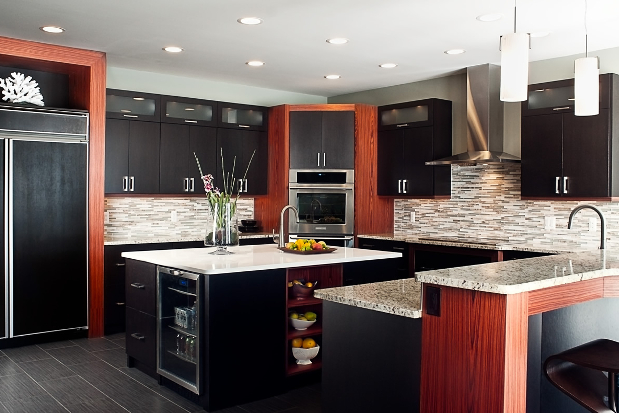 Does your kitchen fit your busy lifestyle? Today's kitchens are at the hub of family life, serving as a dining area, office, and gathering place. Whether you choose a major kitchen remodel or just want to rejuvenate one aspect with new lighting, appliances, cabinetry or tile, updating this space can make it easier to accommodate your family's daily routine.
In addition, if you remodel your kitchen, or even update some aspect of it, you will most likely recoup your investment if you choose to sell your home. Just one more reason that kitchen renovations rank among the most popular projects each year.
There are three basic elements to good kitchen design:
1. Gather ideas for your kitchen remodel.
The first element in good design is the process of exploring possibilities and discovering the many options available. In this stage, keep your eyes open for ideas. You can look at magazines, showrooms, websites like DesignMine, builder's model homes, and the homes of neighbors. You should also try to think about all the ways your kitchen might enhance your lifestyle. Consider including the following ideas in your kitchen design:
Mudroom
Hobby area
Homework space
Computer space
Recycling bins
Fire extinguisher
Entertainment center
Phone or phone charging stations
Second sink or dishwasher
Display space for fine silver or glass pieces
Mood lighting and natural light
The key is to dream a little and indulge your imagination. While you won't be able to afford everything you can dream of, you might be surprised by how much is possible. Compile a list along with pictures, drawings, and samples of all the features and functions you want in your new kitchen.
2. Consider the current layout of your kitchen.
The second aspect of kitchen design is layout. Most courses and guides on design focus on this element. This is when you look at the various features of the kitchen and choose the location of appliances and work areas.
For years the key to good layout was the appliance work triangle. This refers to the arrangement of the refrigerator, sink and stove.
With the increasing use of microwaves, many people now refer to this as the work diamond. The majority of cooking activities entails moving easily back and forth among these three or four kitchen staples.
3. Choose the best design style to complement your lifestyle and your kitchen.
The final element in good kitchen design is essentially aesthetic. Choosing the right colors, finishes, and textures is essential to creating a space in which people will enjoy living.
Keep in mind that the fewer years you plan to live in the house, the more important it is for you to choose popular aesthetic options that will enhance the resale value when you sell your home.
Kitchen Design Budget
Even an extremely modest kitchen remodeling project will cost $8,000 on the low end. On average, kitchen remodeling can cost about $22,000.
If the project is not designed well, much of that money may be wasted. Pulling together all the elements, working around all the existing limitations, addressing technical issues like plumbing and electrical wiring, and making product and material selections add up to a complex equation.
It's best to work with professional kitchen designers who deal with these issues daily. Pros will often come up with creative solutions that you may not have considered. With the increased demands we place on our kitchens, it's very important to make the best use of all available space. Whether enlarging the house, taking room from a closet, eliminating a hallway, rearranging cabinets and appliances, or any number of other options, a pro is more likely to see the best solution and know how to achieve it.
Ready to start your
Kitchen Remodel

?Find Pros
Kitchen Size
One trend in kitchens that has grown over the years is increasing the size. In most homes, there isn't a lot of unused nearby space in which to expand. This, as well as cost considerations, often cause homeowners to rule out moving walls.
Size is important to have a functionally up-to-date kitchen, and many of yesteryear were designed as tiny spaces. But, there are almost always affordable ways to add square footage.
Many people eliminate their under-used formal dining room or living room. Others incorporate the space once allocated to a pantry, entryway or back porch. Sometimes a hall can be eliminated or moved to open up more space.
As a last resort, you can always consider extending the kitchen with an addition. Sometimes, doing so opens up opportunities to enhance other parts of the home by making it possible to create a great room, library or master bedroom suite.
Kitchen Entertainment Center
The answer to this question depends on the level of technology and connectivity you're looking for. At its most basic level, an entertainment center is almost like an entertainment room or home theater, but downsized for kitchen convenience. At its most basic level, it will consist of elements like an AM/FM radio and MP3 player. You can easily upgrade by adding a television screen and DVD capabilities. If you're looking for the best of the best, you can include internet connectivity and home monitoring for an entertainment center that is truly state-of-the-art.
The Benefits of a Kitchen Entertainment Center
From a basic entertainment standpoint, the reasons to install an entertainment center in your kitchen are obvious. It's likely that you spend more time in your kitchen than any other room in your home besides your bedroom. That being the case, why not provide yourself with access to music, television, movies and internet access in your kitchen? Think about the recipes, advice and cooking tips that can be found with a simple Google search. You won't only be installing an entertainment center, you'll be adding a valuable resource for food preparation as well.
No Comments Yet