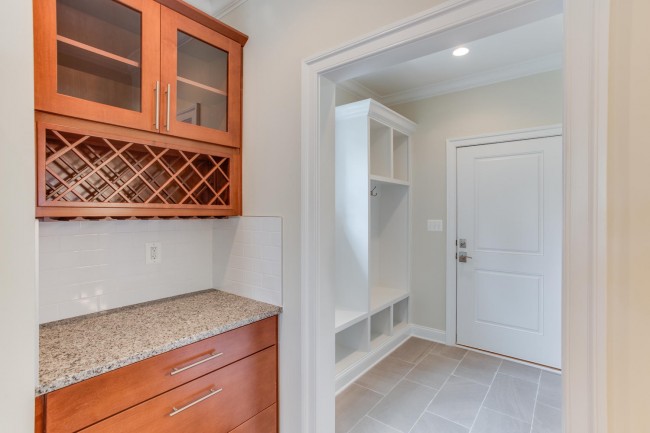 A mud room is usually a transitional space between an entryway and the rest of the house, which often acts as a storage area for unsightly outdoor articles. And even though this is a great place to stockpile your coats and hats, your ski poles and snowshoes, and your tools and dirty boots, this area doesn't have to be something hidden away from the rest of the home.
Since most people probably enter your house through this area, and since first impressions are the most important, why not make the space attractive as well as functional?
Give It More Work
Many times a mud room is installed near the kitchen and will act as a holding area that keeps clutter and dirt from reaching into more habitable parts of the house. But since this storage room is used so often, why not make it as livable as possible by utilizing the space with some simple remodeling tips and by adding a few organizational tools? In other words, transform this buffer zone into a useful room by redefining its purpose.
Washes and Dries: On laundry day, do you have to continually traipse up and down the basement stairs? Turn a mud room into a laundry room to make this chore less tiresome.
Recycling Center: Most people don't recycle because it's inconvenient and hard to keep in mind. By adding a recycling bin in a room right next to the kitchen the task will now become more accessible so you can do your part to save the environment without cluttering the house.
Rinse Off: When you garden or your kids play outside, more than your feet get muddy. Add a small utility sink in this room so you can also wash the dirt off your hands and face.
Pet Supplies: A great place to keep your litter box, pet dishes, or big bags of dog food. These items will now be out of sight but still within reach. If you often keep this area closed off in order to save on heating expenses, then you'll possibly want to add a pet door so your cat or dog can access this area at their leisure.
Keep It Straight
Add a few items so this area will become (and stay) more organized.
Hooks: Instead of throwing coats anywhere, give your family a placed to hang their outdoor clothes by adding some hooks. If you have kids, make a separate row at their level so that they learn how to properly put away and respect their property. Also, hooks are a great place to hang your car keys so they'll never be lost again.
Store and Sit: Add a bench so you have a place to sit while taking off your dirty shoes. Many come with lift-up tops so that these benches can also serve as another storage space for scarves, gloves, or hats.
Cubbies: By adding a cubby or shoe rack, a footwear pile-up can now be avoided.
Although these are easy organizational tools, you can also add some pictures, a mirror, or a small table to make this area stylish as well as efficient. Also, make sure you put down rugs to avoid any slipping or tripping. And if you invest in some sturdy rubber mats, cleaning up this room becomes a breeze. Just make sure that once you've re-decorated your mud room that you revisit it occasionally (every seasonal changeover) to make sure it stays clean and orderly.
Ready to start your
mudroom organization

?Find Pros
No Comments Yet