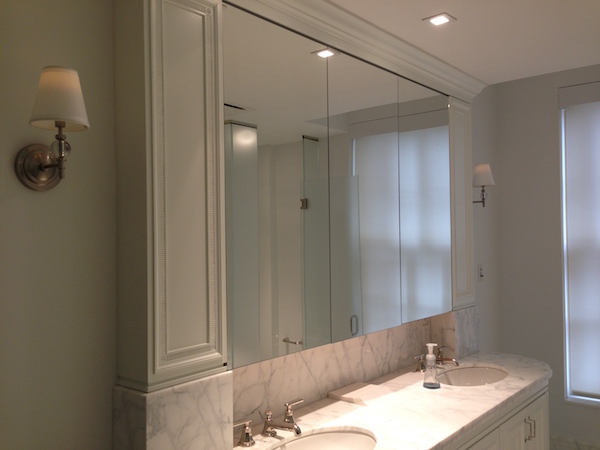 Whether you're taking on a major bathroom remodel or just want to upgrade the bathroom cabinets, you're smart to choose a recessed cabinet. In general, a recessed medicine cabinet is better-looking, a bigger space-saver, and a more durable option than cheaper alternatives. If you want a medicine cabinet that you can enjoy for the life of your bathroom, recessed is the way to go.
Recessed Medicine Cabinet Installation
If you're completely remodeling your bathroom, you can skim this section. For a standalone recessed cabinet installation, however, here's a suggestion you don't want to skip: If you're putting your recessed cabinet in a new area or where a wall-mounted medicine cabinet is presently hanging, check to see what's behind the drywall before you purchase a new cabinet. Because bathrooms are small rooms with lots of fixtures, they are notorious for hiding electrical wiring, plumbing, and ductwork behind the drywall. Wiring can easily be moved to accommodate a recessed cabinet, but ductwork and plumbing are different animals altogether. Nothing is more frustrating than buying the perfect cabinet, cutting into the drywall and discovering that you're going to need to make other plans. On the other hand, if you do identify ductwork or plumbing, you should still contact a professional cabinet installer, plumber, or HVAC contractor. Some "almost-there" problems can be circumvented by a clever home improvement professional.
Shopping for Recessed Medicine Cabinets
Once you've determined your bathroom can accommodate a recessed-style cabinet, you'll need to decide on the size, style, and finish of your medicine cabinet. The best way to choose a recessed medicine cabinet is to take a good look at your present bathroom with a tape measure in hand. Ask yourself how much mirror space you'd like to have, taking into account who will be using the mirror, and consider how much storage space you need. Answering both of those questions will give you a head start for how large of a cabinet to look for. Also, you want your medicine cabinet to fit comfortably over your bathroom vanity, so you'll want to measure your vanity and the space you've allotted for the cabinet as well, so that you don't purchase a cabinet that's too large for the area.
Ready to start your
medicine cabinet

?Find Pros
Choosing Recessed Medicine Cabinet Accessories and Accents
Besides size, you'll also need to choose a style and design that matches your personality, needs, and your bathroom design. You may not see your self-identity as intimately tied to your bathroom space, but few places grab the spying eyes of house guests so quickly as the medicine cabinet. Best to be judged positively before the cabinet is open because you may have even less control over how you're judged on the other side of the cabinet.
Door Style—Medicine cabinets come with several different door varieties, including single, double, and triple-hinged cabinets and sliding doors. Mostly this is an aesthetic choice, although if you have a small bathroom, sliding doors take up a little less space when opened.
Finishes and Styles—Plan ahead before you hit the showroom, and take a piece of existing trim with you when you shop. Remember, you'll want to match your new cabinet to your trim as closely as possible. Also, be sure to consider style. Is your present bathroom design contemporary or Victorian? Make sure your new cabinet fits to match.
Lights and Sconces—Many recessed cabinets come with built-in lighting already installed. Generally, lighting that comes from the side is more flattering and illuminating than lighting that comes from above. You can also go with a lightless model and install other lighting, such as separate, matching wall sconces. One thing to consider here: how proficient are you at electrical work? The risk of death by electric shock might help push you in one direction or the other if you're trying to decide between a lit-up model or one that doesn't require being wired in.
Other Ideas for Recessed Medicine Cabinets
Obviously most recessed medicine cabinets are installed in bathrooms, but they can be handy in other areas of the home, as well. Sewing rooms, foyers, offices, hobby areas, and workshops, just to name a few possibilities, can all be excellent candidates for the space-saving storage a recessed cabinet provides. Whether you choose to install your cabinet yourself, or prefer to hire the job out to a handyman or contractor, recessed cabinets are the only way to go when it comes to space-saving, out-of-the-way storage in your home.
No Comments Yet