Left Photo: anucha sirivisansuwan / Moment / Getty Images
Right Photo: Changyu Lu / Moment / Getty Images
Although there are a few more details to cover in this guide, the two main differences between a saltwater pool versus a chlorine pool are cost and health. Traditional chlorine pools are the most common and least expensive to install and maintain but are harsher on the skin, clothes, and clothing. In contrast, saltwater pools cost far more upfront but are much gentler on the skin, eyes, and clothes.
On This Page:
What Is a Chlorine Pool?
Chlorine pools are the most common, least expensive, and oldest modern pool type. It's what you're likely used to swimming in. You'll know it by the chlorine smell and the red, irritated eyes and dry skin you get after using it.
They rely on added chlorine, typically as a liquid, tablet, or granules, to sanitize the pool
They require weekly or biweekly testing and balancing of the chemicals, pH balance, and other cleaning solutions.
They're inexpensive to install but more expensive to maintain regularly.
They are harsh on eyes, clothes, and skin.
What Is a Saltwater Pool?
Saltwater pools aren't like swimming in the ocean; they're much closer to a traditional swimming pool which uses chlorine to sanitize the water but without the smell or irritated eyes and skin. Unlike a traditional chlorine pool, they use electrolysis through a salt chlorine generator (also called a chlorinator) that continuously converts the chloride found in pool-salt into chlorine to sanitize the pool.
They use more specialized equipment to convert salt to chlorine.
They require far less testing, about once a month.
They're far nicer to the skin, eyes, and pool clothes.
Although more expensive up front, they tend to have lower maintenance costs.
Ready to Start Your Saltwater or Chlorine Pool Installation?
Cost
You'll spend more on the initial installation of a saltwater pool over a basic chlorine style. This comes mostly from the saltwater generator, which adds a few thousand dollars to the price tag. But they're far cheaper to run annually. Overall, you'll spend more upfront for a saltwater-style pool but less over time than a standard chlorine pool.
It's a tie here:
If you have more to spend upfront and want better quality water and lower operating costs, opt for a saltwater pool.
If you're on a budget initially but can spend more over time, invest in a chlorine pool. You can always convert from chlorine to salt later on.
Chlorine Pool
Chlorine pools cost $35,000, on average, or a few thousand less than a saltwater pool. But they cost more to run. You can always start with this type and convert over to saltwater later on. Although less expensive up front, a couple of costs to keep in mind include:
Requiring weekly chemicals, costing $400 to $800 yearly
Destroying fabrics used in the pool clothing faster, making yearly replacements almost necessary
Adding an auto chlorinator costs $500 to $2,000, reducing the need for constant testing and chemical balancing.
Saltwater Pool
Saltwater pools cost more than chlorine on the front end, but you'll save money over time. Actually digging and installing a saltwater pool will cost the same as a chlorine style. After all, they're simply large, lined holes with water in them. The difference lies in the pump, plumbing, and chlorinator, which can add another $3,000 to $15,000, depending on the size of your pool. With a saltwater pool, you'll likely have corrosion damage far sooner than with a chemical-laden chlorine pool.
Converting to a saltwater pool costs $1,500 to $10,000 for most residential systems.
You'll spend around $100 to $300 per year on salt, with a little extra on electricity over chlorine.
Expect to replace the saltwater cell every 5 to 8 years, which costs $500 to $1,500.
Upkeep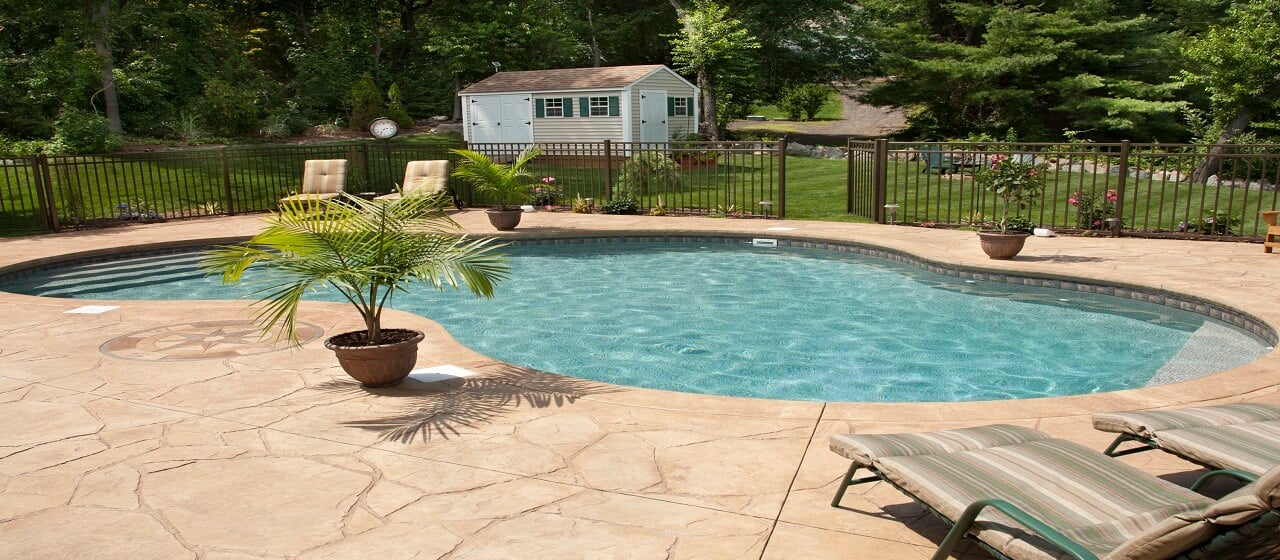 Saltwater pools win when it comes to upkeep, but only because they require less attention. They require less testing and fewer chemical additions. Both salt and chlorine-style pools require ongoing maintenance and upkeep, such as general cleaning. But you'll need to keep a closer eye on the chlorine systems. Costs tend to be slightly higher for chemical systems vs. salt systems, but periodic salt cell replacement negates most of the short-term savings.
Besides swimming pool maintenance costs, you'll also want to consider larger upkeep items, like vinyl pool liner repair costs, and general swimming pool repair costs.
Chlorine Pool
Chlorine pools require adding chlorine chemicals, pH balancers, and sometimes other cleaners. Your weekly upkeep costs tend to be about four times as high in cost and time as a saltwater pool.
Saltwater Pool
Saltwater pools need pretty much salt added, at various times depending on how large a storage container you have for it. The amount of salt you need depends on how large your pool is.
You can use HomeAdvisor's pool salt calculator to figure out how much you'll need. Once every few years, you'll need to replace the salt cell and the sacrificial anode, which generally costs less than $1,000 total, but can negate your yearly savings.
Durability
Both pools are equally durable so far as a need for any pool repairs. However, they have different chemicals that act on the pools, components, and anything you put in the pool. Both salt and chlorine can corrode when the rest of the pool isn't properly maintained or has defective parts. You can avoid most corrosion through proper maintenance, maintaining the pH balance of the pool, and
Chlorine Pool
Chlorine pools last a long time if maintained properly. They require consistent care, testing, and chlorine supplementation to stay clean and function properly.
Saltwater Pool
While softer to the skin, saltwater can corrode the pool's metallic components, such as filters, railings, and heaters, if you don't maintain the pH balance and keep a saltwater-compatible corrosion inhibitor (like a sacrificial anode) working properly.
Installation
There are almost no differences between installing one pool over the other. The main difference is in the components. Saltwater pools need an additional pump, chlorine generator, and some type of corrosion inhibitor. Talk to a local swimming pool builder for quotes and ideas for your pool installation project.
Life Span
In-ground tile or concrete swimming pools, regardless of the type, can last almost indefinitely with the right maintenance. Fiberglass pools last over 30 years.
Environmental Impact
When it comes to environmental impact, both chlorine and saltwater pools weigh in about the same. While a saltwater pool contains less chlorine, it requires more electricity usage to keep it clean since the salt-chlorine generator runs nearly continuously.
Resale Value
In most cases, having a pool increases your home's resale value. Much of the resale value of a pool is dependent on the volume of the pool itself. Due to the overall greater cost associated with a saltwater pool, the resale value can be marginally higher than that of a chlorinated pool. However, this will vary by location, down to the neighborhood, climate, and local home values. Talk to a realtor for more information.
Is a Chlorine Pool or Saltwater Pool Better for Your Home?
If you have the budget for it, a saltwater pool is a better choice than a chlorine pool. But you can always convert a chlorine pool into a saltwater pool later on.
| Factor | Chlorine Pool | Saltwater Pool |
| --- | --- | --- |
| Average Cost | $35,000 | $45,000 |
| Upkeep | Weekly | Monthly |
| Maintenance | $400 – $800 yearly | $100 – $400 |
| Durability | Depends on materials | Depends on materials |
| Installation | Same installation needs | Same installation needs |
| Lifespan | Depends on materials and upkeep | Depends on materials and upkeep |
| Environmental Impact | More chemical usage | More electricity usage |
Best for In-Ground Pools
Saltwater slightly edges out chlorine for in-ground use, but only because it'll cost slightly less to install the right components up front rather than doing it as a retrofit later on. The reason is that you can choose a liner for the inground pool that can handle saltwater from the get-go rather than upgrading later on.
Above-Ground Pools
There's no real winner for whether you should choose a saltwater or chlorinated system for an above-ground pool. They're easy to retrofit for either system since it's all above ground.
Chlorine or Saltwater vs. UV Pools
There's a third option you might want to consider, UV pool sanitation systems. Although you still need a small amount of chemical in the pool to treat the water until it can circulate through the UV reactor chamber, it's far healthier than even a saltwater pool.
UV Pool Cost
UV pool systems utilize UV light in a sanitation chamber located outside the pool to kill germs, parasites, algae, and other microbes. These systems fall above chlorine systems in cost but typically below saltwater systems. Expect to pay around $500 to $3,000 for a UV light pool system.
Highest installation cost of all three pool systems
Lowest amount of chemicals needed
Safest for the environment
Safest for skin, hair, and eyes
Easy on pool clothing
Start Your Pool Installation Today
7 Comments