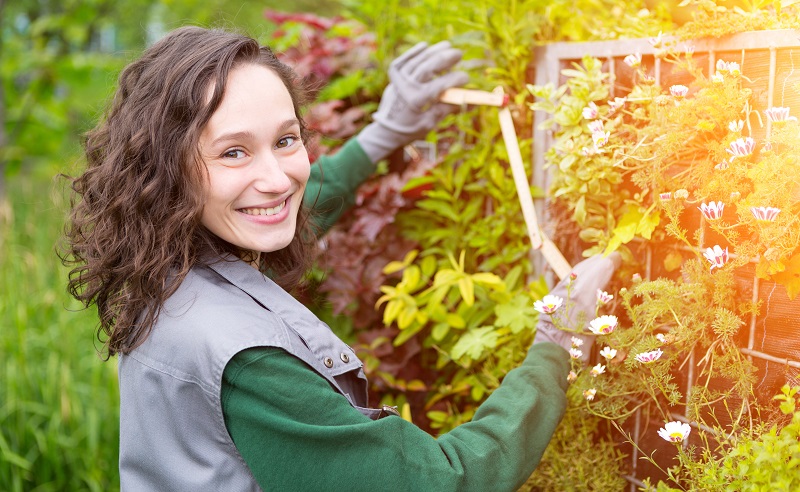 Do You Need a Landscaper?
Whether you want to transform your property or simply make sure it stays in good shape, you can benefit from working with a landscaper. To make sure you find the right professional for the job, this guide will help you prepare, research, and hire landscaping contractors. It will also provide assistance for budgeting, as well as the steps involved in the process.
A strategic approach to your property always works best. Hiring a landscaper means understanding the type of expert you need, researching options in your area, asking the right questions, and finding the best fit. This guide will help you navigate the hiring process and maximize the success of your yard.
On This Page:
What Does a Landscape Contractor Do?
Landscaping experts among the vaguest and easily misunderstood contractors in the home improvement industry. The same term can describe a wide range of professionals.
Small, independent contractors might focus on minor projects like delivering and spreading mulch, helping out with your spring planting, installing lawn drainage, or installing a sprinkler system. Larger companies or design/build firms will create and build a comprehensive landscaping setup that transforms your entire yard.
Depending on the type of service you need, it can get expensive. The average price to install landscaping for residential properties is $3,300, according to data collected by HomeAdvisor from homeowners across the country. However, that average differs significantly based on your project. Some examples include:
Average Cost of Landscaping by Type

| Project Type | Typical Range |
| --- | --- |
| Landscape curbing | $700-$1,700 |
| Installing sod | $1,000-$2,700 |
| Landscape architecture services | $1,000-$4,600 |
| Design services | $460-$1,000 |
| Laying landscaping rocks & stones | $700-$1,700 |
| Hydroseeding a lawn | $1,000-$4,000 |
| Level or regrade a lawn | $1,000-$3,000 |
| Installing a sprinkler system costs | $1,700-$3,600 |
Some experts install in-ground features, which raises the budget. Visit our landscaping cost guides overview for more information about the budget for a wide range of projects.
Residential vs Commercial Landscape Contractors
Businesses and homeowners have very different needs, which is why many pros specialize in one or the other.
Residential contractors tend to emphasize style. They are more flexible in their designs, cost less, and can typically work on short notice. They often specialize more narrowly, offering some services (such as lawn care or driveway paving) but not others.
Commercial contractors cost more because they are more rigorously vetted. They often have more standardized plans that they apply to their various clients. Monthly contracts are more common than one-time projects. Fewer, but larger clients tend to be the norm, which is why these are often full-service firms offering a wide range of services.
Most homeowners choose residential landscape contractors because of their customization abilities. Commercial alternatives do make sense if you have a large property and care more about its function over its style.
Hiring Independent, Backyard Maintenance Contractors
Not every contractor works for a larger firm like BrightView or Aspen Grove. In your research, you will find many experts who run their own landscaping business. They often cost less because their overhead is lower. But you might also have to wait longer to see the result if they have a built-up queue of clients.
When hiring an independent contractor, vetting becomes a crucial step. Make sure they have a current license and liability insurance. Because they are less likely to offer a wide range of services, talk clearly about expectations and tasks before the hire. If you don't provide that clarity, you might have to work with multiple experts or hire the landscaper again after the initial project, which costs more.
General Contractors vs Landscape Subcontractors
Some general contractors offer landscaping services as part of their portfolio. They often cost less than a specialized subcontractor. In exchange, you typically only get basic services such as trimming hedges. For more specialized and comprehensive projects, working with a dedicated professional makes more sense.
Gardener vs Landscaper
Landscaping contractors are different from gardeners. Hire a gardener when you need help with your plants and flowers. They will make sure the soil is healthy, and can plan out your plan out your flowerbed, vegetable or companion garden. A landscaper takes care of the bigger picture concerning your property. The gardener makes sure that within that bigger picture, the plants are healthy and look beautiful.
Designers & Architects
Depending on the size of your yard and what you want to do with it, you might need to hire a landscape architect or designer. Architects have a bachelor's or master's degree from an accredited university, as well as a license from their state. Designers can be self-taught, often have similar education, but do not need a license.
Architects work on large-scale projects on your yard: designing structures, defining and optimizing slopes, or planning an entire property. Designers lay out 'softer' plans for flowers and other plants for that same property. Landscape architects charge $70 to $150 per hour, or 5 to 15 percent of your entire project. Landscape designers cost between $50 and $150 per hour. Include the cost of the expert in the total cost of your landscaping.

Tips to Find and Hire a Landscaper
Simply searching for professionals online will bring up a wide range of experts. Finding the right one means digging deeper. Here are some tips that can help you started:
Evaluate your landscaping needs to narrow your search.
Read online reviews and ratings on independent websites like HomeAdvisor.
Check credentials. Most states have an online database that helps you check whether the professional is in good standing.
Evaluate previous experience. Contractors with more experience tend to be better.
Learn about hourly and per-project costs for every pro you look to hire.
Consider How Frequently You'll Need a Yard Worker
How frequently you need an expert depends on the type of project. One-time design of your property will not need recurring work. Regular hedge trimming does. Many homeowners find a single landscaper for both one-time projects and weekly or monthly work.
Call a landscaper out to your property once a year for checkup. Your professional will be able to walk onto your lawn and tell you what needs more care and what could use less. You will also get other tips to keep your lawn looking great.
Bundle Tasks
When you work with a firm or pro who can accomplish multiple services, bundling tasks makes sense. You often save money, planning is easier, and you work with a single expert you trust. For example, you might be able to combine general landscaping work with installation of a sprinkler system. If you already have one, make sure it can provide water to any new items the landscaper will add to your property.
Questions to Ask a Landscaper Before Hiring
Before you hire a professional, take some time to ask relevant questions. These questions help you find the right fit and ensure credibility. Start with some general questions during your first phone call:
What services do you offer?
Are you licensed and insured?
Do you offer a free consultation?
What's your guarantee for quality work?
What sets your company apart from other landscaping services?
Do you have client references from project similar to mine that I can follow up with?
Then, follow up with some more specific questions during the consultation:
What ideas do you have for my property?
Will you complete the work yourself, or contract some of it out?
What do I need to know about maintenance after the project?
How do you charge (hourly or by the project), and what is your rate?
How long will the installation take?
Can I save money by bundling services or promising future work?
Treat each conversation as a two-way street. In addition to learning about your contractor, communicate your needs. A credible professional will let you know whether your expectations are realistic and a good fit for their services.
These conversations can also help you understand more about landscaping in general. Talk with the professional about current trends and options to save you money. Learn about plant options that need less water or work better in the shade, while complementing your yard and home.
What to Expect from Your Landscape Professional
Know what to expect before you start working with landscaping professionals. Set up ground rules that both parties can agree on, as well as regular check ins with the crew to make sure everyone has what they need. Treat the workers courteously and offer them shade where possible. Offer cold drinks on hot days.
Professionals in this field will need a few basic things to complete their work. Electrical outlets, water access, and parking spots should be a given. They might need your bathroom if they don't bring their own. Setting ground rules and expectations helps to make sure smooth work and a good relationship with your contractors.
FAQs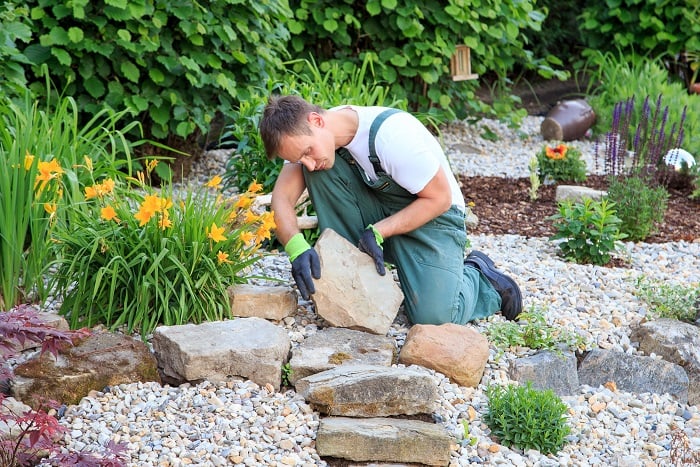 Are Landscapers Insured?
All credible landscaping professionals should be both bonded and insured. If you work with an expert who isn't, you will be liable for any accident that occurs on your property such as damaged underground internet lines or personal injury. Limit your research to landscapers who have current liability insurance and workman's compensation.
Do Landscapers Mow Lawns?
Some landscaping experts mow lawns, depending on their specialty. An architect or any other major contractor might not. A maintenance company whose goal it is to keep your landscape in shape probably will. If this is a service you expect, check with the pro before you hire them.
How Do You Find a Rock Landscaping Contractor?
Rocks can enhance many landscape designs. If they are part of your project, find a firm or pro who can accommodate you.
Most contractors don't specialize in this area. But you will find plenty of pros who offer it as part of their service. Ask whether the expert knows the benefits of various porous and non-porous stones, and which works better for your project. Make sure you know how they plan to dispose of any old rocks and transport new stones to your property.
Do You Tip Landscape Workers?
Tipping is not expected in the landscaping industry but can be a nice gesture to establish a good relationship. It makes most sense at the end of a large project. For regular yard maintenance, a once-per-season tip might be a good solution. Alternatively, you can make workers happy by ordering a pizza at the end of the project or providing cold soft drinks on a hot day.
Looking for a Good Local Landscaper?
If you're looking for a good landscapers in your area, research should be your first step. From lawn maintenance to landscaping architects, you can find experts who specialize in the type of work you need.
No Comments Yet