If your lawn is patchy and thin, you have several options for bringing it to life. Two of the most common methods are seeding and sodding. Each has its own advantages and disadvantages, and which one is right for you will depend on your circumstances, your budget and how soon you need a lush lawn.
On This Page
What's the Difference Between Sodding & Seeding?
In sodding, you or your professional install strips of pre-grown grass on exposed and prepared soil. The sod sets up within 2-3 weeks and makes for an instantly green lawn. Professional farmers grow this grass and harvest it on farms across the country.
For seeding, you or your professional must test and prep the soil extensively. Measure and perfect the pH levels of the soil and distribute the seeds throughout the yard by way of a hand-caster.
What is Sod?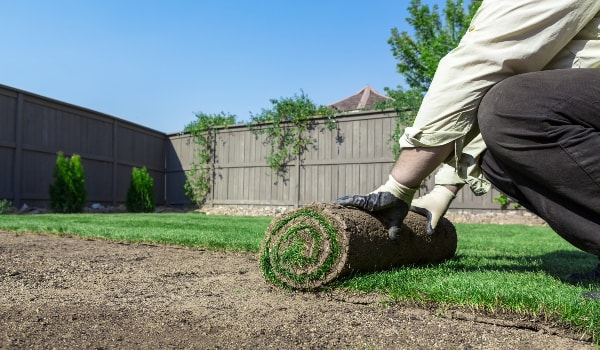 Sod is pre-grown grass that comes in rolls of about 2 feet by 5 feet. Farmers harvest the grass in these strips with up to 2 inches of soil intact, so that the soil, root systems and grass stay together like a mat. You can purchase it by the pallet, and a pallet's worth of rolls usually covers 400-500 square feet. It is available in economy, mid and high grades. An alternative name for this is "turf," though this is also commonly used to refer to artificial grass installations. Artificial turf costs between $5-$20 per square foot and is made from synthetic materials like polyethylene and nylon and requires very little—if any—maintenance. One of the most popular applications for this type of grass is on sports fields.
Real Grass Rolls versus Grass Plugs
Grass plugs come in squares of about 3 inches with a layer of soil attached. They are like smaller versions of sod. They are a more economical option than their counterpart, but they take longer to fill out. You plant them in a grid pattern and, over time, they spread to form a lush yard. Like with all grasses, different types grow best at different times and in particular environments.
Grass Seed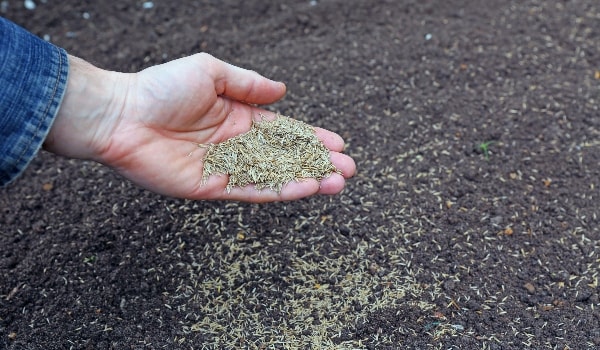 Grass seeds come from grass plants that mature, sprout heads and flower. You plant them in your yard as part of the seeding process. They germinate when moist, sprouting to make a lush new lawn.
There are hundreds of species available, and it's important to get the right one for your climate and lawn, and to plant it at the right time. If conditions aren't right for the type you choose, the germination process won't be successful. All the options have standardized labels to help homeowners choose the right ones for their regions.
Sod vs Seed vs Hydroseeding
Hydroseeding costs an average of $1,000 for a 5,000-10,000 square foot lawn, though homeowners could pay anywhere from $500 to $4,000 depending on the size of their yard and quality of the mix. This is not a cost-effective DIY project due to the cost of purchasing or renting the specialty hose and spraying machine needed.
The process involves the distribution of a mixture of mulch, seeds, fertilizer, water and additives across bare soil. The seeds develop deep root systems and deter erosion because they are surrounded by the moist, nutrient-rich mixture.
Need a Landscaping Pro?
Which is Better for Your Lawn – Sod or Seed?
Below, we compare the pros and cons of seeding and sodding in important categories so you can work toward making the right decision for your budget and needs.
Note: Unless otherwise specified, the comparisons refer generally to seeding with grass seeds versus sodding with real grass rolls, or "turf."

Which Is Best For Your Lawn?

| Sod is Better for… | Seed is Better for… |
| --- | --- |
| Immediate Results | No-Rush Results |
| Preventing Soil Erosion | Smaller Budgets |
| Less Restrictive Planting Times | Greater Number of Options |
| Blocking Weeds | DIY |
| Low-Maintenance | Quality |
| | Easy Patching & Reseeding |
Cost Comparison
Seed
The cost of materials ranges from $100 to $500. Professional seeding costs an average of $400 to $1,300. Typically, homeowners spend around $850.

Most budget-friendly: Seed
DIY vs. Hiring a Landscaper
Seed
Pros
Easier and more economical to DIY than other methods. Costs around $100 to $300 for the materials, where hiring a professional could be $400 to $1,500.
Cons
You run the risk of buying the wrong species and preparing poorly, resulting in failed growth and wasted supplies.
Sod
Pros
You will have more options for materials because you won't be limited to the products only a pro works with. You will also have total control of the project and timeline.
Cons
Improper installation could lead to unsightly and weed-prone gaps between sod sheets. DIY sodding can cost up to $2,000 for soil testing and equipment. It would be more cost-effective to hire a professional at $1,000 to $3,000.

Best for DIY: Seed
Reseed vs. Resod
Seed
Costs $60-$200. When doing an entire yard, you must kill the living grass and remove it. For small patches that need to be reseeded, you only need to plant in that area.
Sod
Costs $0.50 to $2.15 per square foot. For a 2,000 square foot yard, this would be $1,000-$4,300. The service includes killing and removing the current grass, buying new grass and having it installed.

Lowest cost to replant: Seed
Transplanting Time
Seed
Pros
It is best to plant seeds within a year of buying them but, if you store them properly, they could last 2-3 years.
Cons
You must plant them during times suited to their species and the environment. You can plant warm-season options between March and September and cold-season ones between August and October.
Sod
Pros
The most ideal times for planting are in spring and early autumn due to the temperature and moisture, but you can install it through much of the growing season
Cons
You must plant the freshly harvested sheets within 24 hours for best results.

Least restrictive rules for transplanting: Tie
Maturation Time
Seed
Pros
Even though it will take longer to get a lawn with this method, the resulting grass will have a deeper root system.
Cons
Has a long maturation time. It could take up to 2 years before you have a full lawn.
Sod
Pros
With this method, you will have an instant yard and it will only take 2-3 weeks for it to root in your soil.
Cons
The roots may not be as deep or firm as with other methods. In fact, it is common for portions of the product to do not root.

Fastest results: Sod
Maintenance & Care
Seed
Requires up to 3 daily waterings for first three weeks.
Requires careful watering so seeds don't wash away.
Won't hold up to foot traffic until roots established.
Can't be mown until fully grown in.
Has greater problems with weeds.
May demand extra fertilizer.
Sod
Requires daily watering for the initial two weeks.
Will not need as much water as a seeded yard during and after initial weeks.
Less likely to have significant weed problems.
Can hold up to foot traffic after 2-3 weeks.
Can be mown after 2-3 weeks.

Most low-maintenance: Sod
Choices
Most Popular Types of Grass Seeds
Species
Cost by 7-10-pound bag
Season Type & Description
Bahia
$50-$70

Warm.
Handles foot traffic well.
Adapts well to drought.
Coarse texture.

Bermuda
$30-$90

Warm
Grows fast.
Adapts well to drought.
Fine to medium texture.

Buffalo
$100-$120

Warm
Handles foot traffic well.
Fine texture.
Low-maintenance.

Centipede
$20-$40

Warm
Grows slowly.
Doesn't handle traffic well.
Coarse texture.

Fescue
$20-$25

Cool
Grows slowly.
Doesn't handle traffic well.
Coarse texture.

Kentucky Bluegrass
$35-$45

Cool
Doesn't handle traffic well.
Good in cold.
Disease-resistant.

Kentucky 31
$40-$50

Cool
Good through winters.
Moderate foot traffic.

Ryegrass
$20-$30

Cool
Doesn't adapt to drought well.
Not good in extreme temperatures.
Types of Sod
Species
Cost Range (Economy to High Grade)
Description
Zoysia
$170-$370

Grows slowly.
Temperate climates.
Fine, soft blades.
Tolerant to light and water.

St. Augustine
$150-$320

Grows fast.
Warm, southern/coastal climates.
Wide blades.
Adapts well to drought.

Bermuda
$170-$370

Grows fast.
Southwest and southern climates.
Good for food traffic.
Adapts well to drought.

Fescue
$130-$300

Cool climates.
Good in shade.
Has many, many subtypes.
Adapts well to drought.
Greater number of options: Seed
Quality
Seed
Pros
Because of the long maturation time and deep rooting, you will get a higher-quality, firm lawn.
You also have more options and can find the correct species for your soil and climate, which will make for healthier and stronger results.
Cons
May wash away in rain or they may not germinate in spots, leaving vulnerable patches that need to be reseeded.
Sod
Pros
More resistant to weeds if installed correctly. A good choice for slopes and areas of erosion.
Cons
You may not be able to find the species that is the best fit for your lawn due to limited species. Less tolerant to shade.

Most high-quality results: Seed
Erosion, Soil Conditions and Other Planting Considerations
Seed – Prior to installation, you or your installer must prepare the soil with any necessary herbicides and nutrients to prevent weeds and encourage germination. Because of its long maturation period, this installation will not do much to prevent erosion.
Sod – Before laying, you or your installer will need to prepare the soil by testing the quality and adjusting accordingly—but it doesn't need to be nearly as extensive as with seed. This installation will also work to instantly control erosion.


Most effective erosion control: Sod
Get a Quote from a Sod Installation Pro
Top Brands of Seed & Sod
Seed has several top brands, but the most popular and highly rated are:
Pennington
Jonathan Green
Scotts
DC Earth
Kentucky 31
Sod doesn't yet have major brands because of the nature of the work and how quickly it must be planted after harvesting. The industry is still reliant on local farms. Harmony and Sod Solutions are common brands carried by large garden centers.
1 Comments