St. Louis Roof Installation
See if We Have Top-Rated
Roofing Professionals in Your Area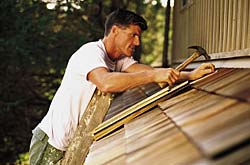 St. Louis weather may not seem like the most threatening in the country, but like any region with four distinct seasons, St. Louis roof installations are subject to Mother Nature's entire pantheon of climactic forces. Sun, rain, wind, heat, and cold take their turns pounding your roof, and while you may not realize it, after just a few years the typical roof installation may begin to see problems. Sure, you may not see the same risk factors as, say, someone living on the Florida coast, but any responsible homeowner needs to do everything in his or her power to deliver a quality roof installation for his or her home.
St. Louis Roof Replacement
In St. Louis, roof replacement is not needed with as much frequency as it is in areas where high winds or heavy snows are yearly events. However, when the time does come for roof replacement, St. Louis homeowners should be no less diligent in their search for the best material at the best price, installed by the best possible contractor.
Roof replacement is something that many homeowners tend to put off until there is no other choice. This, however, is a mistake (no matter what climate you live in)! Letting a roof deteriorate is a costly practice; not only will you not save money on your new installation by procrastinating, the damage that can be caused by even a small leak left unchecked for years can significantly boost the cost of bringing your home back up to par. While there's no denying the hassle and expense involved in roof replacement, St. Louis homeowner who truly want to get the most from their money should not only replace their roof as soon as it is deemed necessary, they should also have their roofing inspected regularly (once every year or two) to make sure they identify when to replace it as early as possible.
St. Louis Roof Installation Contractors
Generally speaking, the best way to begin a new roofing project is to find the person who's going to install it. Your new roof is an entire system of support structures, insulation, joints, and ventilation; you'll want a contractor who can not only install shingles or panels, but keep that support system in good condition during the process. Otherwise, your new roof can fail in a fraction of the time that it should be good for. Plus, if it's discovered your new roof wasn't installed properly, roofing manufacturers may not honor their warranties. Worse, since so much of the work is covered by the roofing surface, you'll want to seek out only the most trusted professionals in the industry.
To this end, ServiceMagic can help you in several respects. We put you in touch only with local contractors who have passed our rigorous 10-step screening process. More than this, our online database of customer ratings and reviews will allow you to see what other St. Louis-area homeowners thought about their experience with individual contractors and occasionally offer tips about roofing installation in general.
St. Louis Roof Installation: Materials
In talking with various roofing contractors, you should discuss different roofing materials. As it is in most U.S. cities, in St. Louis, asphalt roofing claims dominance in the residential roofing market. Often, you'll find asphalt roofing costs less than half the price tag of the alternatives. It should come as no surprise, then, that asphalt roofing doesn't live up to the standards of higher-end roofing materials, either. The life expectancy of an asphalt roof (even a good one) is about 10 years. One good thing about asphalt is that if you keep up on the maintenance and don't wait until the roof shows advanced signs of decay, you may be able to put a second layer of shingles directly on top of the first, eliminating the cost of removal and disposal of the existing materials.
Higher-end St. Louis roof installations are likely to last much longer than asphalt shingles. Materials such as composite, metal, rubber, and tile can range anywhere from 20 to 50 years; natural slate has been known to last more than 100! Opinions differ on the long-term cost effectiveness of each type of roofing, but some Gateway City homeowners opt for one of these higher-end roofing materials simply so they won't have the same level of worry and maintenance.
Predicting how much roof installation will cost is a notoriously difficult prospect, particularly without knowing the size of your roof. Our data suggests you might pay about $10,000 for your new roof. Total project costs tend not to be more expensive when choosing higher-end materials. This misleading piece of information can easily be explained by the fact that, often, homeowners choosing higher-end materials also own more vertically designed homes with smaller roofing areas. The cost of installing a premium roofing material on a full-size ranch home could hit $25,000 or more without even trying.
Marcus Pickett is a professional freelance writer for the home remodeling industry. He has published more than 600 articles on both regional and national topics within the home improvement industry.
More Tips & Advice For Your Home
Related Articles
Recent Articles
Galleries