Roof Truss Prices
For a 2,000 square foot home, roof truss installation typically costs between
$7,200 and $12,000
. You'll spend anywhere from
$1.50 to $4.50 per square foot
for materials alone, or between
$35 and $150
, though extremely long and complex types can reach
$400 each
. Labor runs anywhere from
$20 to $75 per hour
. Ranges in both materials and labor are due to location, size and roof complexity.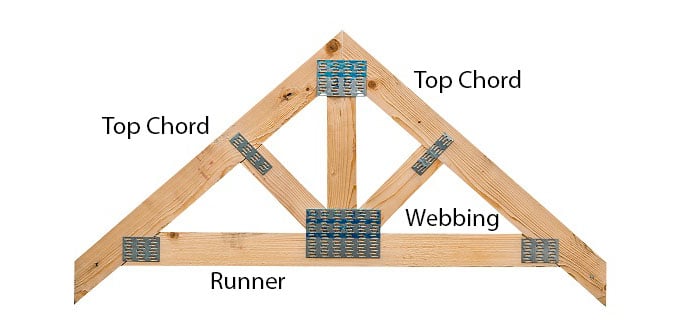 A roof truss is a premade frame for a roof. These prefabricated units reduce labor costs and make assembly both quick and easy. They are manufactured with steel plates at the joints, increasing the initial price but lowering overall labor costs since this doesn't have to be done on-site. The truss is made up of three parts:
These systems are cheaper, faster, and stronger than traditional framing and ideal for larger homes with open concepts. Professional installation streamlines planning, avoids mistakes and warranties the project. This guide covers the costs of roof truss systems – not stick framing where the roof is assembled on-site one board – or "stick" – at a time.
Metal trusses are usually reserved for the light industrial, commercial and agricultural markets. Steel framed homes usually have custom steel framed roofs – very similar to stick framing where the structure is framed one board at a time. Though it's possible to use steel in residential roof construction, it's cost prohibitive and hard to find a contractor with the experience to complete this unique project.
It's also worth noting that sometimes an increase in size doesn't always create a noticeable increase in price. This is due to the number of boards needed to support your roof. For example, a 10-foot span may need just as many boards as a 12-foot span.
There are too many variables in truss engineering and lumber market fluctuations to pinpoint an exact price. The table below shows only average ranges for popular common truss types. Your specific project will vary so speak with a licensed contractor for specific pricing in your area.
**Raw lumber prices have fluctuated dramatically over the last 10 years hitting an all-time high in 2017-2018, double the price from 2010-2011.
Repair pricing is very job specific and dependent on many variables including age of the home, location and type of damage, accessibility and location. This is not a DIY job – these carefully engineered assemblies require manufacturer or engineer advice for repairing it properly.
Any combination of external shape and internal webbing is possible.
Common trusses and its derivatives - Fink, Fan, Howe and Queen – make up most popular types used in residential construction. The variations are all due to the various style of supports, or webbing, inside the triangle structure. The various names come from the variety of web configurations needed for larger roofs and different load-bearing needs. The longer the bottom chord, the more webbing needed.
Thank you for submitting your feedback.