Updated: September 2, 2021
Reviewed by Dan DiClerico, Smart Home Strategist and Home Expert.
Written by HomeAdvisor.
Pole Barn Cost
The cost of building a pole barn averages about $25,000, or between $15,000 and $30,000. Size plays the biggest factors in determining costs. Large, elaborate units can cost up to $100,000 while smaller kits can be as low as $4,000. The total cost per square foot ranges from $20 to $35.
1. Pole Barn Building Cost by Size
Based on the $15 to $30 per square foot construction estimate, you can use standardized sizes to determine your budget. Use the chart below to set your expectations.
Pole Barn Costs by Size

| Size | Cost Range | Typical Use |
| --- | --- | --- |
| 20x30 | $4,000 - $12,000 | 1 car garage, 2 horse barn |
| 24x36 | $5,000 - $15,000 | 3 car garage, 4 horse barn |
| 30x30 | $6,000 - $15,000 | medium farm workshop, 5 horse barn |
| 30x40 | $8,000 - $20,000 | 4 car garage, 8 horse barn |
| 30x50 | $10,000 - $24,000 | farm equipment storage, 10 horse barn |
| 30x60 | $12,000 - $25,000 | 6 car garage, 12 horse barn |
| 40x60 | $14,000 - $28,000 | medium auto or equipment workshop |
| 40x80 | $20,000 - $35,000 | 150-200 bales of hay, 20 horse barn |
| 50x100 | $25,000 - $40,000 | 15 cow herd and milking equipment |
| 60x80 | $25,000 - $40,000 | large auto and equipment workshop |
| 60x100 | $30,000 - $65,000 | Industrial storage or warehouse |
2. Pole Barn Cost Estimator
| Element | Typical Percent of Cost | Average Cost |
| --- | --- | --- |
| Exterior Shell | 40% | $10,000 |
| Finishing | 25% | $6,250 |
| Flooring | 20% | $5,000 |
| Construction Prep | 15% | $3,750 |
| Total | 100% | $25,000 |
a. Pole Building Price: Garages, Sheds & Homes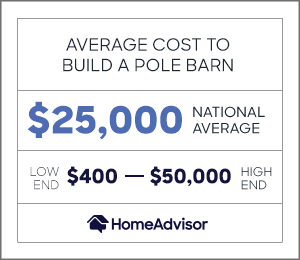 Using your unit for anything other than simple storage increases its costs. The average pole building costs $4,000 to $50,000. Flooring, doors and insulation push the price between $2,000 and $20,000 above the standard estimates. A 40x80 pole-based home with a porch and loft ranges between $50,000 and $60,000.
Pole Sheds: Typically used on smaller properties for tool and equipment storage.
Pole Barn Houses: Need separate flooring, insulation, and flooring installation.
Pole Garages: Best when installed with extra space to work on and lift cars.
3. Pole Barn Kit Prices
A number of brands sell complete kits that allow you to build a unit on your own. Examples include DIY Pole Barns and APB Pole Barns. These kits are on the lowest end of the ranges mentioned at the top. For example, a 24 x 36 foot structure is available for as little as $5,200.
DIY kits include all necessary materials to construct the most basic building version. You can also find more complete packages. Buyers can add siding or trims or change their roof pitch.
4. Average Labor Costs for Build a Post Frame Building
When working with professionals, expect to pay between $5 and $10 per square foot for labor. This includes the construction itself, as well as additional services like pouring concrete.
"Pole barn building is fast and cost-effective, but it's not completely foolproof. For best results, work with a licensed and qualified pro who has experience with this type of construction."
Dan DiClerico
, HomeAdvisor Smart Home Strategist and Home Expert.
Your exact budget should change depending on the complexity of installation. The cost to hire an electrician for your barn or shed ranges between $50 and $100 per hour. Interior carpenters and plumbing professionals also increase total expenses.
Size matters for your budget, but other factors are important too. A simple shed with no wall costs less than an insulated and finished home. Keeping these factors in mind is important to get to your desired unit.
a. Site Prep
Your pole barn depends on the hold of the posts in the ground. That's why it's important to find the right spot. Limited site access can also increase your costs when shipping a DIY kit or hiring professionals.
b. Concrete or Other Flooring
Concrete is the most popular flooring choice for this type of building.
5. Finishing Costs & Factors
| | |
| --- | --- |
| Siding | $5,000 - $15,000 |
| Insulation | $900 - $1,900 |
| Roofing | $5,000 - $24,000 |
| Doors | $500 - $2,000 |
| Windows | $2,500 - $7,500 |
| Painting | $400 - $2,000 |
a. Siding Material
On average, siding your building ranges between $5,000 and $15,000. Installing wood siding costs between $3 and $10 per square foot, while aluminum siding expenses range between $5 and $12. Post frame buildings typically use wood or aluminum, with the latter being the most common.
Wood has a price advantage, but aluminum tends to last longer and is able to withstand harsher elements. It works especially well when storing automobiles or other equipment.
b. Building Insulation
Insulating your pole unit costs between $900 and $1,900. It becomes especially important when housing livestock or using the building as a home. Some siding options have built-in insulation, which can lower the price point.
c. Roofing
Though included in most DIY kits, roof installation costs on their own will range between $5,000 and $10,000. Most units of this style will use aluminum or steel roofs, at a price point of $5,000 and $24,000 including labor.
d. Adding a Door and Windows
e. Painting
Expect the cost to paint metal siding to fall between $400 and $1,500 for your pole barn. Painting your wood siding ranges between $700 and $2,000. Both can help improve the unit's appearance. They help it better blend in with or stand out from its surroundings.
Hire a pro to build you pole building
f. Building Material List Estimator
Expect to pay between $5 and $15 per square foot for all building materials, including:
Post beams
Cross beams
Roof
The basic structure
You might want to go beyond the template sizes provided by DIY kits or build a more custom version. In that case, you need to evaluate the individual construction materials needed for completion. Prices vary based on size, materials used, and extent of your custom needs such as insulation and flooring.
6. FAQs
a. Can you add a DIY pole barn?
DIY helps you save on labor. It also increases the chance that the construction will run into a number of challenges:
Substandard construction can lead to bad structural integrity.
Non-treated or substandard materials save costs but decrease quality.
Complying with local building codes can be difficult.
Choosing the right location for the project might not be strategic.
Because of the above challenges, it makes sense to hire a professional. These experts ensure a high quality of materials as well as structural integrity. The right pro can also help you navigate local building codes and work with additional contractors, like electricians and plumbers.
b. What's the difference between a pole building and metal building?
Using a post frame structure costs less when building a barn, shed, or playhouse. Compared to other types of metal buildings, it is up to 40% cheaper because it does not need a foundation.
Instead, it depends on heavy, vertical posts that anchor into the ground to hold up the structure. Supporting columns attach to the tops of the beams and hold the roof in place.
This simple building process explains the advantages compared to other metal structures. Construction is fast without losing significant support or reliability. Different types of post frame buildings can include optional flooring or walls.
c. How much are Morton pole buildings?
A simple barn will cost as little as $5,000, but the company's specialty is post frame homes. An 1,800 construction averages $63,000, while a two-story, 3,000 square foot building can go as high as $200,000.
Despite its price, Morton is popular because of its quality. Morton is the largest builder for this type of construction in the United States and offers a 50-year warranty on snow load, decay, and building materials. It also offers a 1-year warranty on materials and labor.
Consult with a pro before purchasing a pole barn
Thank you for submitting your feedback.