Updated: August 30, 2021
Reviewed by Robert Tschudi, Home Building & Remodeling Expert.Written by HomeAdvisor.
Average General Contractor Rates
General contractors (GC) typically charge about 10% to 20% of your total construction project cost, also refered to as "cost plus." For larger projects, you might pay closer to 25% for their services. They typically do not charge an hourly rate.
Standard General Contractor Fee Percentage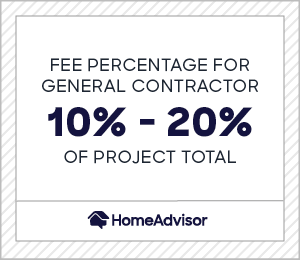 General contractor management fees generally total 10 to 20% of the project cost. The rate can get as high as 25% depending on the size of the project.
The fees are calculated from a markup on materials, subcontractor labor and the total price of the job. The GC packages their fee in with all services for one total price. They pay on your behalf for services, subcontractors and materials.
Contractor Pricing
Contractors price their work as a markup on various services and materials in order to cover factors like:
Labor and workers' compensation
General liability and other insurances
Overhead for staff, office and operations
Taxes
Profit
Commercial General Contractor Fee vs. Residential Construction
Commercial general contractor fees can be higher than those for residential construction depending on factors that impact overhead — insurance, permits, labor, equipment. However, they might be the same as residential if these factors don't significantly impact your GC's overhead or if your project isn't competing with other jobs at the time.
For example, if your commercial project requires added administration in order to accurately manage subcontractors, insurance and building codes, you might pay a higher GC fee. Also, if your GC is in demand and has to pass up on other opportunities in order to take your job, you might pay a higher fee.
How Do Contractors Get Paid?
The way that general contractors get paid is with a percentage of your project cost. They build this percentage into your cost based on markups on materials, supplies, labor and more.
GCs will accept payments in different ways, and they should outline their payment plan in your contract prior to starting the job. Some ask for a portion of the cost upfront and the rest when work is complete. Others will ask for payments after each phase of work is complete. You shouldn't expect to pay the total cost before work begins.
Consult With a Pro for Your Project
How Much Do Contractors Charge for Labor?
The labor charge for your contractor's services will vary depending on the type and size of the project. For example, the general contractor fees for a house will be greater than for a patio installation.
General Contractor Price List
| Project | Average Project Cost | Additional Price for GC |
| --- | --- | --- |
| Cost to Build a House | $290,000 | $29,000 - $58,000 |
| Price of Building an Addition | $46,500 | $4,650 - $9,300 |
| Cost of Remodeling a House | $47,000 | $4,700 - $9,400 |
| Rate for a Bathroom Remodel | $11,000 | $1,100 - $2,200 |
| Rate for a Kitchen Remodel | $26,000 | $2,600 - $5,200 |
| Price for Installing Drywall | $1,850 | $185 - $370 |
| Cost to Build Brick or Stone Walls | $4,900 | $490 - $980 |
| Price of Building a Deck | $7,700 | $770 - $1,540 |
| Cost to Build a Garage | $28,000 | $2,800 - $5,600 |
| Price to Install a Concrete Patio | $3,000 | $300 - $600 |
| Install Concrete Driveway Cost | $4,500 | $450 - $900 |
| Rate for Fence Installation | $2,900 | $290 - $580 |
Compare Quotes From Local Contracting Pros
What Does a General Contractor Do?
General contractors oversee and manage the full scope of a project, typically after the designs have been drawn up and agreed upon. However, many GCs can serve as construction managers and advise from the pre-construction phase to completion. Homeowners hire a residential general contractor when the work involves permits, building codes, subcontractors and heavy-duty equipment. These pros:
Implement the timeline and schedule
Hire, manage and pay workers and subcontractors
Purchase and deliver materials and supplies
Acquire necessary permits and/or homeowners' association (HOA) pre-approval
Oversee project progress to completion
Discuss, plan and make necessary changes (especially if they weren't involved in pre-construction)
Ensure that the completed work complies with current building codes
GCs, depending on their experience and specialties, work on projects like:
Commercial and residential building construction
Additions and remodels
Complex HVAC
Complex electrical
Complex plumbing
Concrete work
Structural or foundation repairs
How Much Does a General Contractor Cost vs. a Construction Manager?
A general contractor usually charges a higher rate than a construction manager.
Construction managers charge 5%-15% of your total for small-scale and under 5% for larger-scale construction.
General contractors charge 10%-20%+. Their oversight is all-inclusive, they tend to have a reliable team of workers and subcontractors, and they have to cover their overhead costs and profit.
Consult with a Contractor Near You
Getting General Contractor Estimates
There are many benefits to hiring a general contractor, and choosing one with the right experience will ensure the best experience. Once the plans are set, it's time to reach out to pros for estimates. When you're meeting with them, it's important to:
Be clear about your needs and expectations.
Have a solid understanding of the costs involved.
Make sure you can easily communicate with the professional.
Find a general contractor near you.
What is a general contractor's hourly rate?
Some general contractors will agree to a rate of $50 to $150 per hour, typically with a guaranteed minimum number of hours to work. Most general contractors do not charge an hourly rate, however. They charge by a percentage of the total project cost instead.
How much does it cost to hire an independent general contractor?
It will cost 10 to 20% of the project cost to hire an independent general contractor. Most GCs are independent. The average rate will be about the same between them and those associated with a company.
How much do contractors charge for estimate?
Contractors will either offer a free estimate or charge $50 to $1,000, depending on the project. For example, if you need an inspection or design consultation service, expect to pay for those. If you pay for your estimate, many general contractors will put that fee toward your project if you hire them.
Get Estimates From Local Contracting Pros
Thank you for submitting your feedback.