Last Updated: July 21, 2020
Written by HomeAdvisor.
Cultured Marble Shower Walls Price
Cultured marble shower walls cost an average of $1,850 to install but vary from $700 to $2,450. Installation labor makes up about $150 of the total but varies depending on whether you need additional components such as a shower pan or tub. Materials alone cost roughly $1,700 for a 70-square-foot unit. This includes both a 3 by 4 by 7 feet stand up shower or a 2.5 by 4 by 7-foot tub/shower combo. When deciding on shower walls, your options range in price from low-cost fiberglass liners to high-end, 100% solid quartz.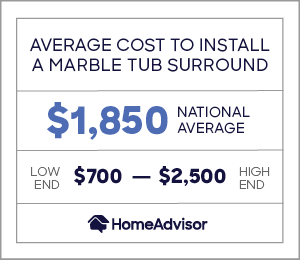 It's recommended that you have a professional complete this work, for several reasons.
You could drop potentially pricey material,
Adhering it to the wall incorrectly could cause it to fall, break, and cause injuries.
Some manufacturers will only warranty products installed by a professional.
Professionals have the specialized tools and knowledge to complete the work. They know all the building permit laws and housing codes that apply to a project like this.
Thank you for submitting your feedback.