June 11, 2021
Reviewed by Jeff Botelho, Licensed Journeyman Plumber.
Written by HomeAdvisor.
Tub to Shower Conversion Cost
The price to convert a bathtub to a shower ranges from $1,200 to $8,000, with an average of $3,000. You'll pay $2,150 to $7,950 for a walk-in style, compared to $1,200 to $3,600 for a stall.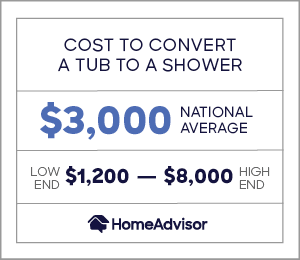 The amount you pay depends on whether you choose a one-piece stall or a custom design. Luxury styles, like natural stone tile, take longer to install and cost more for materials. Extra services, like a door or new plumbing, can put the total on the higher end. These price factors can help you make a decision.
Cost to Remove Bathtub and Install Shower
Removing your bathtub and installing a shower costs $1,200 to $7,950. Although most of the expense comes from placing the new unit, getting the old one out can take time and require a few repairs.
| Labor | Installation + Material Costs |
| --- | --- |
| Remove Bathtub | $600 - $700 |
| Haul Away Debris | $100 - $200 |
| Cleanup/Repair | $300 - $800 |
| Shower Stall | $700 - $1,600 |
| Custom Shower | $1,000 - $3,000 |
| Shower Door | $600 - $1,350 |
| New Faucets | $50 - $1,500 |
| Add Plumbing | $600 - $1,600 |
Bathtub Replacement Cost Considerations
Taking out the old bathtub and getting the walls and floor ready for shower installation costs $450 to $2,000. This includes $50 to $100 for removal, $100 to $200 for disposal and $300 to $800 to clean or repair the walls.
The price depends on how difficult it is for your installer to get the old unit out. If it's a one-piece tub-shower combo, it might take very little time. By comparison, removing hundreds of tiles and repairing the wall to put in something new may take hours of work.
Convert Tub to Walk-in Shower Cost
Converting a tub to a walk-in shower costs $2,150 to $7,950, depending on the features you want and extra services needed. For example, if you want to build a small one with minimal features and no door, the total will probably be on the lower end. Larger sizes and expensive materials run higher.
Luxurious styles may include unique colors or patterns on walls and floor. A walk-in may or may not need a door, which costs $600 to $1,350. If you need to add or change plumbing (not including the faucets), you'll pay $600 to $1,600 per fixture.
Compare Quotes From Local Shower Installers
Average Cost to Replace Bathtub With Shower Stall
The cost to replace a bathtub with a shower stall ranges from $1,200 to $3,600, depending mostly on size. This includes removal and placing the stall, which runs $700 to $1,600.
Most stalls come as a kit in 1 to 3 pieces. The walls, usually made of fiberglass or acrylic, may include pre-molded shelving and grab bars for convenience, as well as a 7" curb. You can buy a curtain and bar for around $25 to $50, or pay the cost to install a shower door, which averages $950. You'll also have to pay a home improvement contractor to patch the drywall, sheetrock, or plaster around the nail flanges of the shower surround unit.
Cost to Replace Tub With Tile Shower
Replacing a tub with a tile shower costs $2,150 to $7,950. The price you pay depends mostly on the tiles, which range from $0.50 to $15 per square foot.
The cost to retile a shower runs $1,000 to $3,000. This assumes that you already have the correct plumbing layout, and simply need to replace the materials for the walls and flooring.
DIY vs. Hire a Professional
Since converting your bathtub to a shower is so tricky to do correctly, you'll want to hire a pro. Labor costs up to $1,000 or more, but can save you a lot of stress and expensive repairs. If you try to do this job on your own, you may end up with leaks or water damage inside the bathroom floor and walls.
Once you're ready to find shower installers near you, make sure to:
be specific about your project
request an onsite consultation
get at least three quotes
FAQs
Should I replace my tub with a shower?
Replacing your tub with a shower can be a good investment when you need it to be more accessible. If it's your only bathtub, you might decrease your home's resale value.
How do I replace my bathtub?
To replace your bathtub, a pro will:
remove the old unit
place a waterproof layer on the floor and walls
install shower kit or substrate and tiles
confirm that the installation doesn't leak
install and test faucets
How much does a tiled walk-in shower cost?
Installing a shower costs $3,850 on average. A new tile walk-in style runs $1,050 to $7,950.
Hire a Tub and Shower Replacement Pro Near You
Thank you for submitting your feedback.