Window Tinting Costs
Homeowners pay $589 on average for window tinting for the home, ranging from $316 and $908. The cost of the film ranges from $2 to $100 per square foot, with an additional $5 to $10 per square foot for installation. A 2-foot by 3-foot window goes from $42 to $660, compared to $105 to $1,650 for one measuring 3 feet by 5.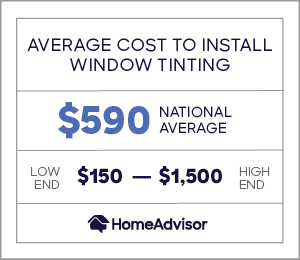 Tinted windows are a great way to increase your home privacy and lessen the amount of glare and heat from the sun. They can also reduce the level of ultraviolet rays, which can damage your skin and your home furnishings. Tinting offers a variety of benefits:
privacy
energy efficiency
shade
Given how tricky this job can be, it's best to hire a professional.
Thank you for submitting your feedback.