Horse Fencing Prices
Horse fencing averages between $2,075 and $2,230, including labor and materials.
The total costs to install a fence can be as little as $1,675 or as much as $2,500, depending on the type of fence chosen. High-tensile wire fencing is the least expensive option at $3.50 to $8 per foot. Pipe fencing costs $10 to $15 per foot, including installation. The cost to install a wooden fence ranges from $12 to $17 per foot, while vinyl costs $14 to $28 per foot. You'll pay between $2 and $20 per foot for materials. Add an additional $2 to $6 per foot for installation.
Horse fencing turns your open land into a pasture where you can safely corral your livestock. Beyond its practical purpose, it can also be an attractive addition to your property. Like with other types of fencing, it requires precise measurements and specialty equipment to install. That's why it's important to hire a professional to help plan and install your project.
On This Page
Farm Fencing Costs by Foot
Materials costs for farm fencing range from $2 to $20 per linear foot, depending on the type of material you choose. The appearance and lifespan of different materials may also help you determine which fence is right for your home.
Farm Fence Material Costs by Type

| Type | Price Per Foot (not including posts) |
| --- | --- |
| Metal Pipe | $7-$10 |
| High-Tensile Non-Electric Wire | $0.02-$0.03 per strand* |
| High-Tensile Bare (Electric) Wire | $0.03-$0.12 per strand* |
| High-Tensile Barbed Wire | $0.03-$0.05 per strand* |
| Electric High-Tensile Polymer | $0.10-$0.15 per line* |
| Non-Electric High-Tensile Polymer | $0.11-$0.13 per line* |
| High-Tensile Polymer Rail | $0.80-$0.90 |
| Vinyl | $8-$20 |
| Hog, Bull, & Cattle Panel | $1.25-$2.50 |
| Wood Post & Board | $3-$9 |
| Woven Wire | $0.10-$0.14 per braid* |
| Tape | $0.04-$0.28 per strand* |
| No Climb | $1.40-$1.90 |
*These figures represent per strand, line or braid per foot. Different livestock require different numbers of strands or lines for the safety of the animal and durability of the structure. Consult with a fencing professional when purchasing products to ensure you're purchasing the right type and amount of materials.
Get Fencing Quotes from Top Local Pros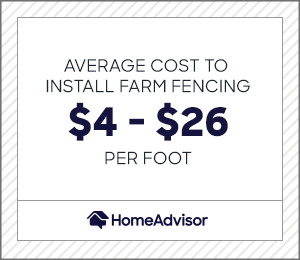 Pipe Fencing Cost
At $7 to $10 per foot, metal pipe fencing is one of the most expensive options. It will last 20 to 30 years, but horses can get hurt if they are pushed against the rails or run into it. To resist corrosion, manufacturers like Ameristar offer coated metal piping options like 440 pipe and cable fence.
High Tensile Wire Fence Cost - Electric & Non-Electric
A High-tensile, non-electric wire fence ranges from $0.02 to $0.03 per foot for one strand. Expect to pay $0.12 to $0.18 per foot for the six strands of wire recommended for livestock fencing. Electrified, bare wire fencing costs between $0.03 and $0.12 per foot for each strand.
This type of fence is strong and resilient, so it lasts a long time. Low cost and low maintenance also make this a popular choice. However, low visibility increases the risk of animals becoming entangled or injured. Electrify the fence, use markers, and/or install the lowest wire several inches off the ground to help reduce potential harm.
High Tensile Barbed Wire Fence Cost
Expect to pay $0.03 to $0.05 per linear foot for each strand of barbed wire fencing. Its low cost and rustic appearance make it a popular choice for cattle. However, the sharp barbs can tear into a horse's thin skin and cause severe injuries. You must also regularly tighten barbed wire for it to remain effective.
HTP Line (High Tensile Polymer) - Electric & Non-Electric
A single line of non-electric HTP will cost you between $0.11 and $0.13 per foot. The electrified version ranges from $0.10 to $0.15 per foot, per line. Electrified HTP line is more costly and time-consuming to set up than the non-electric version, and it will increase your monthly electric bill.
Both types consist of high-tensile steel wires coated in polymer to prevent the line from cutting into livestock. Like traditional wire fencing, HTP line is minimal in appearance. The polymer is available in many colors, which can increase visibility. The coating also makes it safer for animals and more durable to impact, weather, and stretching.
HTP Rail (High Tensile Polymer)
Each HTP rail ranges in price from $0.80 to $0.90 per foot and consists of three high-tensile, steel wires spaced evenly and coated in polymer. HTP rails can be electric or non-electric. They mimic the appearance of split-rail fence but will not split, rot, or break like wood. HTP rail, like that manufactured by Ramm or Centaur, can last 30 years or more.
Vinyl Horse Fence
The cost to install a vinyl or PVC fence ranges from $0.90 to $1.60 per rail, per foot. Vinyl is expensive but will last 10 to 15 years with very little maintenance in mild climates. In colder climates, the material can become brittle.
It is safer than wood because it will not splinter upon impact. To prevent your animals from leaning and popping PVC fence posts out of their accompanying rails, add a single strand of electrified wire.
Hollow rails come in a variety of colors and styles to match the other structures on your property.
Hog, Bull & Cattle Panel
A 16-foot wire panel averages $20 to $40, or $1.25 to $2.50 per foot. Spacing between wires and openings at the bottom of the panels vary depending on the type of animal you house in your pasture.
Wood Post and Board
Costs to build a split rail fence, also known as a wood post and board, Kentucky board, or paddock fence, range from $4 to $12 per foot. This price includes two to four rails and required posts. You can add wire mesh for $1.80 per linear foot. The added cost to paint or stain a wooden fence can further increase the total price of the project.
A popular, traditional choice due to its strength and appearance, wood fencing is expensive and requires ongoing maintenance. When broken, wood may splinter and cause injury. If you are willing to pay more, brands like Priefert offer Ponderosa fence featuring wood posts with powder-coated railings that resist rot and splintering without additional maintenance.
Woven Wire & Electrobraid
Braided, electrical fencing costs $0.10 to $0.14 per braid, per foot. Exact costs of installing fencing will depend upon the size and structure you choose. Electrobraid, a popular brand of braided, electrical fence, costs $1.54 per foot with installation and will last 25 years or more. Metal conductors transmit electricity to maximize the power of a woven wire fence. Electric braids come in multiple diameters and colors and are more visible than other wire fencing.
Tape Fencing
Electric tape fencing ranges in price from $0.04 to $0.28 per foot, depending on width. Made of poly fibers and conductive, metals strands woven together, electric tape is wider and more visible than traditional electric wire. It is low-cost and easy to install, but it cannot sustain heavy winds.
No Climb
Purchase no-climb fencing for $1.39 to $1.89 per foot. Also known as woven wire, field fence, or diamond weave, this type is great for horses and other livestock because of its small openings. Strong wire is woven into grids for an aesthetically-pleasing solution for keeping your animals in and other animals out of your pasture. No climb options are best for even terrain. It must be tightened regularly and check it for warping.
Find Trusted Fencing Pros In Your Area
Livestock Ranch Fences
What type of livestock you raise will determine what type of structure you need and how much you pay for it.
Horse Fencing
Split rail fencing is most common for horse pastures and costs $12 to $30 per foot, including installation. Select three to four rails and a minimum height of five feet to keep horses safely enclosed.
At $3.50 to $8 per foot including installation, a wire fence is an effective, cost-saving choice. However, wire is hard for animals to see and may lead to injuries.
Cattle Fencing
High-tensile barbed wire is best for containing cattle. Costs of a barbed wire fence range from $0.03 to $0.08 per foot for each strand, not including fence posts or installation. The recommended five strands would run $0.15 to $0.40 per foot. With installation, expect to pay about $1.50 per foot for a standard, barbed wire fence.
Best for Keeping in Goats & Sheep
To contain goats and sheep, add wire mesh to a wooden fence for a cost of $1.80 per foot, not including installation. The mesh will not only keep small livestock in your pasture or garden, it can also keep pests like raccoons and coyotes out.
Game
For deer and other game, the best choice is woven wire at a cost of $0.10 to $0.14 per braid, per foot. Expect to pay about $1.80 per foot in materials to cover an 8-foot-tall structure that will prevent animals from jumping or climbing over the it.
Field Fence Installation Cost Calculator
Expect to pay between $2 and $6 per linear foot to install a horse fence. On average, the job costs between $600 and $635, not including materials. Most homeowners pay from $550 to $750 to install a horse fence, depending on fence size and type. When calculating how much you'll pay, you should also consider labor rates in your geographic area, accessibility of your property, and added features like gates.
Size by Foot & Acre
Professional installation will add $2 to $6 per linear foot to your materials costs. For a square acre requiring 830 feet of fencing, that's an additional $1,660 to $4,980 for labor. Exact costs will depend on local rates, fence height, and/or number of rails. Soil type and terrain may also impact price if they increase the time, materials, or equipment needed to install the structure.
Corral Fencing
Corral fence panels, typically made of welded steel, run from $75 to $200 and vary in length from six to 16 feet. You can also build a standalone corral out of wood, but it should be strong and durable to withstand a herd of livestock pushing against it.
Gates
Livestock gates range in price from $150 to $400 and vary in length from six to 16 feet. Made of welded, tubular steel, these heavy-duty gates won't warp, sag, or splinter like wood. Costs to install a steel fence and/or gate will vary by size, style, and other factors.
Get a Livestock Fencing Quote Today.
FAQs
What is the Cheapest Type of Equine Fencing?
Starting at $0.03 per linear foot, wire fencing is the least expensive option for fencing livestock.
Does a Chain Link Fence Work for Livestock?
Chain link can work for smaller livestock like chickens but is not suitable for larger animals because it's not strong enough to contain them. In any case, before you pay the price to install a chain-link fence, consider choosing a fence design intended specifically for your purpose.
What's the Best Type to Prevent Deer and Other Animals from Entering My Land?
Use a game fence made of woven wire to keep deer and other wild game from trespassing into your pasture or garden. A deer fence should be 8 feet tall to prevent climbing or jumping.
DIY vs Hiring Contractors
A livestock fence is a sizeable project. Measuring, planning, purchasing materials, and installation require expertise and equipment that most homeowners do not have. While professional installation will significantly increase total project price, an experienced pro will have the connections, skills, and equipment to install your structure properly the first time. This will reduce the chance you'll need to pay to repair your fence later, as well as the risk of harm or loss of valuable livestock.
Learn More. Talk to a Fencing Pro Near You.
Thank you for submitting your feedback.