Automatic Driveway Gates Cost
Installing an electric driveway gate costs most between $822 and $3,465, or an average of $2,099. Manual driveway gate installs run from $1,500 to $4,000, which covers both labor and materials. Automatic driveway gates cost about $7,000 compared to about $2,500 for manual models. The final price depends on gate materials, type, size, extra features and labor prices in your area.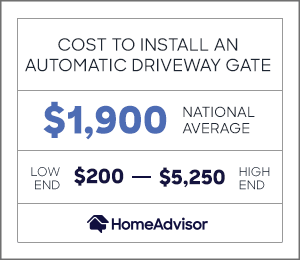 A gate at the entrance to your driveway is a great addition if you are looking for that extra peace of mind about the security of your home and family. Whether electric or sliding, a driveway gate gives you more privacy and security, making it well worth the investment. You may feel concerned that a security barrier is outside of your budget. Take a look at the factors that influence pricing to see if a manual or automatic gate is in your future.
Manual Driveway Gate Costs
At $2,500 on average, manual driveway gates cost much less than automatic models. Your expenses can increase to the max of $4,000 if you select aluminum materials, complex mechanisms and accessories such as an intercom system. The labor rate of $30 to $80 per hour is the same as the cost to install an electric one but will take less time. Your installer may charge a flat fee that can vary considerably. Call a few local gate installers for quotes.
Cost of a Manual Driveway Gate

| Common Expenses | Price Range |
| --- | --- |
| Labor | $30-$80 per hour |
| Gate | $500-$1,200 |
| Posts | $25-$100 |
| Concrete | $10-$50 |
| Additional Hardware | $20-$75 |
| Intercom | $350-$2,000 |
Although manual barriers are less expensive, someone must physically open them to allow entry. A manual model may be the option for someone who will be primarily using the passageway for privacy. Or if they would use it when entering and leaving their own property rather than greeting guests.
Gate Installation Cost
Most installers charge an hourly labor rate of $30 to $80 to install manual models. Some charge a flat rate for the entire project, though it is not common. If you need to cover the cost of having fencing installed to position your gate, you can expect to pay $1 to $45 per linear foot for those sections. Overall, you can expect the installation costs to total at least 50% of the entire project expenses.
Sliding Driveway Gate Prices
Sliding driveway gates run between $500 and $3,000. Its size and material type determine the final price. Installers charge up to $80 an hour for this job. It can take much longer than a swing gate install. You may also have to pay up to $50 in concrete if the driveway gate needs footers installed.
Unless you have a perfectly flat concrete driveway, your installers may need to place concrete footing as reinforcements. This requires pulling up a portion of your driveway and filling it with concrete for reinforcement. Only then can they move onto the actual installation of the sliding barrier.
Get Quotes For Your Gate Install Project
Electric Gate Costs
Basic electric gate installs cost around $7,000. With extra features installed, such as sensors and intercoms, the total price of labor and materials could reach $12,000.
Electric Driveway Gate Expenses

| Gate Expenses | Price Range |
| --- | --- |
| Hourly Labor Rate | $30-$80 |
| Gate | $500-$6,000 |
| Posts | $25-$100 |
| Concrete | $10-$50 |
| Opener Kit with Motor and Arm | $850-$4,500 |
| Keypads | $100-$500 |
| Sensors | $300-$500 |
| Intercom | $350-$2,000 |
| Dual Bollards | $3,000-$6,000 |
Automatic models that open via remote control, keypad or voice sensor are more expensive, but also more convenient. These electric gates allow people to come and go without requiring you to physically open and close the barrier.
| Material | Price Range | Characteristics |
| --- | --- | --- |
| Aluminum | $2,000-$4,000 | Lightweight, but can dent |
| Steel | $600-$4,000 | Low maintenance, but heavy |
| Wrought Iron | $600-$4,000 | Decorative, but hard to install |
| Wood | $300-$4,000 | Beautiful, but high maintenance |
| Vinyl | $200-$1,000 | Inexpensive, but damages easily |
Material costs can run between $200 to $4,000+ with vinyl at the low end of the range and aluminum costing the most. If you elect to have automatic bollards installed, they could run you around $3,000 apiece
The material you use for your security gate will greatly affect the total cost of your project. Decide on your ideal price for security< and the aesthetic look you desire, and then compare prices of the models that fit what you are seeking.
Automatic Gate Installation Cost
You can have a 12-foot automatic driveway barrier installed by a skilled professional for as low as $3,000 to well over $12,000. Many factors influence the total price of the installation. Gate installers may charge a flat fee or use a labor rate of $30 to $80 per hour.
Gate Motor Price
Automatic gate motors tend to come in complete opener kits priced at $850 to $4,500. They are not sold separately, a gate repair expert near you may be able to perform simple repairs on them. Designed for specific gate styles and sizes, motor prices vary considerably. Complicated models, like the cantilever design, need large, expensive motors. This ensures they have the power to move on their own.
Electric Gate Openers Prices
Driveway gate opener kit prices run from $850 to $4,500 and come packaged separately from the gate. To ensure compatibility, these kits come with:
Your installer will select the right type of opener kit for your automatic gate style and size. They will also pick up all the extra features you want to add. You can add automatic sensors on either side for $150 to $250 apiece, while keypads cost $100 to $500 for a pair.
Electric Sliding Gate Cost
Electric sliding gates can cost up to $12,000 when installed by an expert. This is especially true when you add accessories such as bollards at $6,000 and an intercom at $2,000. Just the barrier alone can cost you up to $6,000, depending on the style you select. Automatic sliding models do not usually come with electric openers, which can run up to $4,500
Automatic Gate Remote Control System Maintenance Costs
Using their hourly labor rate of $30 to $80, installers can inspect and maintain automatic systems yearly. If something breaks, replacement parts cost between $25 to $270. A full replacement will cost $850 to $4,500, including removal of the old system. Openers last an average of 10 years.
During the yearly maintenance inspection, your installer will:
Check all the wiring
Lube the moving components
Perform a full test of the system
This will help keep the arm, motor and other accessories working as expected.
Get Local Estimates From Pros Near You
Automatic Fence Gate Cost Factors
You can expect to pay up to $6,000 for a cantilever or underground automatic gate design if your driveway has a slope. Other styles, priced at $4,000 and below, will just not work. If you need a public right-of-way permit for your gate, expect to cover the $200 cost and wait up to six weeks to start your project. Driveway slope, permitting and size are all factors that will influence your project budget.
Price by Gate Size
| Gate Lengths in Feet | Typical Range |
| --- | --- |
| 18 | $2,000-$6,000 |
| 16 | $1,500-$4,000 |
| 14 | $1,200-$2,600 |
| 12 | $1,000-$1,800 |
RV Gate Prices
As the length of the barrier increases, so does its cost, all the way up to $6,000 for the gate alone. For most RVs, only the longest gates will do. The $500 sensors can also help make it easier to park your recreational vehicle within your fence line.
Residential Electric Gate vs. Community Gate Costs
Community gate costs tend to sit around $12,000 or above to accommodate a wide range of vehicle sizes. Including additional features, such as dual bollards at $6,000, drives up the price considerably. Residential driveway barriers can be much less expensive, depending on the homeowner's exact needs.
All residents that live in the secured community share the cost to install and repair community gates. These barriers protect the entryways to apartment, condo and single-family housing communities that want more security.
Find Security Gate Installers In Your Area
DIY vs. Hiring an Installation Company to Install a Gate
Although installers charge up to $80 an hour to put up a driveway barrier, it is often well worth the expense. With an expert handling the project, you can ensure your composite, wood or metal gate is installed correctly and will work as expected. Though you will see a savings of 50%, DIY projects can result in the gate dragging on the ground or failing to open. Hiring an installation company is the right move if you want to minimize stress while getting a sturdy gate put in place.
FAQs
Will a driveway gate increase my property value?
A security gate can increase the value of your property by $50,000. This hike in value comes from the device's ability to boost curb appeal and increase security. So, even if the price tag seems steep at first, you may see the financial benefits when it comes time to sell. Talk to a local pro or real estate agent about the potential ROI benefits to your home.
Will a driveway gate reduce my insurance costs?
Yes, many insurance companies will decrease your insurance costs with the installation of a security gate. The added security and decrease in risk of theft and vandalism are the main reasons for the lower monthly premium.
What is the standard width of a motorized gate?
Although there is no standard width of a motorized gate, homeowners favor the 16' model most. These automatic models range in length from 10' to over 18' to suit the widest range of driveway designs.
Do you need planning permission for a gate?
In certain areas, you have to get planning permission for a gate in the form of a permit, which costs $150 to $200. Your installer can determine if you need a permit for your project and get one from your city.
Can electric gates be opened manually?
Yes, electric gates can be opened manually in case of power or part failure. You just have to use the key to deactivate the automatic system before moving the barrier out of the way, and back again, by hand.
How much do automatic gates cost to run?
Electric gates cost less than a penny a day to run. They do not need a lot of energy to activate the motor and move. The keypad, intercom and sensors do not contribute a measurable amount to the motor's daily energy costs.
Is a security gate the same thing as a driveway gate?
When installed as a part of a full fence, a driveway gate is the same thing as a security gate. Like security bars, this structure can keep everyone out until you decide to let them through, keeping your property secure.
Hire a Gate Installation Pro Near You
Thank you for submitting your feedback.