Swamp Cooler Cost
The average cost to install a swamp cooler is $2,513 and ranges from $1,564 and $3,740. Labor will run about $70 an hour. Materials, or the unit itself, will cost anywhere from $40 to $2,300. A larger house will have more air to cool and will therefore require a larger unit.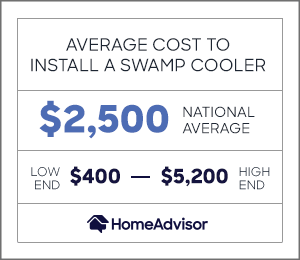 Swamp or evaporative coolers pull hot, dry air from outside into the home. A pad inside the unit cools and moisturizes the air, making the room more comfortable. Swamp coolers are an affordable, energy-efficient and humidifying method for cooling your home when compared with central air conditioners.
Thank you for submitting your feedback.