March 7, 2021
Reviewed by Salvatore Cutrona, Licensed Master ElectricianWritten by HomeAdvisor.
Thermostat Costs
For a standard, 2,000-square-foot home, the cost of installing or replacing a thermostat averages between $113 and $255, including the price of the unit and professional installation. The national average cost is $175. The thermostat will run between $15 and $300, depending on the type and its features. A licensed electrician can typically set one up in fewer than two hours at a rate of $65 to $100 per hour.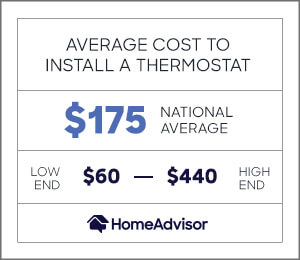 It is possible to save some money by installing or replacing your home, apartment, or business thermostat yourself, but you will need basic electrical knowledge. Potential consequences of improper installation include electric shock, blowing a circuit breaker, damaging the thermostat unit, or even the AC/furnace unit itself.
Thank you for submitting your feedback.