Last Updated: February 24, 2020
Written by HomeAdvisor.
AC Unit Service Costs
Regular AC maintenance servicing costs $75 to $200 for simple tune ups. Extended service contracts run $150 to $500 but include the entire HVAC system, both heating and cooling. For repairs outside a standard service, expect to pay $50 to $150 per hour for an HVAC technician.
A service call usually includes cleaning the condenser and running a series of checks to make sure your system is working properly. They'll also check for other repair and maintenance issues which we'll talk about more below. Standard AC tune ups don't usually include evaporator coil or duct cleaning.
AC Tuneup Cost Factors
You'll pay a flat rate of $75 to $200 regardless of your location, access or the type of system you own. Outside that range, you'll end up paying more for addons like recharging freon, replacing parts or major repairs.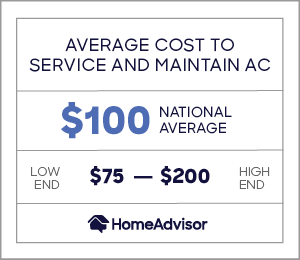 Refrigerant Recharge
Unless you purchased a higher tiered maintenance package, recharging AC refrigerant costs $100 to $350. You won't need this done every year and usually only if there's a leak or a part gets replaced.
Major Repairs & Replacements
Always compare the price of repairs to the cost of simple replacement. Tuneups and inspections might find larger problems with your system. You might end up looking at major repairs and replacements.
AC repairs cost anywhere from $75 to $1,500.Beyond that, you'll want to consider just upgrading the entire unit for an average $5,500.
Get AC Maintenance Quotes From Local Pros
AC Service Call Rates
AC service call rates run at least $50 for an HVAC pro to come to your home, even if they do nothing. Getting a tuneup not only makes the most of the service call fees but helps maximize your systems efficiency. It also helps spot small problems before they become large ones.
Some companies offer tiered maintenance packages. If you pay more, you get more. It'll vary by company, but you might run into these scenarios:
New customer discounts: 20% to 50% off your first service.
New installs: Free or heavily discounted. You might get a free first year service with a new installation.
Standard or basic pricing: $75 to $125. Includes system checks and an inspection, but little else.
Advanced or premium services: add 50% to 100%. Includes heavy cleaning, refrigerant recharges and any chemicals needed.
Winter checks: 20% to 30% off for getting the maintenance done off-season.
Flat Rate vs Hourly AC Maintenance
Most professionals charge a flat rate, averaging $100. But you might run into some local pros who charge by the hour. Expect to pay $50 to $150 per hour. With a service call taking only about an hour at most, you'll spend the same either way.
AC vs. HVAC Inspection Cost
You'll likely pay the same, or about $100, for an AC inspection or regular tune up. You might as well get the full service. If you're looking for a full HVAC system inspection, which covers your duct work and furnace, you'll pay $200 to $450.
HVAC Annual Maintenance Costs
Annual maintenance fees for extended service contracts run $150 to $500 and include the entire HVAC system. If you have both central AC and heating, you'll probably want to purchase these contracts for annual inspections and cleanings. Most contracts include:
New systems still under warranty probably don't need one of these, but it's cheaper than combining independent HVAC service costs.
DIY vs. Professional Air Conditioner Tuneup Cost
You don't need a pro to change your air filter, especially since you need to do it every 30 days. But for testing the refrigerant, cleaning lines, inspecting ductwork and testing the electronic systems, always call a professional.
HVAC work requires specific knowledge and tools. Don't miss a leak and keep your system running smoothly with annual checks. Hire an HVAC professional near you today.
FAQs
How often should you have your air conditioner serviced?
You should have your AC serviced at least once per year.
Is it necessary to service AC every year?
It's not necessary to service it every year. But you should. It'll keep it running efficiently and spot any problems before they become worse.
What does AC maintenance include?
Each AC maintenance package differs slightly, but you'll get the majority of these:
Thermostat check.
Electrical diagnostic and amp measurement.
Electrical control sequence check to make sure you can't have the heater and AC on at the same time.
Evaporator coil air flow test and coil fin inspection.
Condenser coil cleaning and fan debris removal.
Duct inspection.
Inspect and flush drain lines.
Refrigerant check.
Lubricate all moving parts.
Belt and seal inspection.
Replace or clean the air filter.
How often should I change my AC filter?
You should change your AC or furnace filter every 30 days. It'll improve both air quality and efficiency.
Still Have Questions About AC Maintenance?
Thank you for submitting your feedback.