Humidifier Cost
The average homeowner spends $562 to install a humidifier with professional services. Depending on the model you choose, the labor rate and the service time, this cost could range from as low as $200 to as high as $1,000. The typical range is $395 and $735. Average units cost about $100 to $300, while higher-end options cost $500 to $1,100. Labor by HVAC technicians is expected to add $100 to $400 for three to five hours of work at $50 to $70 per hour.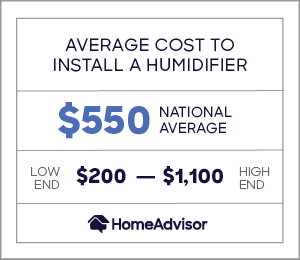 You don't want your home to have too much moisture but, if it's too dry, that can be just as problematic. It can cause dry, itchy skin, nasal irritation and static electricity. A humidifier could be the answer, but it's a challenge to calculate the cost of installing one versus the value of having one. Your first step should be to talk to a reputable professional. They can explain how it might benefit you and give you a better idea of the price you can expect. There are a few factors that might affect your purchase and installation cost.
Thank you for submitting your feedback.