Couch Reupholstery Cost
Reupholstering a couch costs $600 to $4,000, with an average cost of $1,750. You'll pay $50 to $70 per yard on average for fabric, with labor rates of $40 to $100 per hour.
If you have a beautifully-crafted sofa with fabric that needs a little TLC, reupholstery might be a great option. Here are a few cost factors to keep in mind.
Average Cost to Reupholster a Sofa by Type
| | |
| --- | --- |
| Loveseat | $600 - $2,000 |
| Leather | $600 - $4,000 |
| Sectional | $2,000 - $4,000 |
| Couch Cushion | $200 - $500 |
| Outdoor Cushions | $50 - $500 |
| Chaise Lounge | $900 - $1,500 |
Cost to Reupholster a Loveseat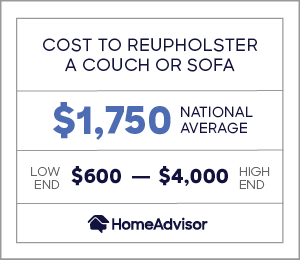 The cost to reupholster a loveseat ranges from $600 to $2,000. Furniture with a tight back and seat needs 5 to 10 yards of fabric, which lowers the price. A piece with an artistic back or loose cushions may require up to 18 yards of material, increasing the total to $2,000.
Reupholster Leather Couch Cost
The price to reupholster a leather couch runs $600 to $4,000, depending on size. At $30 to $60 per yard, leather costs around the same as other upholstery fabrics. If you choose an unusual color, prepare to pay more per yard.
Compare Quotes to Reupholster a Couch
Reupholster Sectional
Reupholstering a sectional costs $2,000 to $4,000. The higher price relates mostly to size. The average sectional needs as much as 36 yards of fabric.
Couch Cushion Reupholstery Prices
The price to reupholster a single couch cushion runs $200 to $500, not including restuffing. Cost depends on dimensions, fabric choice and added features like zippers.
Outdoor Couch Cushion Recovery
Recovering outdoor couch cushions costs $50 to $500 per cushion. If you're reupholstering a few small, thin cushions, you'll pay less than you would for a sectional patio sofa.
Chaise Lounge
Reupholstering a chaise lounge costs $900 to $1,500. Armless styles without a back run less. Larger pieces require more fabric, which raises the price.
Cost to Recover a Sofa
The $1,500 to $2,000 average to reupholster a couch does not include other aspects of furniture refurbishment, like restuffing or repair. You may need to pay these additional expenses as part of the project.
Restuffing Couch Cushions Cost
Restuffing a 24" x 24" couch cushion costs $100-$1,200, depending on the material you choose:
Foam: $100-$200
Down-Enveloped Foam: $200-$500
100% Down: $200-$1,200
This price comes on top of the $200 to $500 you'll pay to reupholster a single cushion.
Other Couch Refurbishing Costs
Sometimes, stripping the couch frame reveals other concerns you may want to address before you add new upholstery. For example, sofa upholstery repair costs $125 to $275. Refinishing furniture costs $350 to $900 and can give the piece a completely new look.
Ready to Have Your Sofa Reupholstered?
Couch Reupholstery Cost Factors
Since $600-$4,000 is such a wide range for a piece of furniture, it's hard to determine exactly what you'll pay. These factors make a big difference:
Fabric choice at $10-$200 per yard.
Overall condition, including an average of $250 for repairs.
Transportation expenses, ranging from $100-$300 per trip.
Extra features like tufting, which can add up to 30% to the total.
DIY vs. Hiring a Pro for Couch Reupholstering
Most homeowners hire a pro for this project. Here are a few reasons you'll want to find furniture upholsterers near you:
It takes days of work.
Fabric makes up most of the cost.
You could ruin the piece if you do it incorrectly.
How long does it take to reupholster a couch?
Reupholstering a couch takes 5 to 25 hours. It can take up to a month for a pro to complete it, depending on how busy they are. If you need it in a hurry, prepare to pay a rush charge.
Is it expensive to reupholster a couch?
At $1,500 to $2,000 on average, reupholstering a couch can cost more than buying new.
Is it worth to reupholster a sofa?
Reupholstering a sofa is often worth it if you're happy with the piece and the frame is in good condition.
When should I reupholster a couch vs. buying new?
You should consider reupholstering your couch if:
It's a valuable antique.
It has a hardwood frame.
You love the style.
How much fabric do I need to reupholster a couch?
Reupholstering a couch takes 5 to 36 yards, depending on size. The average sofa needs about 14 to 18 yards.
How much does upholstery fabric cost?
Upholstery fabric costs $10 to $200 per yard, averaging $50 to $70 per yard.
How much does it cost to get matching pillow created for a sofa?
Upholstering a pillow for your sofa costs $50 to $125. The total may be less if you already have the fabric.
Still Have Questions About Couch Reupholstery?
Thank you for submitting your feedback.