Updated: September 10, 2021Reviewed by Dan DiClerico, Smart Home Strategist and Home Expert.Written by HomeAdvisor.
Cost to Build a Deck
The average cost to build a deck is $7,697 with a typical price range between $4,083 and $11,312. With labor and materials combined, you can expect to pay an average cost of $30 to $60 per square foot to build a standard deck.
2021 Notice: Material Prices are Surging
Demand for decks has grown over the past year. And, as a result, manufacturers are increasing materials prices. Prices have gone up 5% to 10% this year, and many parts of the country are experiencing long delivery times. If you're planning a decking project, we recommend starting as early as possible in the season, preparing for potential price fluctuations, and allowing extra time to order materials.
2. Deck Cost Estimator by Size
| Dimensions | Total Square Feet | Average Price Range |
| --- | --- | --- |
| 8x8 | 64 | $2,560 - $3,840 |
| 8x10 | 80 | $3,200 - $4,800 |
| 10x10 | 100 | $4,000 - $6,000 |
| 10x12 | 120 | $4,800 - $7,200 |
| 12x12 | 144 | $5,760 - $8,640 |
| 12x16 | 180 | $7,200 - $10,800 |
| 10x20 | 200 | $8,000 - $12,000 |
| 12x20 | 240 | $9,600 - $14,400 |
| 16x16 | 256 | $10,240 - $15,360 |
| 14x20 | 280 | $11,200 - $16,800 |
| 12x24 | 288 | $11,520 - $17,280 |
| 16x20 | 320 | $12,800 - $19,200 |
| 20x20 | 400 | $16,000 - $24,000 |
3. Average Cost to Build a Deck
| Factor | Average Cost for 320 Square Feet |
| --- | --- |
| Materials | $8,500 |
| Labor | $7,000 |
| Permits | $500 |
| Total | $16,000 |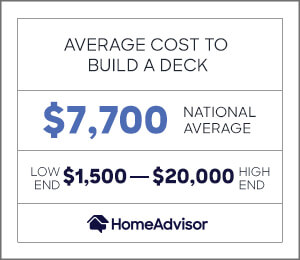 When calculating the cost of building a deck, you have to figure in more than just the wood. Be sure to factor in size, other construction and protection elements, taxes and insurance and all the little extras that make it not only usable but enjoyable!
Budget for property tax increases which vary by state and municipality.
You'll also want to include any increases to your insurance premiums from increased home value.
a. Labor Cost to Build a Deck
Labor makes up about half of the cost with most pros charging from $15 to $35 per square foot. For an average 300 to 400 square foot deck, you'll pay roughly $4,500 to $14,000 for labor alone. Expect to pay more for Ipe, Tigerwood and other extremely tough-to-work-with woods.
b. Decking Prices by Foundation Type
Floating decks run $20-$60 per square foot. The only difference between the floating and standard type is attachment. Floating styles aren't attached to the home and require a few additional support posts underneath the structure.
Ground level decks range from $10-$20 per square foot or about half the price of a standard style. This is because they have no stairs and often no railings.
Second story decks cost from $40-$50 for additional posts and stairs. Accessibility issues can push that price even further up.
Elevated concrete decks range anywhere from $30 to $75 per square foot depending heavily on your location, the dimensions of the slab and what finishing materials you choose.
"If you're on a tight budget, keep the deck design simple and spend more on accessories like furnishings, an awning or umbrella, and an outdoor heater for extend the outdoor living season."
Dan DiClerico
, HomeAdvisor Smart Home Strategist and Home Expert.
c. Deck Installation Costs for Designs & Patterns
This guide covers basic rectangular and L-shaped designs. For complex, multi-level or wrap around decks, you can expect to add anywhere from 50% to 100% to your budget. Not only do complex designs require more time to install, they also present a higher amount of waste materials, planning and preparation.
Find Deck Builders Near You
4. Decking Costs Per Square Foot
| Type | Cost Per Square Foot |
| --- | --- |
| Pressure-Treated Wood | $2 - $5 |
| Redwood | $5 - $30 |
| Mahogany | $8 - $11 |
| Ipe | $10 - $20 |
| Tigerwood | $7 - $15 |
| Bamboo | $3 - $10 |
| Cedar | $3 - $7 |
| Aluminum | $15 - $20 |
| Fiberglass & Composite | $12 - $22 |
a. Wood Decking Prices
Pressure-treated wood resists moisture, rot and insects at an affordable price of $2-$5 per square foot, making it a popular option for those on a budget.
Redwood decking is beautiful and durable but expensive and a non-renewable resource. Costs range from $5-$30 per square foot depending on the grade.
Mahogany decking is lower maintenance than pressure-treated wood and takes on stain well. Mahogany typically costs $8-$11 per square foot.
Ipe is an exotic hardwood known for its durability and long lifespan. Ipe decking costs $10-$20 per square foot.
Tigerwood runs from $7-$15 per square foot and bears a distinctive striped pattern from which it gets its name.
Bamboo is actually a grass, not wood, but has many of the same qualities. At $3-$10 per square foot it's an affordable option and environmentally friendly.
Cedar is a naturally insect- and UV-resistant wood that's harvested sustainably in North America. Cedar decking costs $3-$7 per square foot, making it comparable to pressure-treated wood, but without any of the chemical treatments.
b. Plastic or Composite Decking
Composite decking costs: $15 to $36 per square foot including railings, framework and hardware. Decking board only cost $4 to $13 per square foot.
c. Aluminum
Aluminum decking runs $15 to $20 per square foot. Many of these systems are gapless, meaning they make a seamless waterproof roof for anything underneath. Because they are both waterproof and lightweight, they make great outdoor spaces that double as roofs above carports, patios and outdoor kitchens.
Compare Quotes From Local Deck Builders
5. Prices for Additional Decking Features
Additional features run anywhere from a couple hundred to a few thousand. Depending on your location, budget and tastes, consider the following upgrades:
Lighting: $8-$30 each. Post lighting runs $30-$100+ each. Light fixture installation costs can run another $150 each
Heaters: $100-$300 depending on style and output
Outdoor misting systems cost $2,100-$3,400
Seating:

A "chat set" consisting of four chairs and a low table: $350
Chairs, a sofa, some end tables and a coffee table: $4,000
Bar counter: $500.
Awnings: $700-$1,000
Slipcovers: $20-$250
Replacement cushions: $30-$150

Landscaping costs $1,500-$5,300
Pressure washing costs $200-$400. You'll want to do this prior to resealing or painting.
Deck staining costs $550-$1,050. For the DIYer, the price of stain is around $30 per gallon.
Waterproofing or Sealing a deck costs $550-$1,300. Sealer runs $30-$40 per gallon.
Refinishing a deck costs $975 on average. This will remove all old stains, sealants and paints and sand the surfaces smooth. Finally, the pro will repaint, stain or seal the surface.
Adding a roof runs $3,000-$10,000
Building a sunroom costs $20,000-$60,000
Deck enclosures cost $8,500-$25,000
6. Cost to Build a Deck Yourself vs. Hiring a Pro
It'll run you about 65% what it would be to hire a professional. While material and labor are split about 50/50, you can't purchase materials at the lower prices a contractor can find. Also consider your time. It'll take 3 to 4 weekends to complete.
7. FAQs
a. How much does it cost to build a deck with stairs?
Adding stairs runs $15 to $25 per square foot in addition to your base price. They're time and labor intensive to install.
b. How much does it cost to build a rooftop deck?
You'll spend at least $25,000 for a basic rooftop deck. With luxury upgrades, like an outdoor kitchen, you can quickly exceed $50,000. However, this type gets the best ROI. You can expect to recoup your entire investment. In southern climates, you might even see up to 1.5 times return.
c. How much does it cost to add a balcony?
Building a balcony runs $15 to $35 per square foot. Third story or higher can significantly increase the price. You'll often recoup the investment when it comes time to sell.
d. How much does a deck extension cost?
Adding onto an existing deck runs $15 to $50 per square foot. It depends on your location, the type of materials, and how complex the design is.
e. What should I do before estimating deck costs?
Always create a comprehensive plan to start. Consider talking to an outdoor living designer, deck contractor or engineer to help with this process. By creating a mock-up and paying attention to specifics before you commit to a contractor or building plan, you'll save yourself the cost and hassle of changing your mind once the project is underway.
When you're ready to hire, getting professional quotes is easy. Browse our deck installation directory for reviews and ratings. Expect any reputable company to give free quotes. But follow these tips:
Never take a quote from a contractor who doesn't visit the site.
Always get at least 3 bids.
Check ratings and reviews.
Ask if they're insured and bonded.
Ask to see examples of previous work.
Get Quotes From Local Deck Builders
Thank you for submitting your feedback.