Updated: September 3, 2021
Reviewed by Robert Tschudi, Home Building & Remodeling Expert.Written by HomeAdvisor.
Average Cost to Stain a Deck
The cost to stain your deck typically ranges from $540 to $1,050 with an average of just over $700. This equates to an average cost of $2 to $4 per square foot for labor and materials. Higher-quality stains will run up the price, as will washing or sealing the wood prior to staining.
1. How Much To Stain a Deck by Size?
| Square Feet | Average Cost |
| --- | --- |
| 100 | $200 - $400 |
| 150 | $300 - $600 |
| 200 | $400 - $800 |
| 250 | $500 - $1,000 |
| 300 | $600 - $1,200 |
| 400 | $800 - $1,600 |
| 500 | $1,000 - $2,000 |
2. Deck Staining Costs
The price range of $540 and $1,050 depends on both the size of the deck and the type of stain you use. Depending on its condition, you may need to budget for other steps first: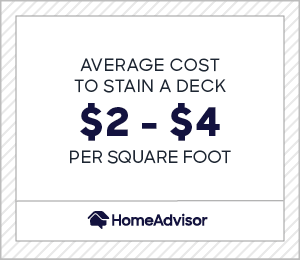 For a simple project, a professional contractor will charge $1 to $2.50 per square foot for labor alone. Complex projects may raise the price to $2.50 to $7 per square foot.
The treatment the space needs also depends on the condition of the wood, its age, and the kind of maintenance it has seen.
| Deck Treatment Types | Price Per Square Foot |
| --- | --- |
| Power sanding, stain & seal | $2 - $4 |
| Light sanding, stain & seal | $1 - $1.50 |
| Power washing, stain & seal | $0.50 - $1.50 |
a. Cost to Power Wash and Stain a Deck
Renting a pressure or power washer can cost around $50 to $65 a day. You can buy your own equipment at $100 for a low-end model or more than $1,500 for a top-end model. Hiring a professional power washer costs between $185 and $380.
b. Cost to Sand and Stain a Deck
Sanding down your deck's old finish also costs $50 per hour, but only takes 5 to 10 hours. This is the more common option to remove paint and finish, and usually gets the job done well enough that the new stain shows the right color.
c. Cost to Strip and Stain a Deck
A qualified contractor will charge about $50 per hour for stripping the wood, which can take between 10 and 20 hours. That includes applying a specialized cleaner, allowing it to soak in and removing it through sanding. It's a thorough, but expensive process to remove old paint and finish before you can apply new stain.
d. Cost to Stain and Seal
Sealing your deck costs between $550 and $1,275. You need to seal the wood every few years to protect it from the elements, an additional step to the staining to give it the right color. Combining both in one project reduces some overlap in labor, bringing your required budget to $800 to $1,700 in total.
3. How Much Does it Cost to Stain a Deck and Railing?
Staining railings on your deck ranges between $4 per linear foot and $12.50 per linear foot of railing. That includes power washing or power sanding, as well as individual handrails and spindles included on the railing.
4. Stain Prices
On average, staining solution for a wooden deck ranges between $20 and $120 per gallon depending on its quality. Look for stain that penetrates the wood deeply, which likely costs at least $30 to $40 per gallon. Solid stains hide the grain, but last longer than semi-transparent alternatives that allow the natural shapes and coloring to shine through.
| Type | Price | Best For |
| --- | --- | --- |
| Water-Based Deck Stain | $20 - $90 | An environmentally friendly surface that is mold and mildew resistant. |
| Oil-Based Deck Stain | $35 - $120 | Deep penetration and a natural look. |
| Solid Deck Stain | $25 - $70 | Surfaces that look like paint and older wood. |
| Semi-Solid Deck Stain | $40 - $90 | Slight amounts of wood grain. |
| Semi-Transparent Deck Stain | $20 - $100 | An easily cleanable surface that highlights the wood grain. |
| Transparent Deck Stain | $20 - $60 | Slight surface coverage on a subdued natural look. |
| Clear Deck Stain | $20 - $50 | Natural wooden look. |
5. Cost to Restain a Deck
Expect to pay between $0.50 and $1.00 per square foot if the space in question only needs a new stain without the earlier cleaning step. In most cases, though, at least a surface-level clean helps to prepare the wood and keeps your deck in better shape. Budget the average $2 to $4 per square foot to be safe.
a. How much does it cost to stain a pergola?
Your budget for staining a pergola should be between $1,000 and $4,000. The higher cost is due to the number of ornamentations and elevation, making access difficult and increasing the time it takes to get done.
b. How long to stain a deck?
The average time it takes to stain a deck is about 20 hours per 500 square feet. That includes 3-5 hours for the stain itself as well as cleaning and other preparation. Expect to pay for close to 20 hours of labor.
c. How often should you stain a deck?
Most pros recommend staining your deck about every two to three years. In areas with cold winter, the first days of reliably warm weather during late spring tend to be the best time to get it done.
d. Is it worth it to stain a deck?
Staining can save you money in the long run by protecting the surface against mold, aging and insects, which helps lenthen the life of your deck. Perhaps most importantly, it adds both personality and value to your deck.
e. How much does it cost to paint a deck?
The price to paint your deck ranges between $2 and $5 per square foot, or $600 to $1,500 in total.
f. How much does it cost to DIY vs. cost to pay someone to stain a deck?
When you stain your own deck, expect to pay between $20 and $250 in materials depending on the mixture type and the surface area.
Hiring a pro for the job costs more but means you don't have to worry about the details. Working with a deck staining pro near you gives you peace of mind, prevents accidents and ensures that the job is done right.
Still Have Deck Staining Questions?
Thank you for submitting your feedback.