Faucet Installation Cost
The cost to install a faucet average $246, or anywhere between $156 and $336, depending on the condition of your pipes, location of the sink and the type of faucet you choose. Plumbing can be complicated, but a qualified pro can properly install a new faucet quickly.
Installing a new faucet surprisingly can revitalize your kitchen or bathroom. It doesn't seem like a project that would make a big difference, but it can increase your day-to-day satisfaction by helping with daily chores, as well as improving the look of your kitchen. It can be a DIY job if you're just replacing the fixture, but any plumbing work should be left to a handyman or licensed plumber.
Installing a kitchen facuet will cost about $260 to $480 in labor, not including any upgrades. Kitchen faucets cost more to install than bathroom faucets. This is because of the types and labor involved. Kitchen models are bigger and have more features that take longer to install.
Faucet Installation Cost Factors
It would seem like installing a new faucet is simple. However there are a lot of factors to think about, not to mention those unexpected problems that sometimes pop up. Some major cost definers to remember are:
Condition of the current faucet: If your current faucet is rusted or has broken parts, it will be harder to remove and could potentially damage the plumbing lines. This is especially a concern if it is rusted, which means it's probably stuck and might need to be sawed out, if not worse.
Location: The price will vary depending on whether you will install a kitchen, bathroom or bathtub faucet.
Counter and sink: If you don't get one that fits within the design of your countertop and sink, then you might have to cut out part of the counter or replace the sink. You should try and stick with a model that will fit so you will spend less on the install.
Type of faucet to install: Materials, finish, handle types,.etc. -- all of this will affect the total cost of the faucet you choose. It might not affect the installation cost, but it's a major factor to keep in your budget planning.
Upgrades: If you decide to upgrade with features like a filtration system or lighting, you'll pay more for the installation.
Connectors/mountings: This hardware should be included in total installation cost. If the existing connectors or mounting are damaged though, you will need to pay for them to be repaired.
Plumbing condition: If your plumbing is not up to code, you might need to have it repaired before even installation.
Water control & efficiency: If you choose a faucet that can't handle the current water control setup, you will need to either get a different one or have the water control adjusted. If you want to make your faucet more efficient, you can invest in certain types designed for eco-friendliness.
Labor costs: You will have to pay for the plumber or handyman labor, which can range anywhere from a few dollars to a hundred or more, depending on the job's complexity.
Some common types of kitchen faucets you might consider are:
Bar & prep & High or low arc: Less flexible and are often the default installation with a sink.
Pull-down & Pull-out: Great for cleaning dishes, washing fruit or vegetables and just give a lot of flexibility. You'll pay more for these flexible types and might need help with plumbing or water control.
Pot filler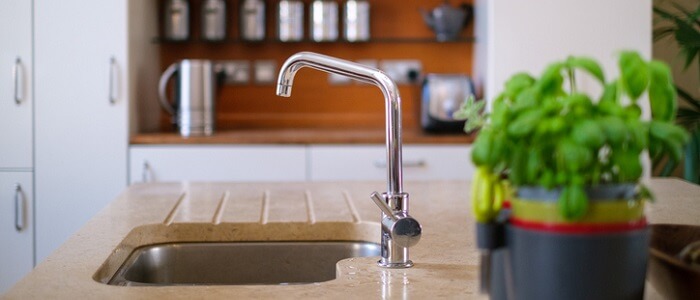 Traditional low arc sink faucet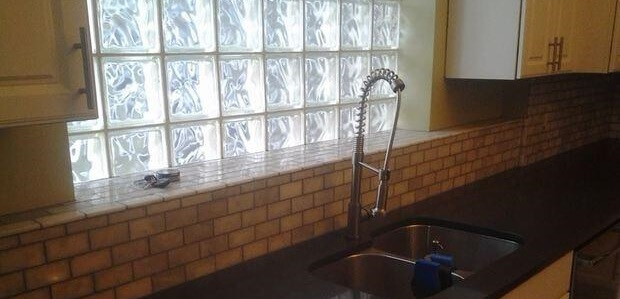 by Artistic Tile Creations, Overland Park, KS. Kitchen faucet installation costs $160-$375 in Kansas City, KS.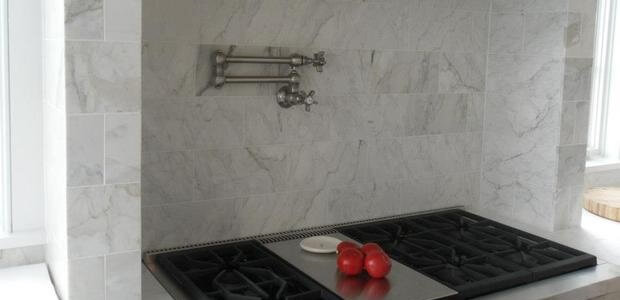 by New England Tile Install, Inc., Farmingham, MA. Installing a kitchen faucet in Boston costs most homeowners between $170-$350.
Cost of Popular Kitchen Faucet Brands
| Brand | Average Unit Cost |
| --- | --- |
| Kohler | $50-$2,000 |
| Moen | $50-$1,000 |
| American Standard | $50-$600 |
| Delta | $50-$600 |
| Pfister | $25-$600 |
The cost to install a bathroom faucet won't vary much from installing a kitchen one. You can expect to pay anywhere from $240 to $550 for installation. This exempts any potential pre-existing damages that will need to be addressed, which can raise the total cost.
Unlike the kitchen models, bathroom models have different aesthetics and function. For example, bathroom faucets don't have a sink sprayer hose or a water filter, although the mechanics are similar. You want one that will handle more basic functions, so you can lean towards the simple design with two handles and a spigot. There are still a wide variety of finishes and materials you can choose from, as to better match the bathroom's design.
Cross
Joystick
Knob or Lever: easiest to install and could even be done DIY.
Push button: difficult to install. Hire a professional.
Touchless: it's complicated nature likely requires pro installation.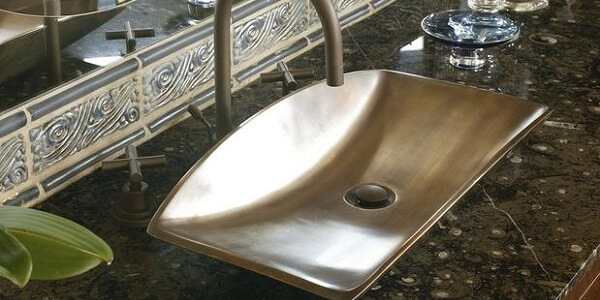 Cross sink faucet knobs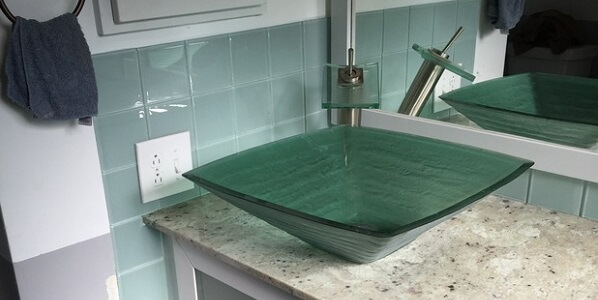 Joystick Faucet by Sam Boyer Construction, Denver, CO. Bath sink faucet installation in Denver costs most homeowners between $180-$380.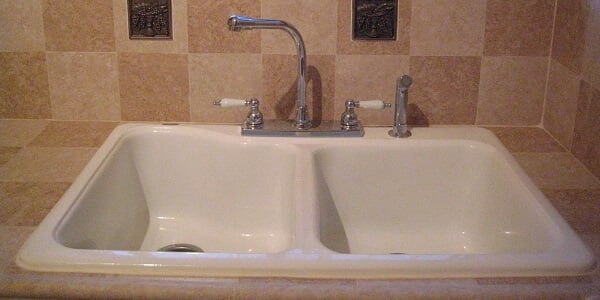 Traditional knob faucet

Push button wall faucet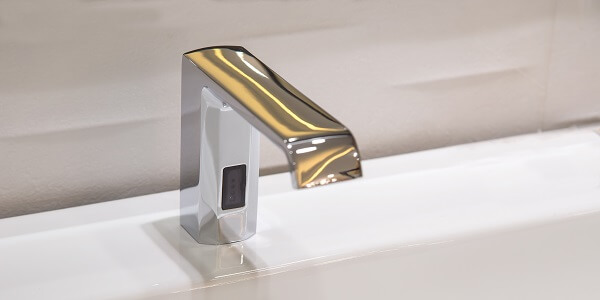 Motion sensor touchless faucet.
Cost of Popular Bathroom Sink Faucet Brands
| Brand | Average Unit Cost |
| --- | --- |
| Premier Faucet | $25-$200 |
| Peerless | $15-$200 |
| Kraus | $50-$400 |
| Kokols USA | $50-$400 |
| Hansgrohe | $100-$2,000 |
| Danze | $50-$600 |
Expect to pay anywhere from $150 to $350 for the installation of a tub faucet. You'll need to make sure and keep your faucet in line with the plumbing for the tub. Otherwise you might spend a few hundred dollars more adjusting the tub's plumbing.
With a bathtub faucet, you can often worry less about flexibility or upgrades -- it's more about function. However, the function of the bathtub faucet is different. It needs to handle a lot more water pressure and be able to fill a tub. As such, there are types and various features that set it apart.
Types of Bathtub Faucets
Deck mount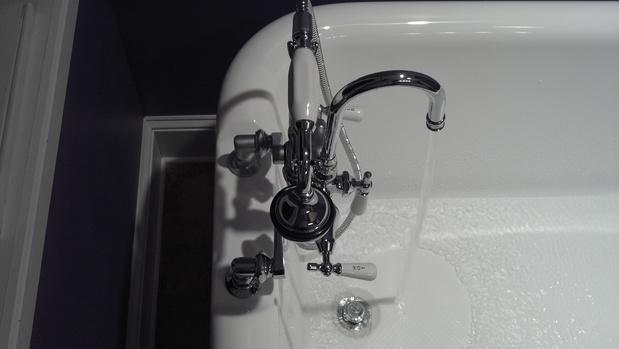 Arts & Crafts Bathroom by Precision Plumbing in Temperanceville, VA
Freestanding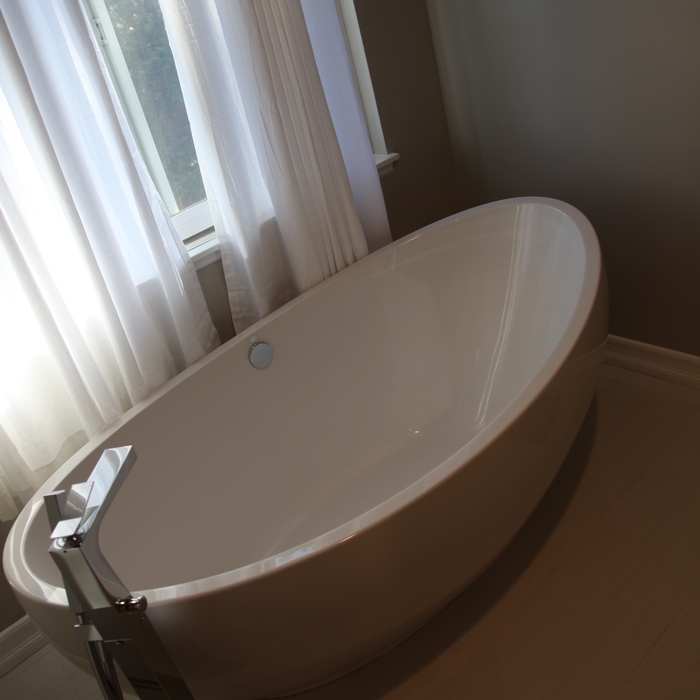 Modern Bathroom by Prestige California Builders, Inc. in Reseda, CA
Wall mount
Oftentimes, depending on your bathtub, you can add a faucet that's both freestanding and wall mount. This is something you should consider if the bathtub is close to the wall, or you worry about the water pressure making it vibrate and jiggle in place.
Top Brand of Bathtub Faucets & Costs
| Brand | Average Unit Cost |
| --- | --- |
| Kohler | $100-$3,000 |
| Moen | $100-$2,000 |
| American Standard | $50-$800 |
| Delta | $50-$2,000 |
| Grohe | $50-$3,000 |
| Pfister | $200-$1,000 |
Thank you for submitting your feedback.