Wall Repair Costs
If your walls have formed cracks, chips, or holes and you need to have them repaired, judging the cost can be difficult. To give you an idea, homeowners spend an average of $765 per repair. Most projects will fall between $357 and $1,189.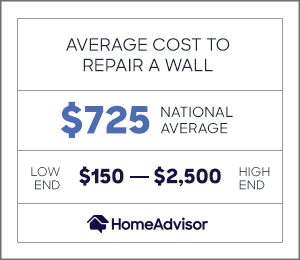 Here are a few common factors that affect the final project price. The price to hire a handyman or wall repair contractor is approximately $60 to $80 per hour. Handymen are less expensive to hire than contractors. Whether you can complete the job as a DIY project, hire a handyman or hire a specialized contractor depends on the complexity of the task, type of material used, and the extent of the damage. Materials typically run $70 and up. While contractors bring their own supplies, homeowners who choose to complete tasks on their own must purchase their own materials.
Thank you for submitting your feedback.