Updated: August 27, 2021
Reviewed by Jeff Botelho, Licensed Journeyman Plumber.Written by HomeAdvisor.
Sewer Line Installation Cost
Installation for a new main sewer line costs $3,223 on average, with a typical range of $1,336 and $5,177. Once the plumber places the line, you may pay an additional $500 to $20,000 for hookup to the city sewer. Cities set prices depending on local water resources and the current setup on the street.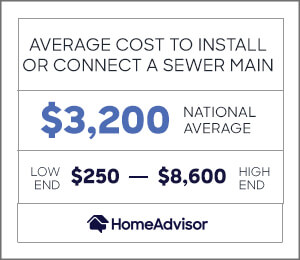 Sewer mains are extremely important and require coordination with your local waste treatment authority. As a rule, you'll need to pay to have the line installed on your property. The city may cover a portion of the costs to connect your home's pipes to the street.
Since sewer management is vital for your health and home value, it's important to hire a licensed plumber to do the work. This work may require having a plumber connect the house to the sewer line but the municipality or a separate sewer contractor to connect to the city sewer main in the street, depending on location.
Thank you for submitting your feedback.