Standing Seam Metal Roof Cost
The cost to install a standing seam metal roof ranges from $13,600 to $20,400, or $17,000 on average. This includes $3,400 to $10,200 for labor. The total price goes from $5 to $26 per square foot.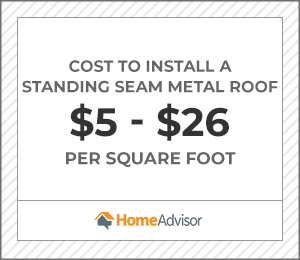 Standing seam metal roofing is sometimes called raised or vertical seam. It features pleated panels about 12" to 19" wide that connect on the vertical seam. Homeowners prefer this style because it is lightweight, easy to maintain and more durable than most common materials.
Thank you for submitting your feedback.